Overview
Victorian age is the age of growth and felicity. With the reign of Queen Victoria in 1837, the Victorian age emerged and most likely ended around 1890. Because of the mass production of the sewing machine and the arrival of synthetic dyes, a profound change in the dress code takes place. Apparels become more covered, stiff, and grandeur for both men and women. Victorian clothing defined classes and divisions in society.
Click here if you are looking for a victorian-inspired dress for yourself!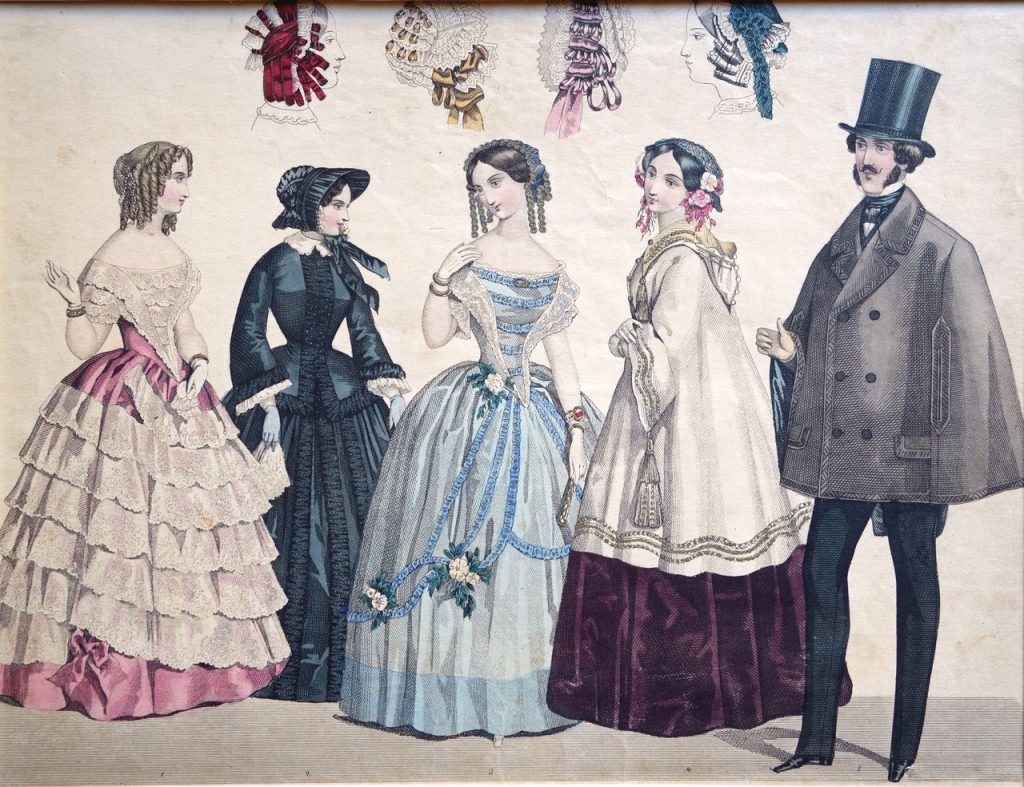 In this article, we will be talking all about Victorian Style Clothing. You'll get to know all the information regarding Victorian clothing.
Victorian Women Clothing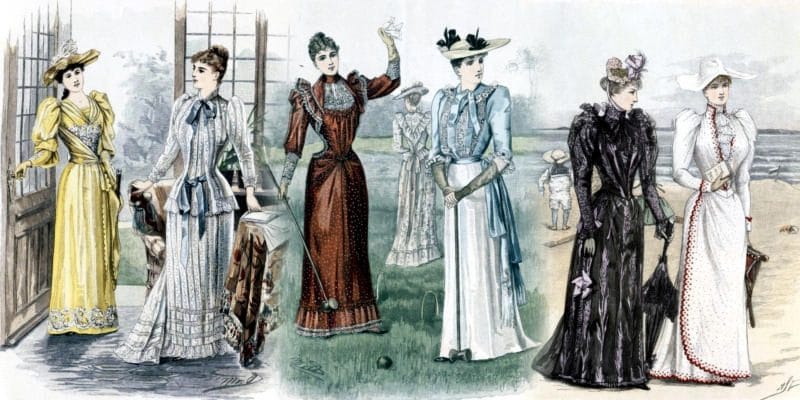 Victorian outfits come with different parts and subparts. For instance- For women tightly laced corsets, bodice, chemisette, skirts, trims, layers of petticoats, etc. are composed of a single outfit. Tight-fitted small waist, significant hip, and bare shoulders were fashionable for upper and middle-class women. Here you'll find about Victorian dress patterns in detail.
Corsets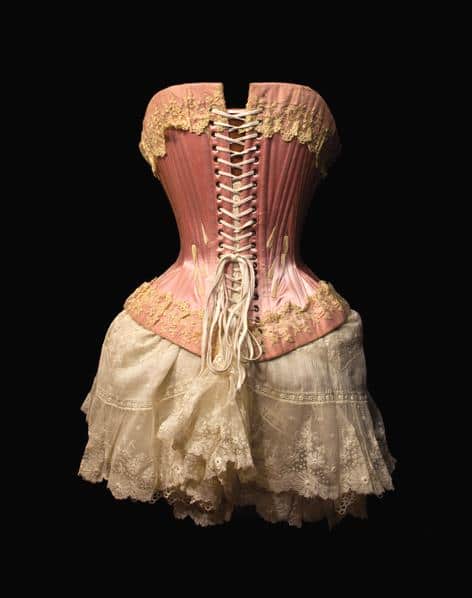 To make the waist look smaller, women wore corsets. It is mainly an undergarment, and sometimes it was used as an outer garment. The corset helps to create a cone shape of the woman's upper part. It implies the rigid flatness of the belly part and tiny waist. The corsets were made of layers of fabrics tightened with glue. There were also variations of corsets made of iron and plastic.
Sleeves
To make the dress look majestic, they wore extra laces, embroideries, and trims. Tight-fitted sleeves were prevalent in the early Victorian area. The V neck gowns caused sleeves to be dropped. Drooping sleeves limited women's mobility. When the crinolines (a stiff, structured petticoat to hold the lower skirt) appeared, the sleeves became puffy. False sleeves named as "Engageantes" were fashionable. Such false sleeves were made of lawn, lace, or linen.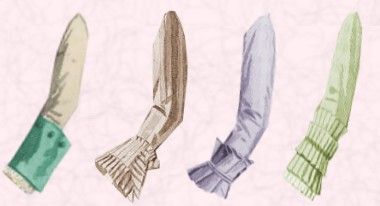 Undergarments
You certainly can imagine the drawer of a Victorian lady to be stuffed with undergarments. They followed different types of underwear to fulfill different purposes. For example, – they use chemises to make their breast shaped and all together while making their waist look tiny. There were discriminations, even wearing underwear. Women belonging to upper or middle classes wore linen or silk as an undergarment while lower classes wore undergarments of cotton. The materials of petticoats were silk, satin, or cotton.
Shoes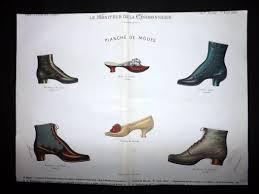 Victorian gowns of women were mostly long touching the floor. So, the shoes were less visible. Like other things, shoes in the Victorian age were beautifully decorated. Women's shoes were ornamented with beads, pearls, feathers, or stones.
There were different kinds of Victorian shoes—for example, Boot, clogs, dress slippers. Women wore different shoes for different occasions. Working women preferred ankle buttoned boots made with hard leather.
In the evening, women wore low-cut pumps. In the 1850s and 1860s, there was no high heel attached to women's shoes. At that time, women used to wear plain shoes with black or white satins. Around the 1780s, heels came with changes. The heel became higher with pointed toes.
On special occasions, women wore clog and dress slippers. Women always wore a matched pair of shoes that just goes fine with the dress.
Just the way Victorian attire mostly covered a woman's body parts, shoes were made with the purpose of covering too. To cover the feet below the large hoot skirt shoes were worn.
For a woman in the Victorian period, it was a matter of shame to be seen bare feet. Silence and virtuousness were symbolic to Victorian women. Their dresses and shoes were designed to carry those symbols.
History of women's attire
To describe the seventeen years of Victorian clothing style in one article is quite a hard nut to crack. The Victorian age is an age of faith and doubt. Here we find the essence of Romanticism, art, science, revolution, growth, arrival of capitalism.
With the arrival of science, people come to know the usage of the machine. With the new concept of merchandising, clothing and fashion rose to prominence. Materials became cheaper. Before the Victorian period and in the early Victorian period, dresses were made in hand. The hand–made dresses were pricey because of the hard work done to design the dress. The materials were also less available.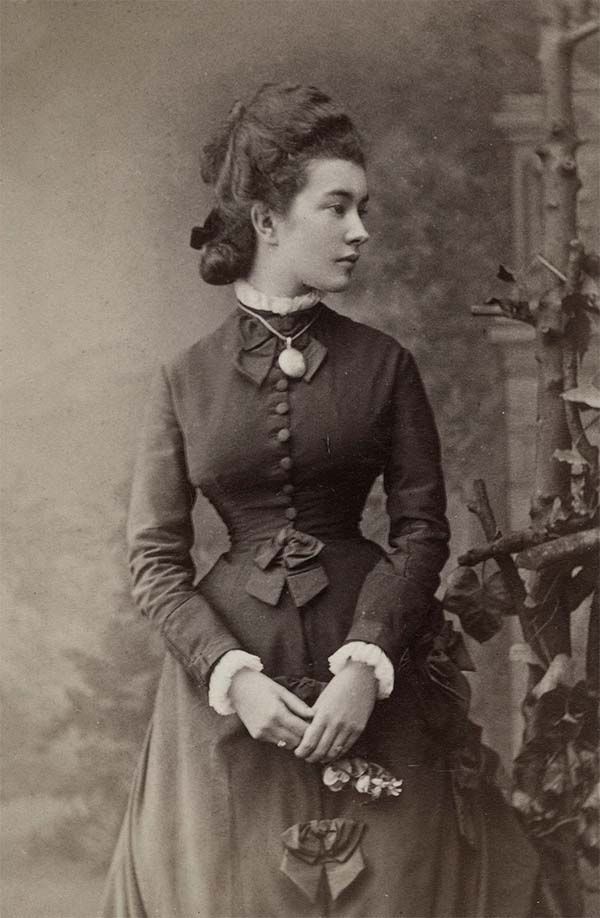 Right at the time of the industrial revolution began to take place. Seamstresses were replaced with factories. The production intensified with the inventions of machines. The growth of production caused the deteriorated price of the dresses. The outfits became cheaper and more available.
Therefore, verities in style appeared both in men and women's attire. More Laces and trims were produced. The production of clothing became cheaper and quicker. Machines brought changes in dresses.
Around the 1840s-1850s, women wore a gown of many layers (five or even more). As summer in London is not very hot, layers didn't create many problems. The Undergarments, including Stockings, petticoats, crinolines, chemises, corsets, and bloomers were a must to wear. The outer parts, including shawls, bonnet, and gloves, were used. Parts and sub-parts changed within the context. Around 1875-1880s, a complete change in the form and character of the dresses is visible. The cuirass bodice formed a massive difference in women's dress code. The focus was more on the back of an outfit.
The skirt was more tightly formed at the backside. With the arrival of Edward, the son of Queen Elizabeth, the trend changed to "health corset" with S bend look.
In the earlier Victorian period, the dresses appeared to be somewhat simple with a large hat while in the mid-Victorian period, the outfits were more gorgeously embellished.
The length of the dresses was always long, touching the floor. The long trains are even commonplace today at Hollywood or Bollywood gala days.
Wedding dress
As regards the wedding dress-code, women preferred white (Inspired from Queen Elizabeth's wedding attire). A vintage Victorian wedding dress comes with laces and trims. The puffed sleeves with a high-neck collar were mostly preferred.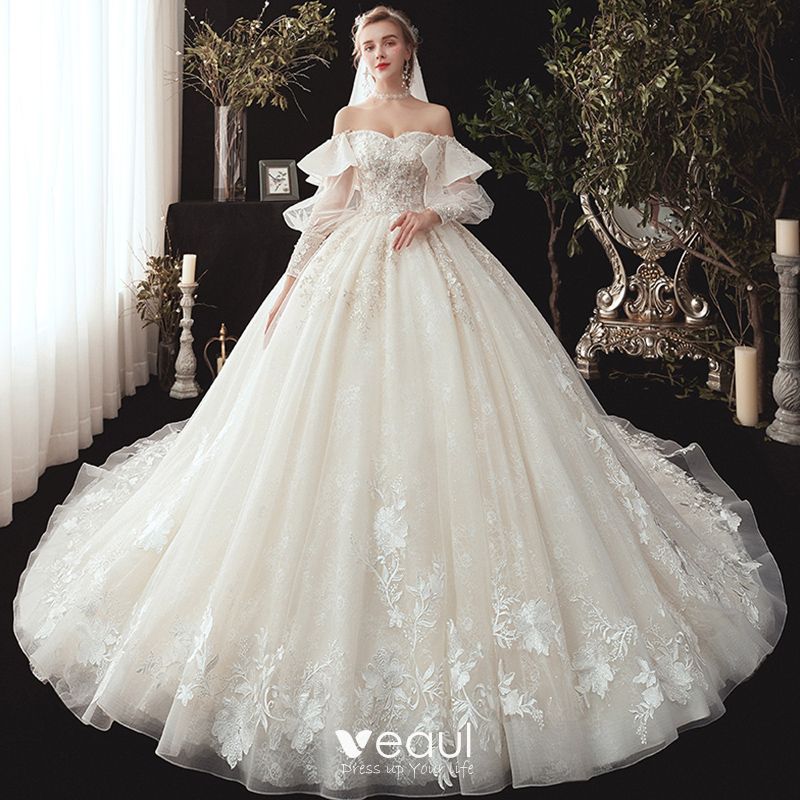 Nowadays the Victorian dress theme is often followed with a puffy sleeve and a high-neck collar. Wedding dresses appeared with variations. You can follow the Victorian essence yet create a different look with the add-ones such as- laces, draperies, and embroideries.
Beauty with discomfort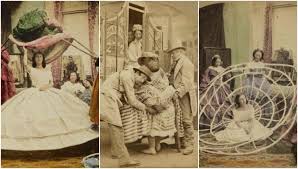 Victorian attire for women is pleasing to the eyes but disagreeable to the body. Corsets were in every-day women's attire. It was made of whale bones, which were later replaced with steel. Wearing corsets on a regular basis can be unhealthy.
It creates restrictions on body movement. It is to be noted that some critics find this corset to be extremely harmful. According to their analysis, it was the reason for congenital disabilities, miscarriages, cancer, anemia, damages to internal organs, and cancer.
The tiny waist fetish of the Victorian period only emphasizes the concept of restriction and "has to be perfect" on women. Mid-Victorian "Crinolines" was known to make the hip look larger. A larger hip was assumed to be "attractive."
Different types of crinolines appeared. A dome-like shaped and caged layer called Cage Crinolines were to add volume to the skirt.
However, in the late Victorian period, the bustle arrived. Bustle is the pad at the backside of the woman making a sort of puffiness. Carrying such a heavy dress foundation can be the reason for the harmful effects on the body.
Women's Accessories: ethereal and grandeur
Hats or bonnets were things of attraction for women attire. An elegant hat completes a Victorian outfit. Victorian hats of women were designed with different fabrics of different colors, laces, bids, buttons, glitters, ribbons, flowers, and feathers.
The hats were quite large, protecting the neck and face of a woman. Hats were used both for covering and styling. In social gatherings, a Victorian female outfit is incomplete without a commendable hat. Hats came with hatpins. Stick hat pins or basic hatpins were used for the purpose of designing.
Victorian women used extensions to enhance their beauty. Such as-False curls, artificial flowers combined with lovely headpieces. Victorian women wore expensive ornaments and jewelry as a display of rich-show.
Outfits with concepts
Outfits of women varied according to the idea. Tea-gowns were worn in the time of friends get together. Around the 1780s, Victorian women adopted a lighter and loose type of dress for the evening tea-time. The tea gowns appeared with graceful droppings of draperies and laces. It was more relaxed and less weighty.
The tea gowns were preferable for a friendly meeting with female friends. There was also a dress-code in the time of hunting. Skirts with jackets were worn for hunting. Women had to follow a strict dress code.
Dresses which show legs considered to be vulgar and improper if the age of the girl is passed 16. Little girls had to follow restrictions regarding the length of their skirts. Even at the age of 4, the dress length had to be just below the knee.
The themes of Romanticism or platonic love find expression in Victorian costumes. The very essence of Romeo and Juliet can be found in the puffy floral women's gown and majestic men's apparel. The variation in colors and dyes was symbolic of the age of visual art and sensation.
Moreover, the industrial revolution confined women in four walls of the home. Their dresses constructed their roles sometimes as housewives, as lovers, as a thing of desire but never portrayed the characters of earners or decision-makers. Men's outfits were more lord-like, giving the lofty impressions. Though women's gaudy Victorian dress code lessened their professionalism, men's dresses never appeared as impediments. Industrial sobriety was apparent in menswear.
Victorian male outfit
The outfits of the Victorian male were about colors and stiffness. Unlike female outfits, the male costumes had limitations. Coat, Waistcoat, Trousers were commonplace. For outdoor wear, Long coat or cloak was used. Coats came with variations- tail-coat, frock-coat, sack coat, evening-coat, and waistcoat. An outfit without a perfect vest is incomplete.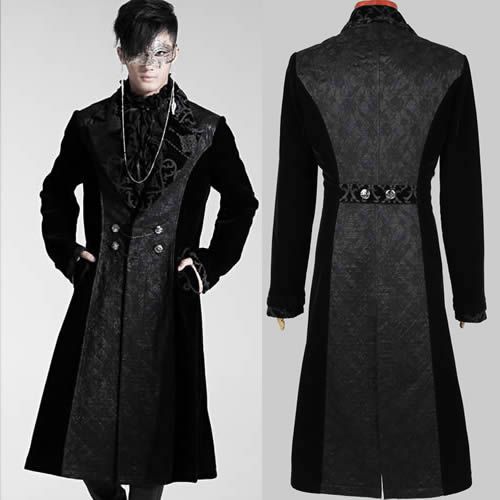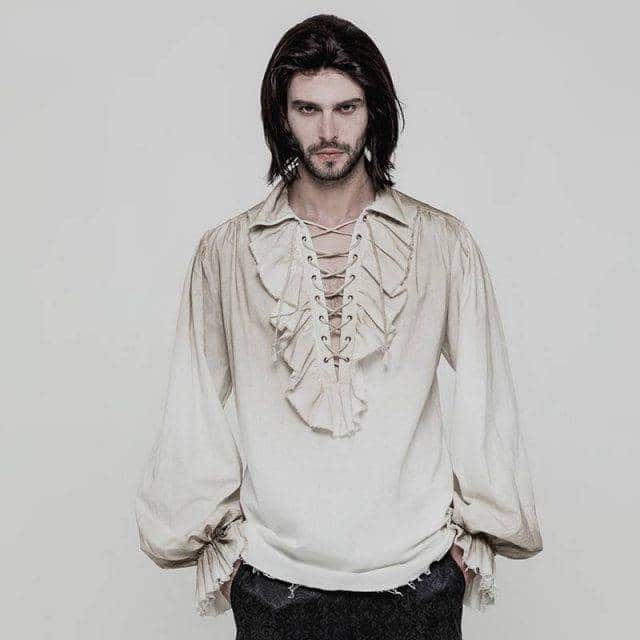 The vest often comes with contrasting colors. Several patterns are followed in designing vests, such as- stripes, plaid, lapels, shawl lapels. Victorian neckties, cravats, ascot, and bow ties added elegance to the male apparel. Colors like Blue, Brown, Grey, Black, and Yellow, etc. were men's colors.
Men wore civil war military boots or black cowboy boots. The dance was one of the many artifacts of the Victorian age. The boots made for men came with smooth leather sole comfortable for dancing.
Accessories of men
Men wore caps with different shapes. Silk hats, Cloth top hat, Melon-shaped hat, pork-pie shaped hat, Mourning top-hat, Summer-hat, the Hungarian-hat, etc. were prevalent. Hats define different positions or situations like gambler, bowler, or mourning funeral. A man of culture has to appear in social gatherings with proper dress-code.
We all remember Darcy from Pride and Prejudice by Jane Austen. His very first entrance at the ball gave everyone the impression that he is quite a nobleman. Elizabeth's mother could presume him as an agreeable man for her daughter at the very first look. His elegant apparel declares his position to everyone.
A Victorian man is never at his best without a hat, suit, tie, and fancy men canes and walking-sticks. Walking-sticks were not only supportive material for walking but also exhibited as a symbol of aristocracy.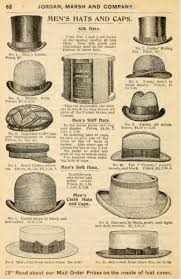 Elegant sticks ornate with Brass or Silver handles were widely used by Victorian men. Pocket-watch with the chain was one of the fanciful Victorian male accessories. The title" Gentleman" was very much associated with some must-have items, for instance- a beautiful pair of hand gloves, tie pin, cufflinks, smoking pipe, top hat, formal braces, emporium, garters, snap spats and pocket squire.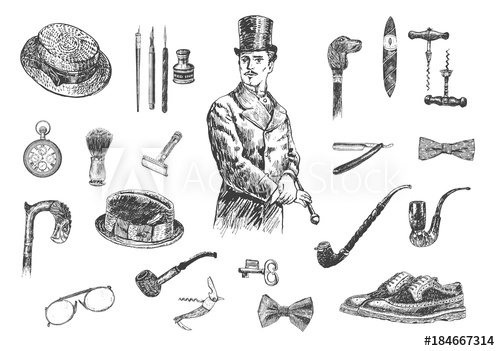 Men's shoes had low heels and pointed toes. Shoes were either lace-up or button-ups. Cavalry boots or western boots were also fashionable.
Victorian Mourning dress-code
The color Black is traditionally associated with mourning in Britain. During the Victorian area, such tradition was followed with more rigidity. There were periods of mourning considering the closeness or distant relationships with the deceased.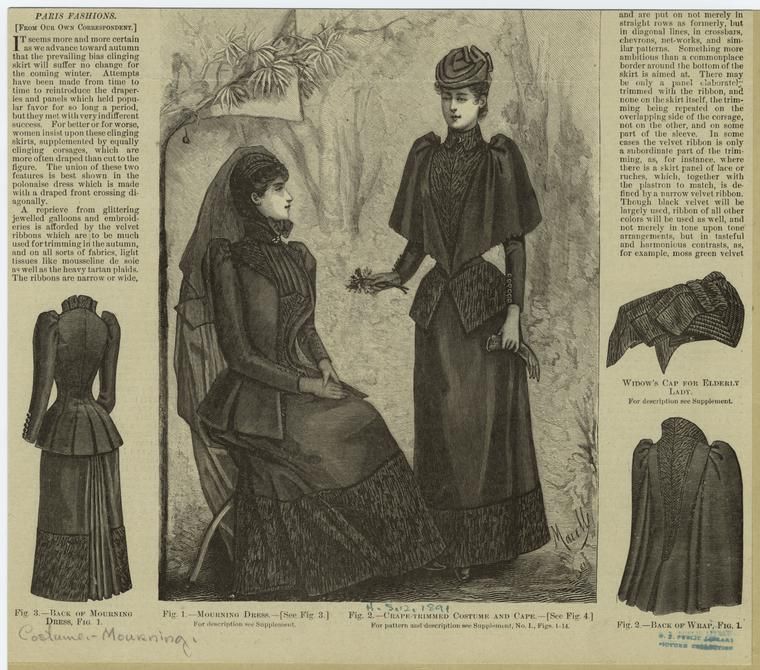 The periods are- first mourning, second mourning, and then comes the half-mourning. The color black darker if the deceased is someone close. With periods more faded versions of black colors are used. If the deceased is someone distant, then any one of the periods is entirely skipped.
If the deceased is a husband, the materials of the wife's clothing should be limited to bombazine fabric with a crepe in the first mourning period. Second mourning with less crepe, in ordinary mourning period silk or wool, replace bombazine. In the half-mourning period, colors like grey or lavender are permitted. But apart from mourning, the victorian era had other black dresses too.
Victorian maid and butler dress-code
The Victorian age was mostly an age of class-discrimination. The discrimination was prevalent everywhere, even in clothing style. Upper-class Victorians had maids and housekeepers. The servants had a different dress code to follow. The Victorian charm is also present in their apparel. Maids had white hop-caps and headbands covering their hair. They wore a fancy sleeveless white apron over a black long gown full_ sleeved.
The neck had to be covered with a button-up or zip-up style. Butlers or menservants, on the other hand, wore high double-breasted black waistcoats and trousers of mixed print and never too black. They wore Black or White plain ties. The animated series Emma: the Victorian Romance tells the story of a Victorian maid, the series is today's talk because of the portrayal of dress-codes and restrictions of maids.
A Victorian black gown with white floral sleeved apron is Emma's outfit in almost all the episodes. We find her dressing all the time, while other aristocratic characters change dresses from time to time.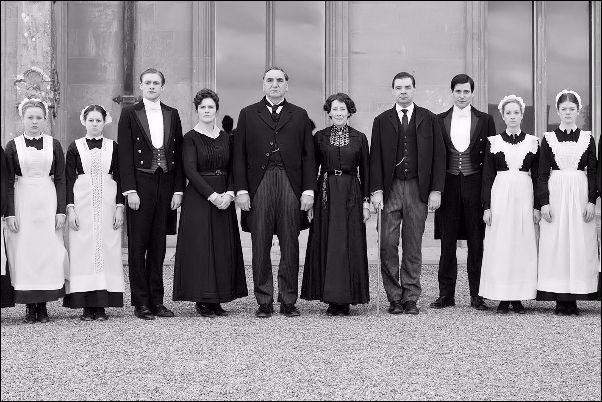 Victorian Fashion icon: Alexandra (1863-1901)
Princess of Wales and later queen of England, Alexandra can be called a Victorian fashion icon. She had a powerful influence on Victorian fashion culture. "Princess line" was named for her. It is noteworthy that the emergence of tight chignons and curl fringe was her influence.
She was famous for her trim figure and youthfulness. Her beauty and elegance ruled 19th-century Victorian fashion. She was always conscious of updated designs and colors of dresses. Mostly Alexandra wore Parisian couture. Her smart clothing choice intensified the grandness of monarchy.
Influences of Victorian Clothing
Corsets
As earlier I said, the corset was an integral part of women's apparel. Even after 200 years later, corset appears with varsities today. Today's corsets come strapless yet structured. It comes with the add-ins of lace-up belts. We can also find some corset wrap shirts howling at the shopping mall. Madonna's iconic Jean Paul Gaultier conical corset is inspired by Victorian fashion.
Color white
There was a time when people chose dresses in different colors for the wedding. Today the color white Is taken to be the traditional color for the female wedding dress code. The inspiration from Queen Elizbeth's wedding is still fresh today as we see the white gown in wedding ceremonies. It is from the Victorian age that people use white-colored gown as a wedding dress.
There are variations with designs, but the color is always white. Kate Middleton, Alexandra Macqueen, Gwen Stefani, Rita Wilson, Jeda Pinkett Smith, Amy Adams, Ellen DeGeneres, Goldie Hawn, Maggie Gyllenhaal, Lauren Miller, and many more iconic figures dazzled in the White gown in their wedding's.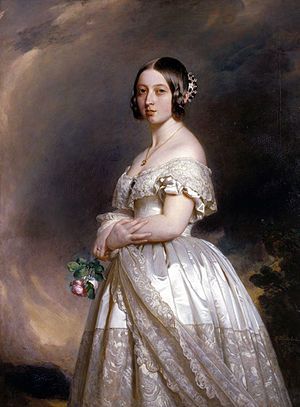 Ornaments
Jewelry from the Victorian period also never ceased to exist today. The teaming Diamond crowns and sapphire brooches of Queen Elizabeth are an inspiration to many jewelry patterns today. The fossilized coral or driftwood (known as Victoria's mourning jewelry at Albert's death) is used to make different ornaments. Today, the drop earrings, Mirror stoned earrings, are the Victorian inspirations. The shoulder-grazing earrings, collar-bone skimming earrings are nothing new today. The Victorian essence works behind such concepts. Today Victorian-inspired pieces of jewelry are seen in catwalks, fashion shows, movies, and series in large proportion. Such jewelry still bears the aristocracy it used to carry 200 years ago.

Blouses
When ornaments were inconvenient, Victorian women wore detailed designed Victorian blouses or shirts over tight-fitted corsets. Blouses with off-shouldered and long puffy sleeves were central attractions. Blouses with different neck designs, high neck, or off-shoulder were top-notch designs.
Today in catwalks, we can see the variations of such Blouses. Recently high-necked pieces with ruffles and laced-up details blouses are seen to be worn by teens. The Victorian essence behind such Blouses creates an elegance.
Today, high–necked blouses are worn with skirts, pants, shorts, or loose pants. You can make your outfit super trendy with the combination of a voluminous blouse and a cigarette trouser.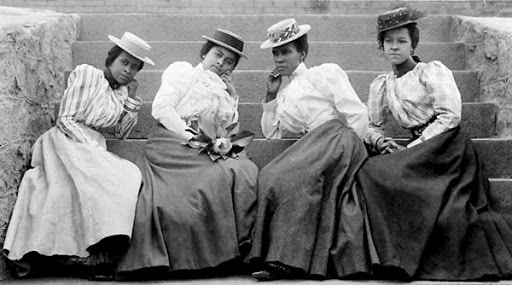 Conclusion
The Victorian age is the age of art and Romanticism. The dresses of both men and women have shown the touch of arts and sentiments. And that is the unique part of Victorian-style clothing. The society of the Victorian time was quite the opposite of modern times. Many things were not open to being talked about. Such restrictions and rigidity are seen in dresses too.
The class-distinction was almost pointed by the dress-codes. You can easily differentiate between pictures of social classes with different attire. Despite odds, Victorian clothing still is on top-notch today. The mimicry of Victorian sentiments in movies, fashions, cultures is vividly prevalent.
The sophisticated extracts of the Victorian age are the best-sellers in the fashion world. A considerable part of world-class clothing is inspired by Victorian Queen Elizabeth and her successors. The variations of colors and playful designs with laces and trims came from Victorian clothing styles. Women's apparel highlighted the delicacy and virtuousness while men have highlighted stiffness.