In the Victorian era, wedding dresses used to be a bit different than nowadays. They used to have much of a romantic feel to them. Well, the Victorian era is all about fashion. And the wedding dresses from this era are considered to be fashionable as well.
Here we will be talking in-depth about Victorian wedding dresses, their lineage, and designs. The trend of white bridal dresses became popular in the Victorian era as queen Victoria got married in a white wedding dress.
We will discuss all the wedding dresses from Victorian Era clothing.
Click here to pick a beautiful victorian dress for you! 
Victorian wedding dresses history
Before the Victorian Era, there wasn't much to go through wedding dresses. As long as the wedding dress was the most expensive one, they were fine with it. There was not much concern about the color or the design of the dress. This continued until the 19th Century.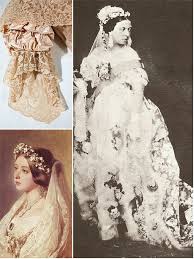 Then came the Victorian Era. Here Queen Victoria brought some new standards to wedding dresses through her own wedding. She chose her wedding dress to white. But at that time, it was a really unusual choice for a wedding dress as white was the color of mourning back then.
However, that didn't concern the fashion-forward queen. She went to a white-colored wedding dress anyway. Even after all the criticism at that time, this dress became one of the best vintage wedding dresses. And nowadays almost every wedding features a White wedding dress for the bride.
Now let's take a look at the significant features of this wedding dress.
Characteristics of a Victorian Wedding Dress
A Victorian wedding dress mostly features a tight-fitting body. The fitting is perfectly adhered to whoever is wearing it. And you can just tell it by seeing them wearing the dress. Then there are laces and draperies around the dress. These additional laces and draperies are the key designs of this dress.
Then there are sleeves and a high neck, which makes this look different than any other wedding dress. These dresses tend to have many kinds of ruffles on them, which makes the sleeves a bit puffed. So, this makes the dress look a little bit different on the sleeves. This is another key element of a vintage Victorian wedding dress. Also, wearing proper undergarments or using a proper corset was another important factor to get the best look.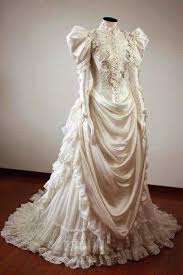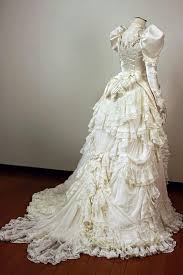 There is almost like a rule to wear these wedding dresses with a petticoat. The Victorian gowns tend to be more like a Victorian ball gown silhouette. Another must-have part of this dress is the train, which adds luxury to it.
Well, as you can tell by all the specifics that you will need to have the right surroundings to have this kind of dress worn. This means you can go for the vintage Victorian wedding dress only if the wedding is themed on a particular style. Otherwise, the dress will lose its significance and value.
But what if you don't want to have a themed wedding and still want to get that Victorian wedding dress thing going. Well, you can try out borrowing some particular elements and styles of a Victorian wedding dress. You can just incorporate your ideas of Victorian wedding dresses into modern dresses and enjoy the vibe.
Don't you worry now! We have actually got some cool ideas to do that. You can try out these ideas and get the Victorian wedding dress vibe incorporated into modern dresses. So, you won't need to go for any themed wedding at well.
Let's go through some ideas then.
Some ideas for Victorian Wedding Dress in modern style
To be very honest, if you try out with these ideas, you won't get the vintage feel of a Victorian wedding dress. But these will surely help you get the look and avoid going for a whole Victorian wedding theme at all.
So, you can get inspiration from Victorian wedding dresses and combine them with modern dressing styles to get a look altogether. We have got some ideas prepared for you here.
Victorian Lace style wedding dress
Well, as you already know, laces and draperies are a key part of a Victorian wedding dress. So, you can try out a lacey look on your own wedding gown as well. Adding a lace will give your wedding dress a more luxurious look and also give it a royal feel. It will add more flair to your wedding dress.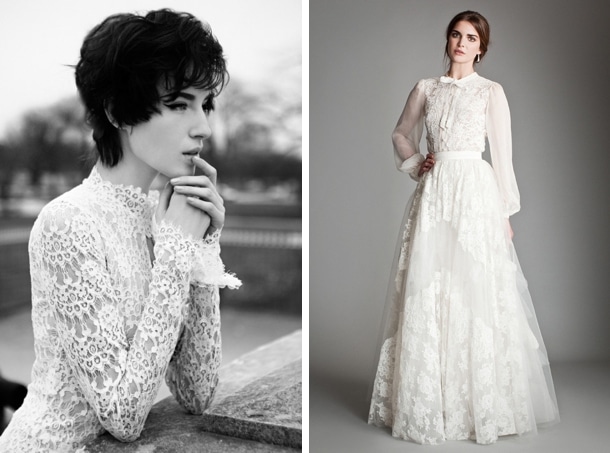 Along with all that, having the body, sleeves, and skirt covered with lace will make the dress look even better. To make it look elegant, you can try out adding a high-neck and a long sleeve as well.
Using lace will benefit you the most in cases of plus size dresses. The perfect combination of laces may make you look a bit slimmer in the eyes of people. So, with this idea, you can have the key elements of a Victorian wedding dress into your own modern wedding dress.
Black wedding dresses
Well, this actually doesn't go with the all-white Victorian dress theme. It's pretty going outside the box. But you can still try this one for a different kind of look and a unique approach to the Victorian wedding dress.
This will be like a traditional Victorian wedding dress, but instead of a white dress, you will get a black one. Although it's downright unusual to wear a black dress at a wedding, especially for the bride. But if you are someone who likes to do extraordinary and unique things, you can surely give this a try.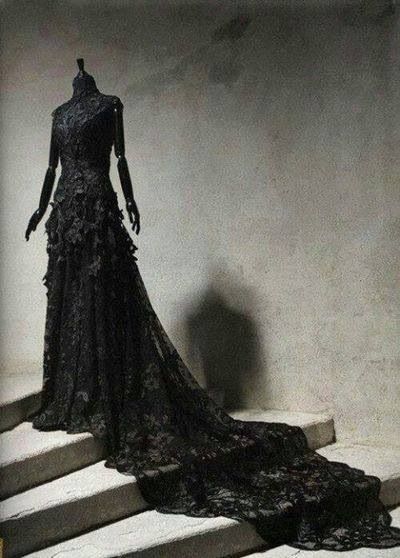 This looks unique with all those black laces. Black is always a luxurious color to go with. So, combined with the Victorian wedding design, it seems much more elegant and will definitely feel royal.
Wedding dresses with sleeves
Puffed sleeves are another attraction to Victorian wedding dresses. So, you can try out going for a puffed sleeve with your ordinary wedding dress, although it isn't effortless to incorporate a puffed sleeve on a modern dress. Even if you go with a vintage puffed sleeve look, you can't make it look perfect.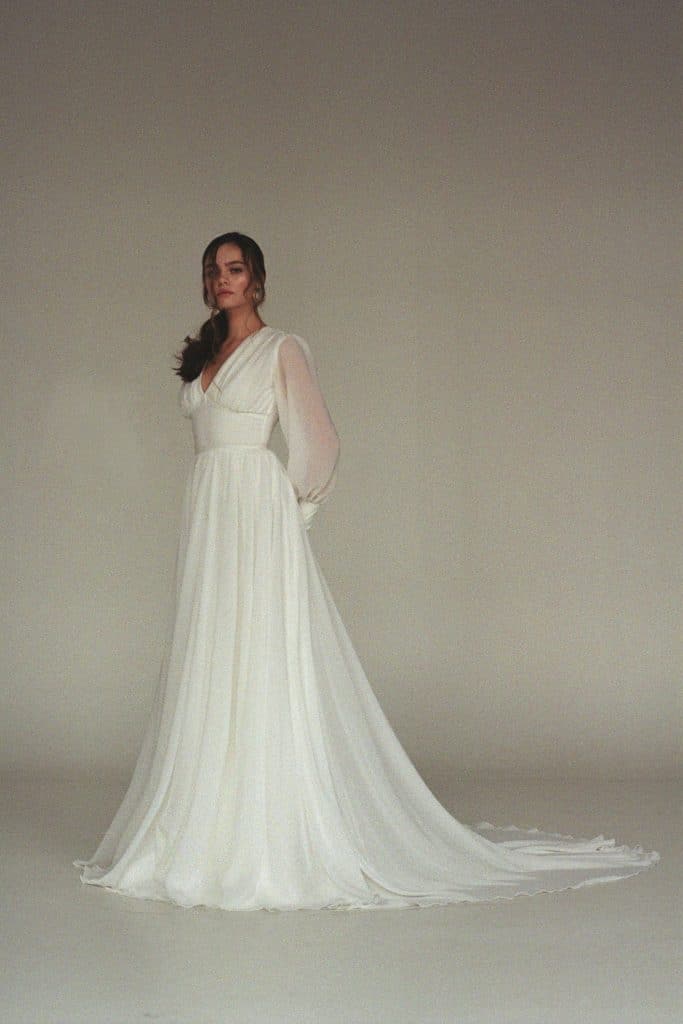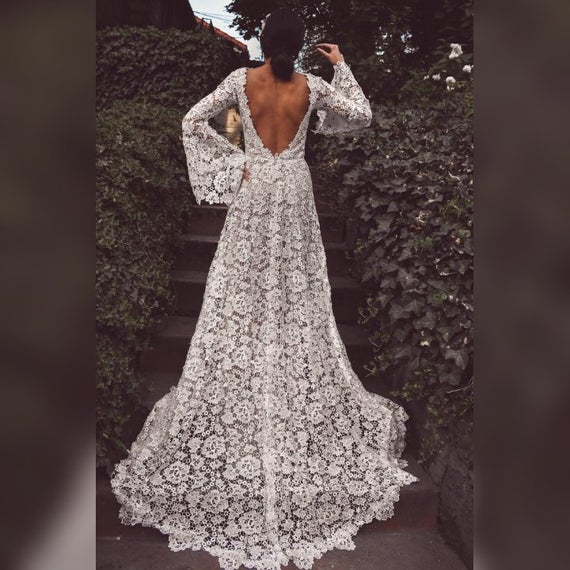 This is why we suggest some variants of a puffed sleeve. One is bell sleeves, and another is bishop sleeves. The bell sleeves usually start flowing at the elbow or lower. And the bishop sleeves tend to be puffed down the elbow to the wrist.
Besides these two types, you can always go with the traditional tight-fitting sleeves. As they always look good in every state.
Dresses with ruffles
Ruffles from a Victorian wedding dress add that romantic and feminine touch to a wedding gown. You can add ruffles on the shoulder area to have that flair going on with your wedding dress. This also looks great if you are wearing an off-the-shoulder dress in your wedding. Adding a big ruffle that makes the dress looks stunning yet very much simplistic.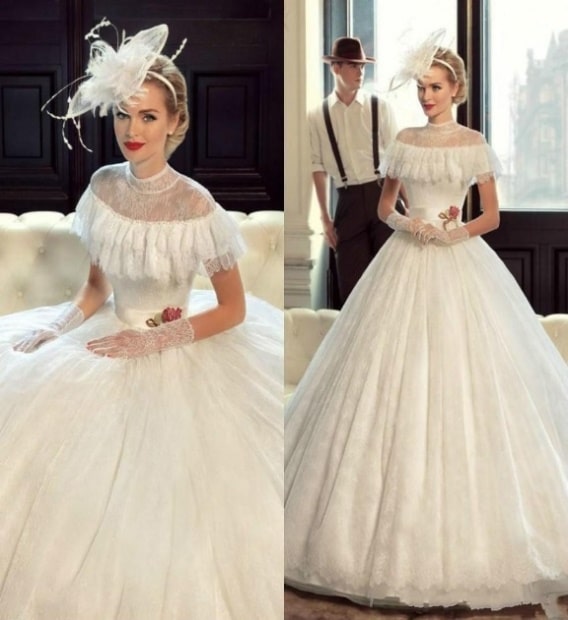 If you don't want to go with an off-shoulder, you can always try combining a ruffle with an incomplete high-neck design. Also, for people with broader shoulders, this might not be the ideal design as it will make you look bulky on the shoulder area.
Wedding gowns with layered skirts
Now you can start changing some stereotypes of a vintage Victorian wedding dress. In the traditional Victorian dress, the skirt used to be much simpler and didn't have any flair to it. So, you can try creating your own type of skirt, in this case, try adding some extra layers. You can combine them with different types of necklines and get yourself a new wedding dress look.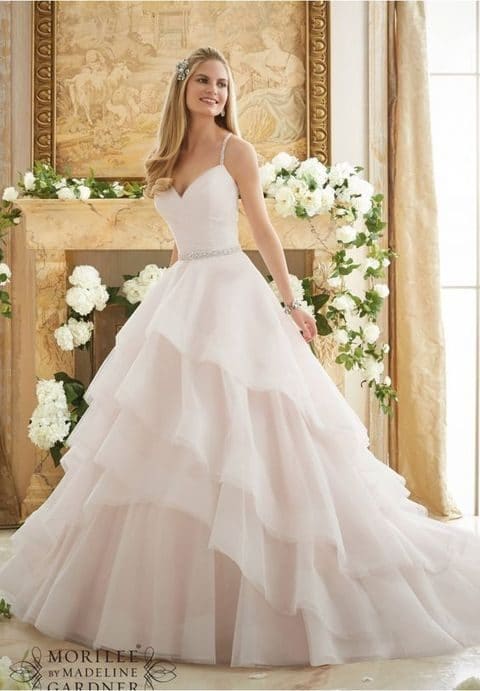 Having a layered skirt will allow going for a more minimalistic design. You can choose a much more luxurious bodice with intricate beading work. This will complete the royal look of your wedding dress.
Gothic Victorian wedding dresses
This has become the most common and widely used design of a Victorian Wedding dress. You can go for a darker color on this one. If you are planning on a gothic themed wedding, then you will surely have to opt for this one. The most stunning combination here is the black and white Victorian wedding dress. Also, some black Victorian dresses make things look spooky yet classy at the same time. All thanks to the Victorian wedding dress heritage.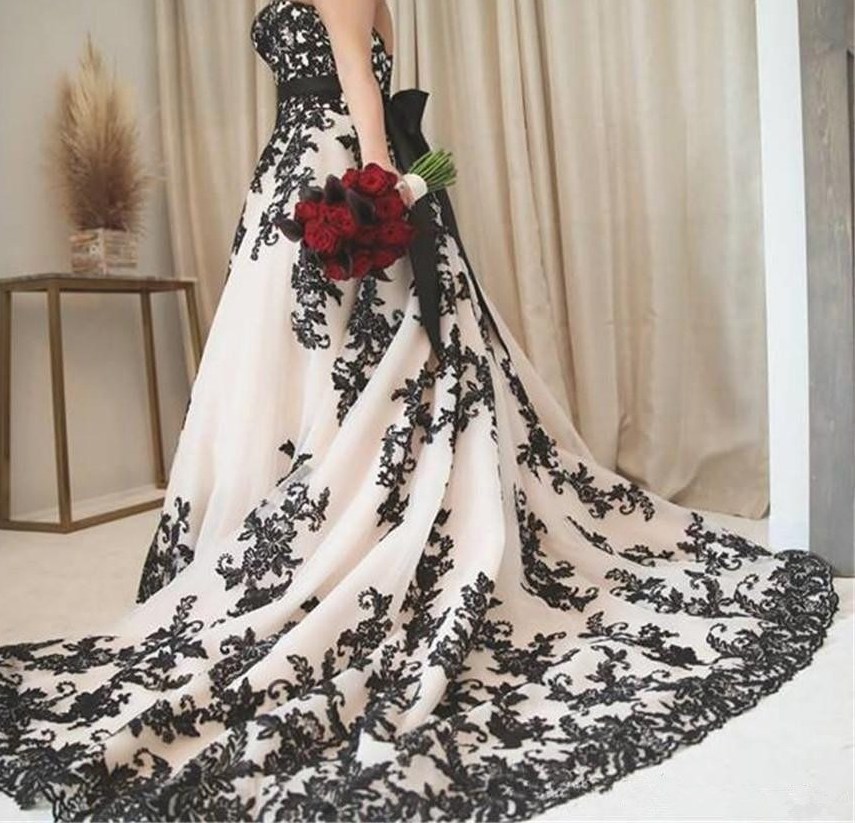 This is a unique approach to a wedding dress, and it's widely used nowadays. You can find various designs to go with this look. But having that classic combination of black and white surely makes things a lot better. With this design, you can really get the Victorian wedding dress vibe with some modern-day look.
Sexy Victorian Corset Dresses
Well, if you want to turn the heat up at your wedding with your wedding dress, then this is the best way to do it. It has got the inspiration of a Victorian wedding dress along with some creative designing that makes the dress look sexier than any other.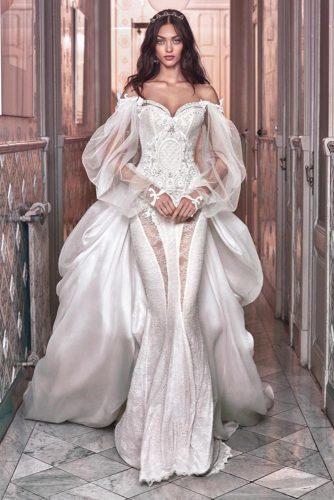 The design can be like a gown or a standard dress with a wide-open back. Combining this with a tight-fitting and long sleeves will add those luxurious details. And obviously, the use of laces will sum things up for this kind of dress to be like a Victorian wedding dress.
Dresses with a touch of gold
This has the most attractive and catchy eye design of them all. This is basically adding some gold color accents into your white or off-white colored dress. As the color gold makes anything look more luxurious and expensive. It adds an elegant shine as well. So, adorning a traditional Victorian wedding dress with a touch of gold is all you need for a modern look.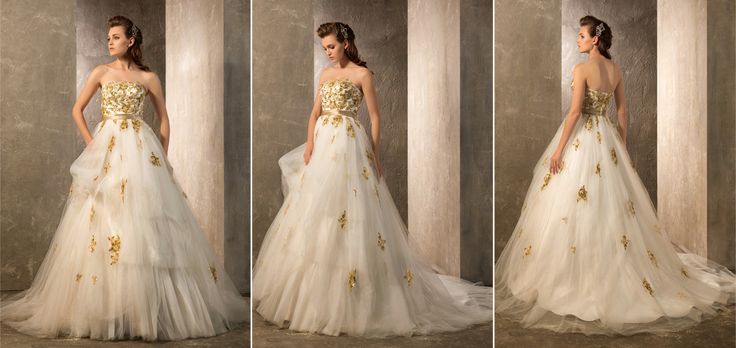 You can add gold in many ways, but the best ones are to either have them beaded or go for embroidery. You can add gold color laces as well. But make sure to keep it minimal as too much of a gold accent will ruin the look of a wedding dress.
Beaded Wedding dress
If you really want to have a glamorous wedding dress, then you can opt for this design. Well, this will cost you a little bit more than the other ones as handmade beading isn't something cheap. But a dress like this will surely have a presence and will give you the worth of your spent money.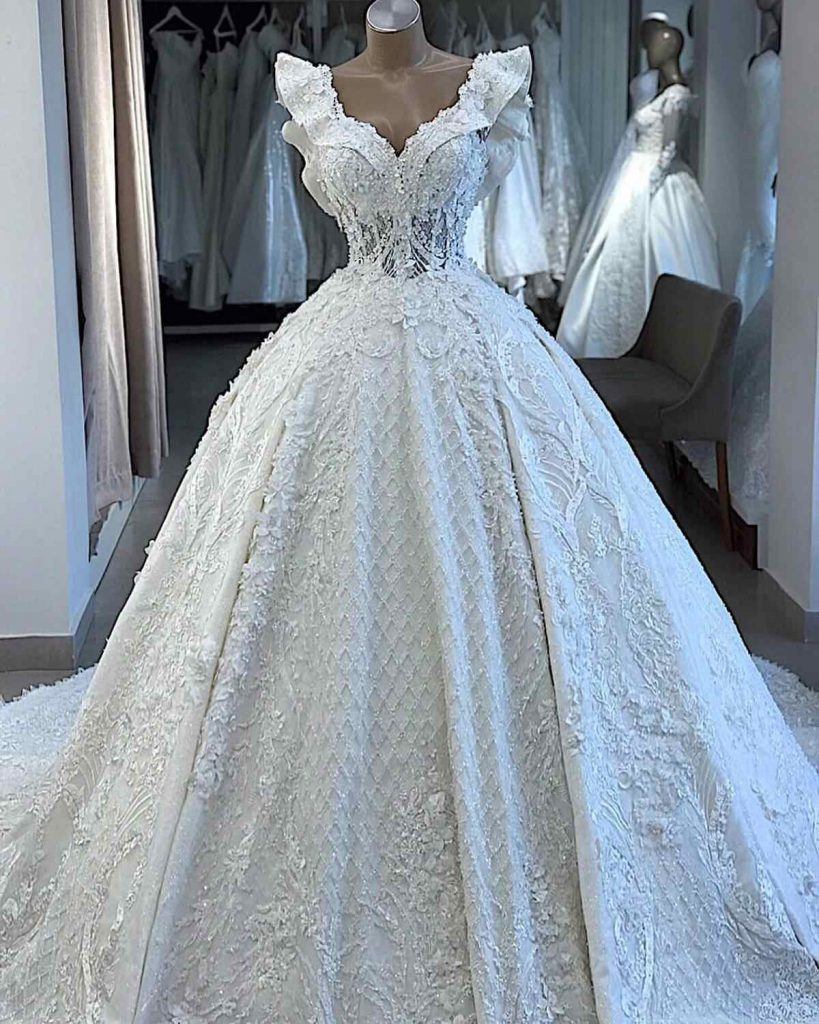 A beaded dress will surely have some intricate work that will completely distinguish this one from any other wedding dress.
Modern Victorian wedding dress
The first dance after the marriage couldn't ask for a better dress than this as it will have a full and fuller skirt on the lower part. Along with the fitting bodice work with all the laces. It helps you create two different looks in a single dress. The gown can go with a fuller skirt to make it more gorgeous.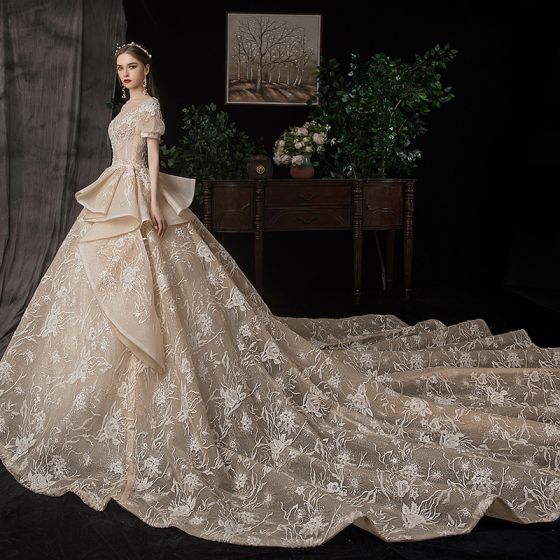 This one takes all the elements from a vintage Victorian dress and gives it a modern twist with a fuller skirt.
Conclusion
There you go, we brought you some basic knowledge of Victorian wedding dresses. Along with that, we gathered some ideas that might help you get a Victorian wedding dress vibe with a modern themed wedding.
Although, if you want to go for the traditional dress, you will need to go for a Victorian wedding theme as well. Otherwise, you can try out these ideas and come up with your own ideas as well.