1920s men's fashion had an interesting variety of options. In this era, we can witness a relevant shift of classic sophistication with a touch of modernity. 1900-1910s men's fashion was more formal. But 1920s fashion for men opened up many opportunities for the incorporation of modern styles and an appreciation of simplicity. Men adopted more neutral colors – but involved vibrant colors for accessories.
1920s Men's Fashion: SUITS
Men presented fashion in the roaring twenties in a simplistic fashion. Men usually came in traditional suits with solid colors. While women wore cotton house dresses, skirts, and blouses with simple accessories, men stuck to their classic suits. Suits were an essential staple to every men's wardrobe. For more privileged individuals, they had an extensive collection of suits for various occasions. For poorer men during that era, they had one good suit to wear during Church occasions on Sundays. This showed a great disparity between people in different social classes – highlighting the division between the social classes.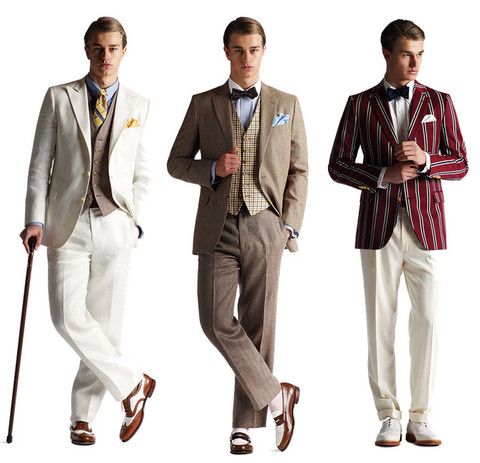 The 1920s men's suits followed the trends of the 1900s men's suits for a large part. Although suits were similar to the ones in contemporary today, the element that sets them apart is the materials and how they fit. The 1920s men usually preferred thick wools to make these suits. This material made the suits more comfortable.
Interestingly, while women had loosely-placed clothing – men had breasted jackets that accentuated their hips – giving them shape and fitting looks. This was a very interesting fact that women wore loosely-placed clothes. But men had a more fitting style that accentuated the shape of their bodies.
1920s Men's Fashion: Trousers
Men's pants had a flat front and typically a flare to the bottom. Pockets had a slit on the side with one button closure. The pant legs were fairly fitting in the top but flared by the second half. Men took these new wide-leg styles to a new spectrum – they paired it with classy bags and Oxford shoes. The Collegiate trousers were a new trendsetter. As seen, this is a similar comparison to women's clothing that accentuated the flared styles and loosely-fitting designs.
The stark contrast between conventional trousers today as opposed to trousers in the roaring twenties especially for men can be seen in the high-rise styles of the trousers in the twenties. The waistband came up the natural waist. To keep them up, men typically used suspenders that were button-up.
Suit vests or waistcoats
As opposed to the contemporary today's two-piece suits, men in the roaring twenties used to wear a three-piece suit with a vest. This was only appropriate for people in the upper classes as people in the lower classes could not typically afford a matching vest – so they would find similar pieces of clothing in similar color schemes to pair it with their suits. As such, this showed a clear disparity between the rich and poor, widening the gap in social classes even further.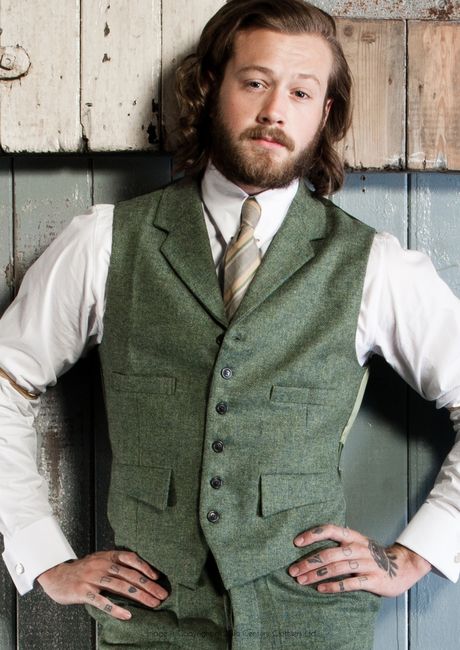 Casual sweaters
Jumpers with puzzling patterns were of style in the roaring twenties. It presented a different edge as it incorporated striking patterns and prints that came in various colors and designs.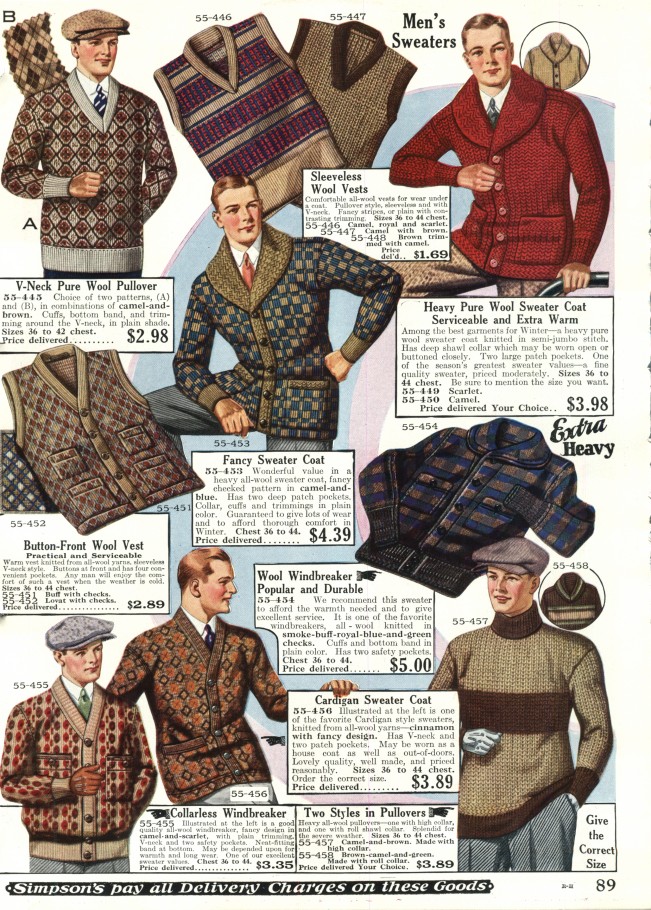 Men's sweaters replaced the sporting coat and blazer in the roaring twenties and also presented a more comfortable, softer, and more affordable piece of clothing as it was appropriate for all social classes and did not further distinguish between the rich and poor. In particular, the pullover sweaters were popular among the youth. It was available in all different kinds of vibrant colors and patterns such as checks, zig-zags, plaid, and stripes were of fashion.
1920s Men's Fashion: Shirts
Underneath suits, this is where the classic attire comes in. 1920s men's shirts had colorful vertical stripes in a mixture of colors. Solid colors were also available towards the late twenties. Shirt collars were the typical button-up tops of today. However, people believed that men during that era incorporated many more patterns and vibrant colors as opposed to contemporary today.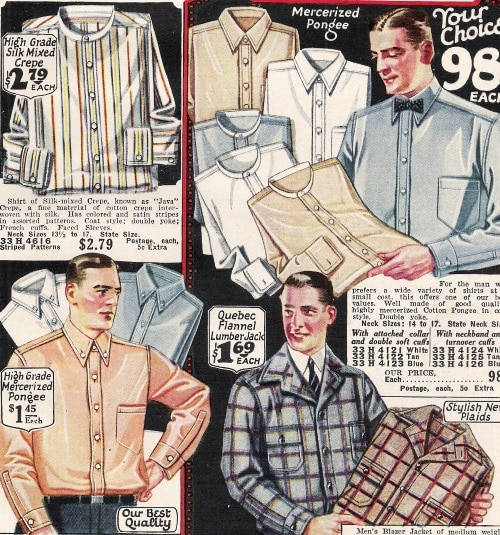 For instance, if you watch Peaky Blinders on Netflix, you will know the fashion in the 1920s. Men always complimented their suits with collared shirts with vibrant colors and these shirts had typical patterns. The point collars were typically detachable – which means that you can turn it into just a button-up shirt for casual days. Eventually, most collars were attached to the shirts and no longer just came in just white but matched with the whole shirt.
This was definitely an era of change and difference in men's fashion. There isn't much difference with the collared shirts today to the ones in the roaring twenties. The main difference is the aspect at which the collars were detachable, but apart from that aspect, most of the elements are the same.
Neckties and bow ties
One aspect of fun and vibrance was the neckwear. Men either wore bow ties or neckties depending on the occasion. The roaring twenties was the decade of men's necktie as we know of it today. For several decades, the preferred neckwear was the bow tie – they came in vibrant colors and patterned designs. They were mostly worn during summer with lighter colors or all year round for some. Just like most menswear in the twenties, the neckties were loudly colorful: they had a personality of its own. Each and every necktie presented a different style and vibe.
Wearing a club tie meant you belonged somewhere, a feeling that was in a void of by most men after the war when men returned to an unwelcoming community. Club ties slowly incorporated the formation of groups and hence, accentuating identity and the sense of coexistence.
Men's fashion in the roaring twenties…
Overall, men's fashion in the roaring twenties had many similar aspects to the fashion of the contemporary days. However, one main aspect was the fact that they incorporated various elements of colors and vibrance into their choices of clothing. This was an era of brilliance and perhaps, presented a wave of change for the style of fashion that could incur as a result of their choices in clothing during the roaring twenties. Overall, we can agree that they've incorporated a different yet fresh edge to fashion in this era. We can slowly see it transcending across times, and especially brought into the modern era while still retaining some of its past values and traditions.