The Great Gatsby Fashion is one of the unique fashion features of the 1920s. In the roaring twenties, most of the events invited people to dress up. During major events and celebrations, dressing up was a key essential in how the celebrations played out. Most people will churn out every piece of clothing they had to put together a presentable yet glamorous outfit. There was an extensive collection to choose from: you will never run out of things to wear.
Evening gowns and formal dresses were becoming more common during this era. Films such as Downtown Abbey, The Great Gatsby, Peaky Blinders presented women in common style. After researching more based on the theme of 'Great Gatsby Style for Women,' this is what we came across:
How were the Evening Dresses in Gatsby fashion?
There are many names for 1920s formal dresses. There were many dresses that looked similar and felt the same with distinct names. Cocktail dresses were almost always sleeveless and presented a distinct and daring look like a part of the gatsby fashion. To be able to pull off cocktail dresses, confidence and good spirits are the key elements to possess! Without these concoctions of personalities, it will be hard to pull off a good cocktail dress.
Popular necklines were one of the main features in gatsby fashion. As dangerous as it seems, one style trend presented a low V (down to the waist), this dangerous yet classy fashion presented a different style of fashion. The edge and fashion were simply unbeatable!
Besides the actual evening dresses, the 1920s women usually liked to pair it with decorative elements such as earrings, pins, and hems to accentuate the looks of the dresses. Overall, they incorporated all the elements to present an edgy and fashionable look.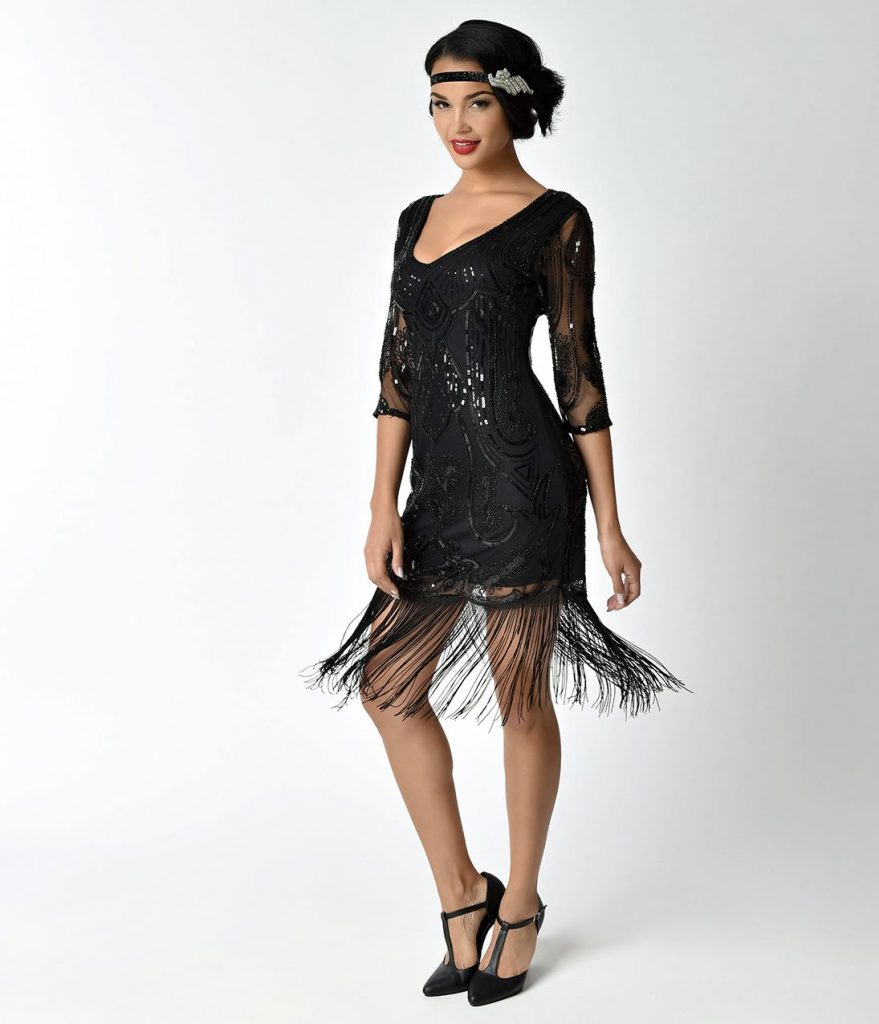 20s Flapper Girl Look
The roaring twenties will always be the decade of flappers. Timeless. Eccentric. Unforgettable. Women dressed up for a night out, events, festivals, and celebrations.
What exactly was the iconic flapper look?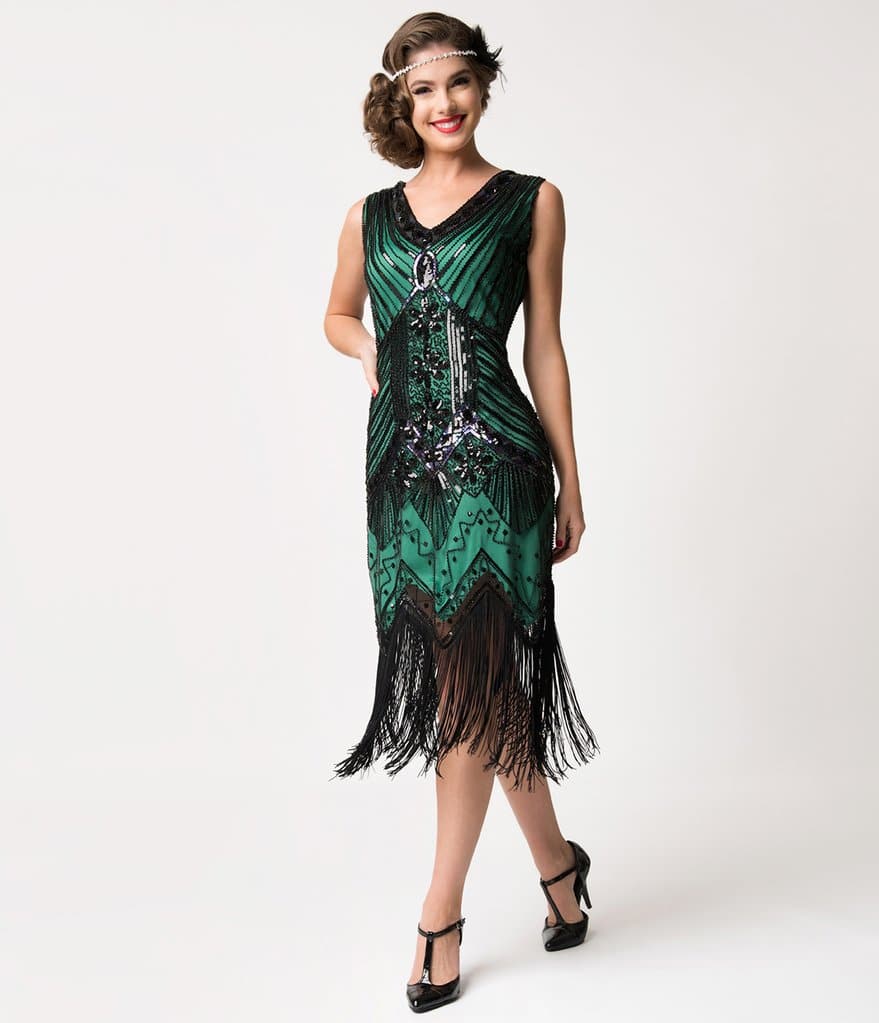 As a result of WW1, women were redefining their role in households and were in search of freedom. 1920s fashion always resembles the spirited and youthful style of living. As the young people were continually looking for their rights, the flapper style represented their look. Loose but also glamorous. They wanted to present a side that pursued two identities: that they were capable.
Flapper dresses were commonly loose-fitting slip-overs with either long or short sleeves. Belts accented the low waist called drop waist. The flapper costume was meant for the young and thin: youths! This resembled the potential and the rising power of the youths, although older and more mature women can also put together similar flapper-style looks. However, with these fancy dresses the gatsby women liked to wear natural makeup with a unique hairstyle. You can find out more about 1920s makeup and hairstyles in our other articles.
Flapper evening dresses aimed to show as much skin as possible. Hence, the below knee-length dress styles and short sleeved tops. Although exposing cleavage was still taboo in the roaring twenties, women were allowed to show other parts of their skin – especially their neck and back. It was becoming morally acceptable to show different parts of their skin – but sizable chests were still not in fashion.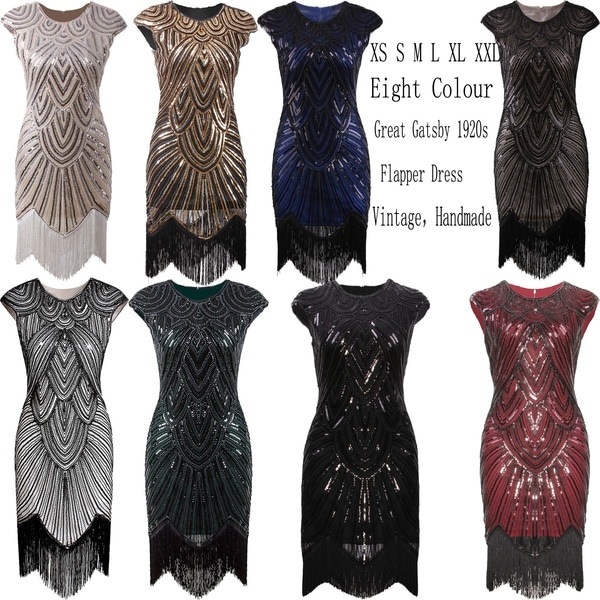 Flapper dresses can either be more on the expensive side, but it is possible to incorporate day-to-day items and elements to style your own flapper dresses. If budget is a problem, fret not, you can make your own flapper dresses with a budget.
Style Jewelry
Earrings and pearl necklaces are of style in this era. Although it is easy to be caught up in the expensive variety that some vintage stores may offer, it is also easy if you look to get affordable jewellery!

Women never left their houses without hats. As explored in previous articles, the most iconic hat during the 20s was the cloche hat. This is also named after the word 'bell' because they were shaped around a crown and a small brim. Women often had to tilt their heads to visibly see clearly while wearing the cloche hat. Hats were more simple than the other eras: it was usually presented in solid colors with visibly fewer decorations. They normally wore these with evening dresses, but not commonly for the flapper dress look.
Shoes
Shoes should be the least of your worries. Any shoe store will have an extensive collection of shoes that you would like to wear. One thing I noticed is the fact that women often avoided open-toe heels. To retain its authentic look, search for shoes that are T-strap or Mary Janes. Basic heeled pumps were also common – if you already have some of these in your closets, make use of it. Basically, In the gatsby fashion, shoes were somewhat that was available in the 1920s stores!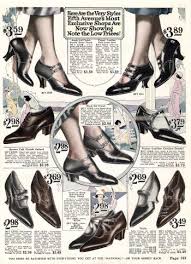 Where to shop?
Thrift stores are a good place to look: it should have items from the roaring twenties! Finding a dress from the roaring twenties shouldn't be a big problem: just learn how to look for the right ones.
Once you find a suitable dress, you can add whatever patterns you would like. Anything with lace, beads, sequins and ruffled skirts will be the best to accentuate the Great Gatsby themed look. The dresses should be an affordable option – although you are more likely to spend more on the elements such as fabric, pattern and trims rather than the dress itself. Once you find a right dress, the other elements should not be a big problem!
Online shops may be a good option to look out for. However, the prices may be slightly hiked up – it is worth a try to consider different arrays of places to look for your perfect look!
So… Great Gatsby fashion Themed?
The roaring twenties was undeniably a golden era of fashion: it was the epitome of the new modern age fashion. 1920s women embraced their carefree and lively manner. The Gatsby fashion easily represented their choice of clothing. As a result, this enabled them to pursue new identities and opened new doors for the rise of women's rights.
The Great Gatsby look is something to aim for!