The first decade of the 20th century is commonly called the Edwardian fashion era. During this time, the industrial revolution took place and it created a lot more focus on the improvement of fashion. Not only did Edwardian women's fashion develop, but the Edwardian men's fashion also reached the highest range of its stylishness and luxury throughout the decade. Edwardian men started to pay attention to perfectly tailored dresses made of rich fabrics. These dresses had decorations of elegant accessories. 1900 men's clothing was comparatively formal. They usually preferred to wear different clothes at different times of the day. This article mainly focuses on the suits that the 1900s men wore at different times of the day throughout the whole decade. It also puts some light on the fashion of the 1900s sportswear and working-class men's fashion. But, of course, the 1900s men had many other important fashion essentials!
The 1900s-1910s Morning wear:
"Morning coats" happened to be the regular morning clothes worn by the 1900s men. Apart from this, either frock coats or sack coats were common morning wear. These selections mainly depended on the wearer's age. The person who would wear the dress selected the dress according to his age and comfort. Commonly 1900s senior citizens preferred to wear frock coats where young people favored the morning coats. Gradually the clothing rules started to become less strict with time. The sack suit took the place of the morning suit. So, the elderly people were content with their frock coats and continued to wear them. But the younger people changed their taste and opted for the sack suits believing the morning coats needless.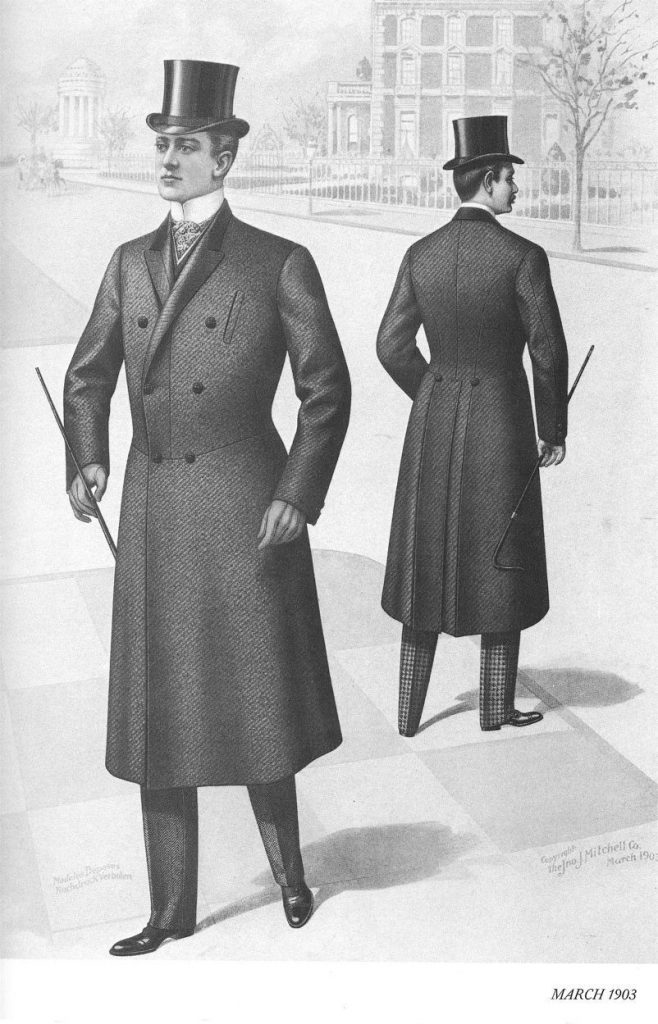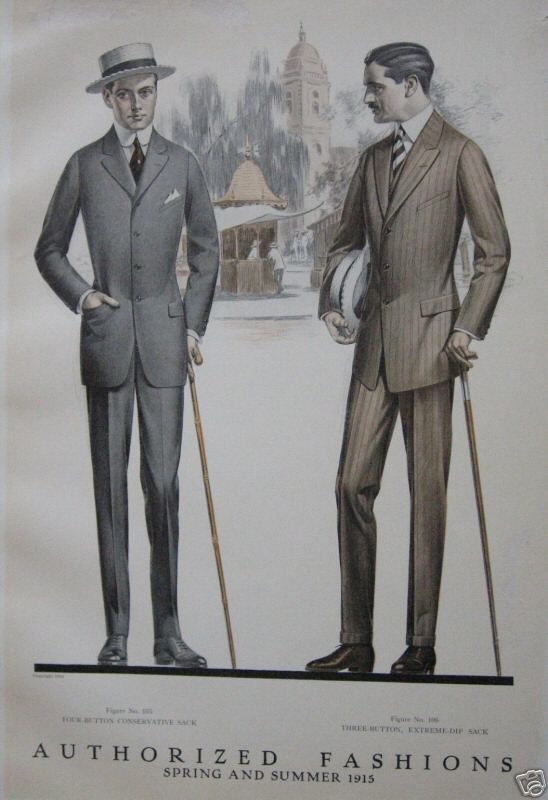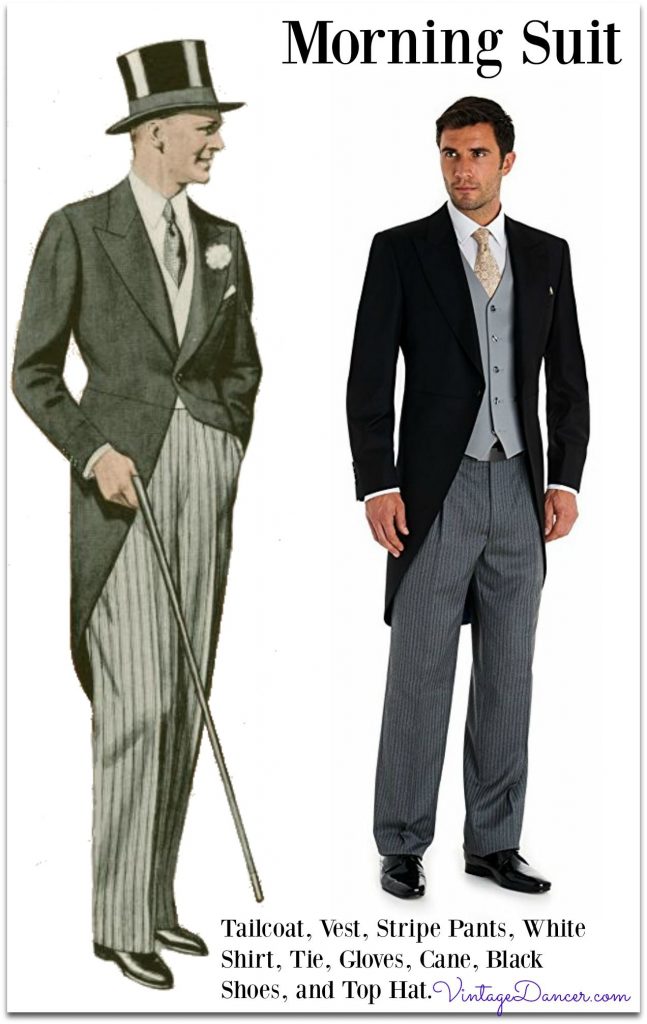 Formal shirts were a must fashion essential to wear with every kind of suit. Matched plain pants or grey and black striped pants were the common preferable options to wear with the coats. Usually, stylish hats were a popular choice in Edwardian men's fashion but people were not seen to wear hats with their morning dresses. Formal black or brown shoes were a must.
The 1900s- 1910s Daywear:
During the day time, men used to prefer sack suits. This sack suit is the predecessor of the contemporary business suit. They also used vests to complement their day wear. Vests were mostly single-breasted. Either people would like to match their vests with the pants, or they loved to wear striped pants with the same colored vest and coat. Such color combinations gave an immaculate and self-possessed look to the 1900s men. People who liked fancy clothes used to pick up a bright-colored vest to look different from others.

Sometimes they wear double-breasted sack coats. These were highlighted with short lapels and high collars. Edwardian men liked to wear shorter and narrower pants with sack suits. Pants were narrower and shorter than the morning suit pants but not so shorter so that the socks can be seen nowadays. Lace-up boots and hats were a popular choice to complement the entire dress.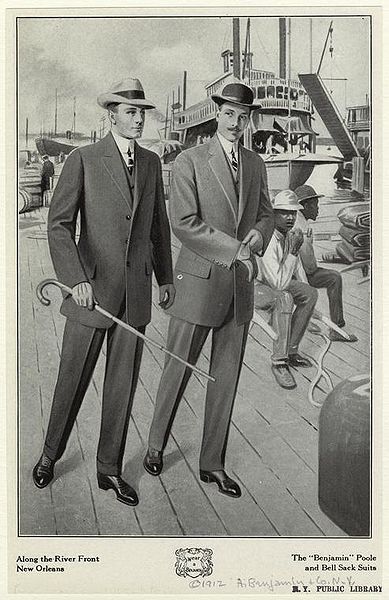 Edwardian Men's Fashion: Evening wear
The evening was the time for recreation and entertainment for most Edwardian men. During this time they liked to watch a movie in the theatre or chit chat with others over dinner. Basically, they socialized and met with other people in the evening. For this reason, they liked to dress with somewhat extravagant and classy for the evening. Black and white was the most popular and most fashionable color choice for evening wear. If you are dressing for a dinner invitation, people would commonly assume that you will be wearing a dark tail coat and pants, with a matching vest and white shirt. The shirt should have a bow tie and a winged collar. Tuxedo jackets were also common instead of old-style tailcoats.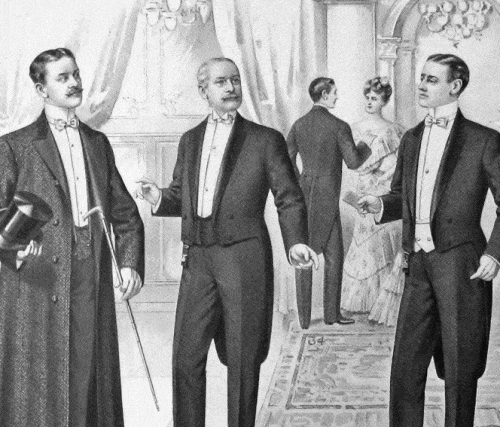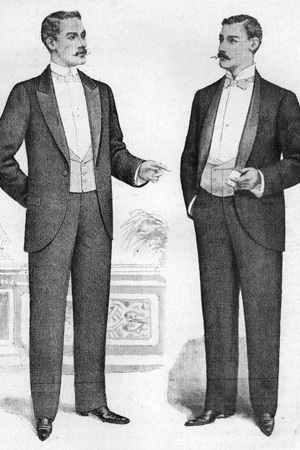 But if you are the host and you are entertaining people who are invited to your place, then you are not obligated to wear the tailcoats or the tuxedo jackets. In that case, you can wear a smoking jacket. These jackets used to come in velvet or silk and had an impressive party look on them. They had fancy detailed decorations on them with buttons or embroidery. Sometimes they had wide robes and pockets. Also, they were preferred to made with rich and dark colors like bottle-green, Prussian blue, or burgundy. So that they can have a neat and classy party appearance. To complete the look, some would wear a matching smoking cap decorated with tassels.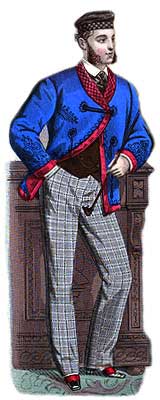 1900s Fashion: working-class men's clothing
In the early 20th century, the number of factories increased because of the industrial revolution. This created a huge number of working-class people. Working-class people had different levels according to their job. This whole situation had a perfect reflection on the dress they wore. People who worked in the upper class in the factories, dressed smartly. The high society Edwardian men's fashion was mirrored in their dress. They preferred mass-produced clothes instead of tailor-made dresses. High collared white shirts were a must. They wore it with bowties, vests, and hats.

On the other hand, lower rank workers in factories needed clothes that would be strong, durable, and well-made. They had to carry out hard-hitting physical work and had to work for long hours as well. For this reason, their clothes were made by leathers, canvas, duck, or corduroy. These clothes used to be spacious enough. If the worker had to work outside, the clothes made sure to keep the wearer warm. A sheepskin vest was a common choice for the protection of the worker. They used Work aprons to protect the clothes from dust and other stains.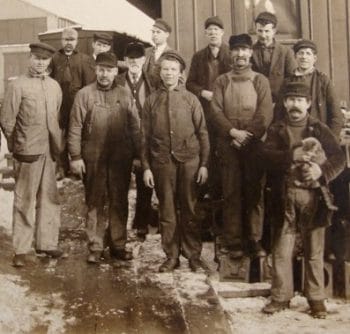 1900s men's sports clothing
During the weekends or at the time of vacations, Edwardian men used to engage themselves in diverse outdoor activities like hunting or different kinds of sports. These kinds of activities needed dresses which should be comfortable as well as flexible for movement. Also, they had to be unique so that the wearer wouldn't feel out of style. From the last decade of the 19th century to the 1st decade of the 20th century, many kinds of new outdoor activities, games, and sports started to raise their popularity. Unquestionably, all those different kinds of activities needed dresses according to their type. But a single-breasted Norfolk jacket was the best choice for most of these kinds of outdoor activities.

Norfolk jackets came with a belt or a half belt. They also had a loose-fitting which made sure that the wearer could move comfortably and easily. These jackets were mainly made from flannel. But those, which were made from knitwear or tweed were also popular. For hunting or sports, Knickerbocker was the best choice as pants to pair with these jackets. But plain pants were always an option. Brown, black, or grey ankle-high boots made the finest pair with this set of dress. However, if the purpose was to sail, then a blue navy blazer in a sack coat cutting with patch pockets and brash buttons would be the ideal choice. This was also a popular choice of dress among the 1900s men's fashion.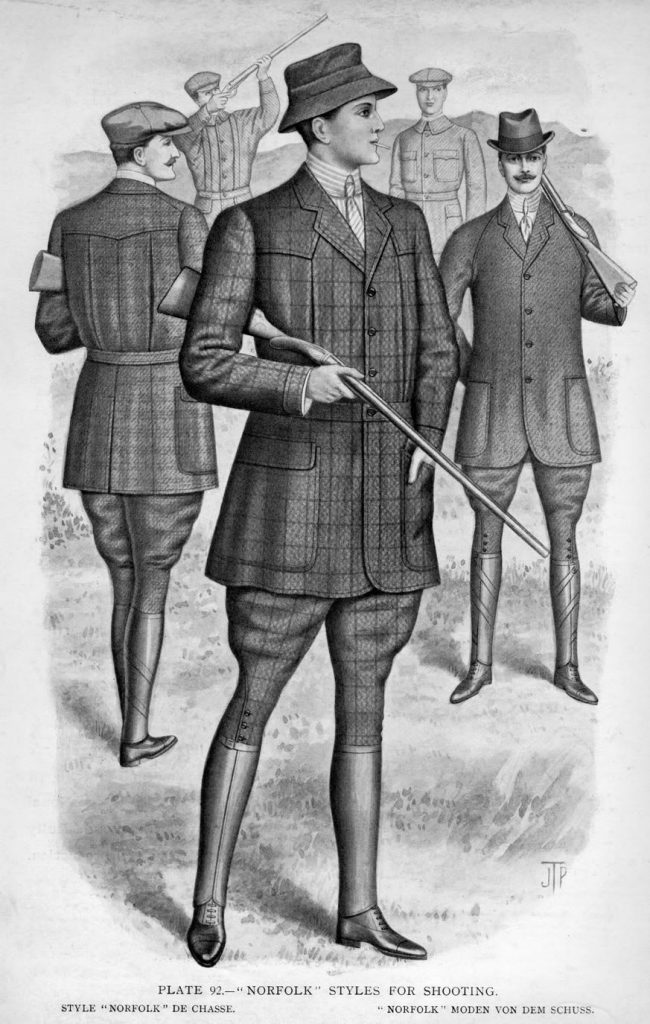 Costume idea: How to dress like an Edwardian man?
So if you want to dress like an Edwardian man what would be your dress choice? For dressing like an Edwardian morning dress, you'll need a morning coat or a sack suit. Your shirt should be white and the best idea to have a detachable collar. For pants, you'll need black and grey striped pants. With these, a cane will complete your look.

If you want to dress up like an Edwardian day dress, then a sack suit along with a white shirt with a round collar and striped or plain any kind of pants will be enough. Grab whichever is available for you! Complete your look with bowties and derby hat. Don't forget to wear a pair of black or brown shoes!

For making an evening costume you need a dark tail coat and pants, a matching vest and white shirt, and bowtie. Or you can wear a smoking jacket instead.

1900s Men's fashion did not vary much from the previous decade, it had some essence of the Victorian men's fashion. This was the time when men not only preferred elegance and stylishness, they also focused on comfort and compatibility while choosing a cloth. Maybe those dresses are way more different from today's men's fashion, but there are some things that the modern fashion era can follow. Following the 1900s men's fashion can be a simple yet significant lead to sophistication and grace for the modern generation of fashion.