Luxury prevailed in the world that came to an end when the stock market crashed in October 1929. Worldwide there was economic depression, known as the Great Depression, started in 1929 and lasted until the late 1930s. The price of clothing declined dramatically. In 1931 a $24 dress would be sold for $4 only. Fashion designers had to drop the quality of the material to avoid loss in business. 1930s jewelry was no exception. But due to the Hollywood effect, more women were interested in wearing jewelry.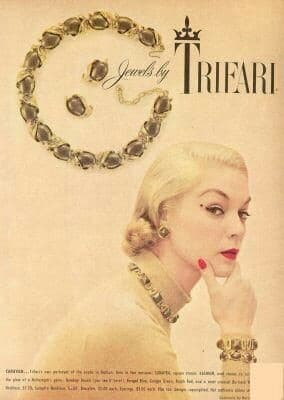 1930s Jewelry Styles
The popular 1930s jewelry styles were-
Geometric Shapes
Celestial Shapes – Stars and Moons
Bright Glass Beads
Dress Clips
Pearls
Sparkle, Paste, and the White on the White look
Long Strands of Beads
Natural Forms – Flowers, Fruit, Birds
Necklaces, dress clips, pins, bracelets, buttons, earrings, and buckles were made with cheap artificial materials such as painted glass, bakelite instead of gemstones and pearls. Even if the jewelry was made of imitating genuine gems, they would be too expensive to purchase. But new processes and technologies were adopted to make imitations that made the jewelry affordable. Women wore glittering jewels all day long. Often dressmakers sold jewelry matching with the dress. Many dressmakers also used to design jewelry. At that time, women would use gorgeous jewelry to make a poor dress look expensive. Read about 1930s women fashion in this link.
1930s Jewelry Trends
The 1920s jewelry was thin, long, light, and delicate. But in the 1930s, jewelry trends shifted back to the heavier style of the Victorian era. Unlike the Victorian Jewelry, the 1930s jewelry offered gemstones of different colors such as emerald green, aquamarine blue, amethyst purple, ruby red, black onyx, topaz orange, etc. 1930s women picked their jewelry according to their makeup. Different shapes were available- squares, ovals, or rectangles. Gradually the dark and heavy designs shifted to white, silver, ivory, and clear diamond sets. Before 1900 gold set gemstones were not the trending fashion, but it became one by the end of the 1930s. Here a brief discussion has been made on the popular 1930s jewelry styles.
Sparkle Jewelry
'The more sparkle, the better' was the jewelry trend during the 1930s. So the sparkling jewelry was one of the popular styles at that time. This trend gave birth to two popular jewelry styles, such as white on white style and paste style. Black and white movies made sparkling jewelry very popular during the 1930s. At that time number of people going to the movie theatres increased. Clear gems and jewels looked more luxuriant on the movie screen than colored stones and gems. Realizing this, the costume designers started to adorn the movie stars with sparkling stones. Soon this became a fashion for the mass people. White gold, silver, and platinum sets fitted with clear gems came into the market. Rhinestone was the affordable alternative of diamond that could be worn at any time of the day.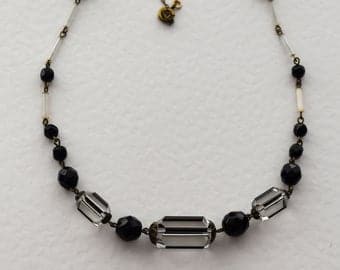 Paste Jewelry
Paste jewelry had stones that were placed firmly together or were produced using a paste to achieve maximum sparkle. Ground glass and other elements were heated and mixed to form the paste. Paste has been used to replicate real gems since the 17th century. It became a highly popular and effective method of producing imitation gems. At that time, replicas were made to have protection against theft.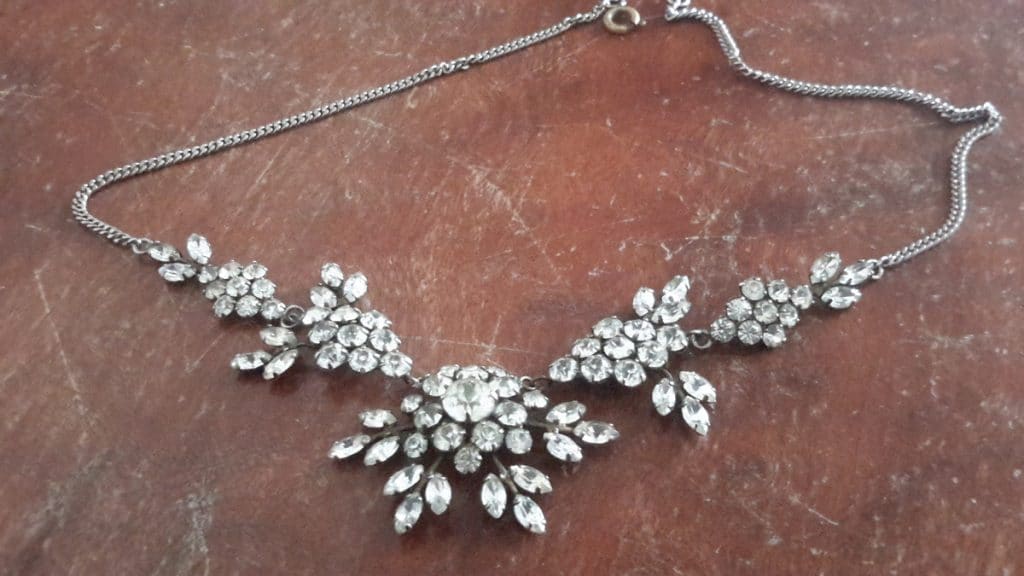 Dress Clips
In the 1920s, the dress clips came into fashion and remain accessible for the next 20 years or so. Women often wore dress clips to decorate the neckline of their dresses. These clips were also sold as a pair. Often two dress clips were interlocked and fitted on a brooch-backed frame. Dress clips that were mounted on a frame could be worn in two ways-separately on both sides of a neckline or together as a statement piece. Soon the use of dress clips became versatile. They were used to decorate handbags, necklines, scarfs, hats, and sometimes the backs of low cut dresses.
1930s dress clips are difficult to find now, but the vintage clips are readily available. The 1930s dress clip style can be recreated by pinning two identical brooches onto the neckline.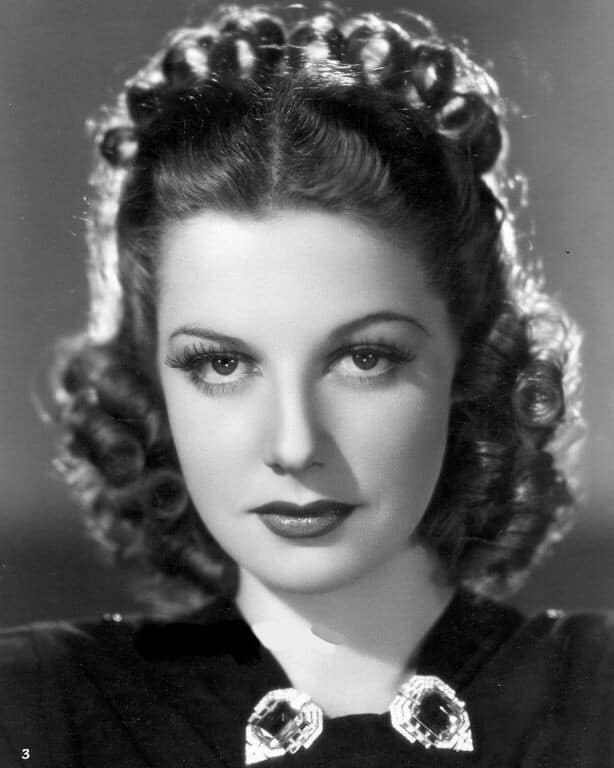 Hair Clips
The hair clips were also as popular as the dress clips. 1930s hairstyles were fashionable. Women would curl or made their hair wavy. This resulted in the increasing demand for stylish and decorative combs and hair clips. Back then, women wanted to add sparkle and shine wherever they could. So often, the hair clips were of the popular sparkle style and had geometric shapes and styles.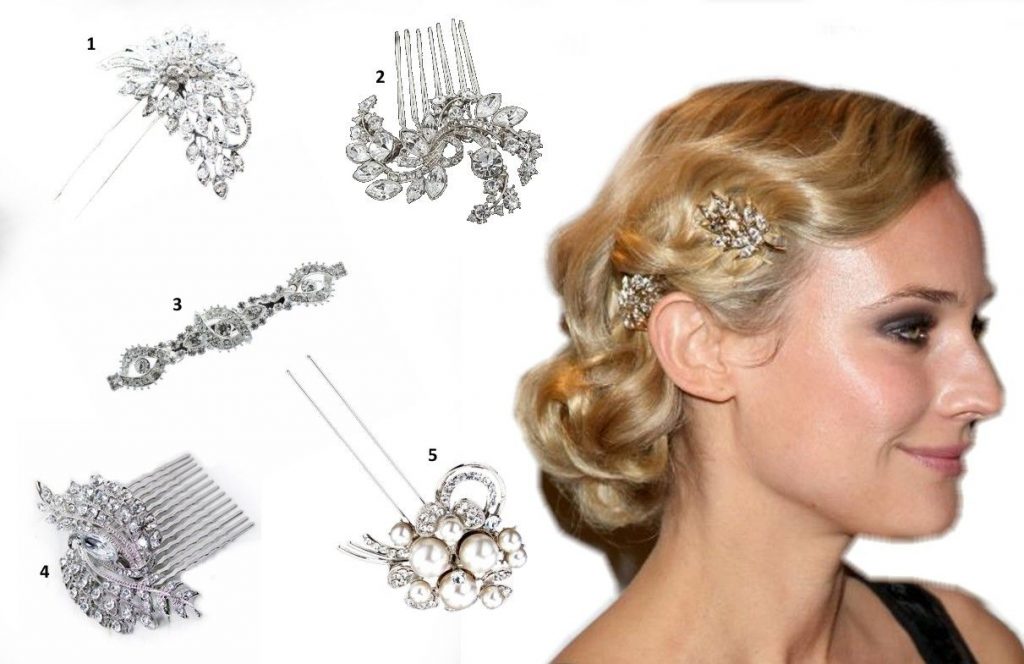 Pearl Jewelry
Pearls have been famous as jewelry for centuries. Long strands of pearls were popular jewelry style in the 1930s. Pearls were incorporated in necklaces and brooches. Often they were added to earrings, bracelets, and white on white paste style.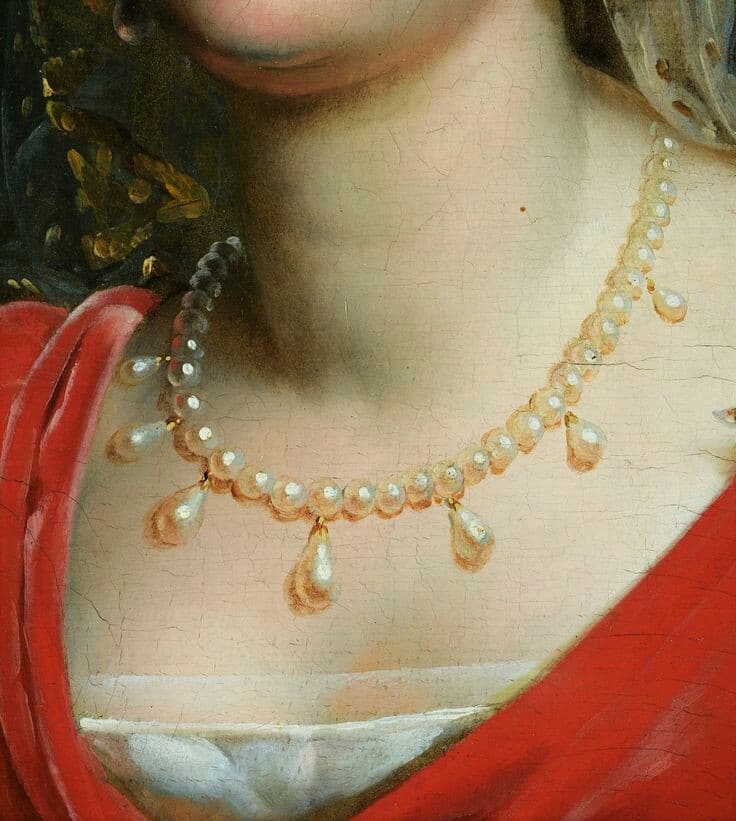 Star and Moon Shapes in 1930s Jewelry
Star and moon-shaped pieces of jewelry were highly famous in the art deco period. Though they became popular in the 1920s, their popularity continued till the 1940s. These types of jewelry became the sensation in Hollywood. Back then, the costume designers would prefer star and moon-shaped jewelry for the movie stars. Jewelry taking the shape of beautiful clusters of shooting stars were remarkable.
Bracelets
1930s bracelets had different styles. They followed a simple bangle style, or sometimes they were sparkling with imitation diamonds. Hollywood generated the fashion of fitting bracelets in this era. The directors did not want any unexpected clanking sounds of bangles and bracelets. So they were tightly worn to minimize their movement on the wrist.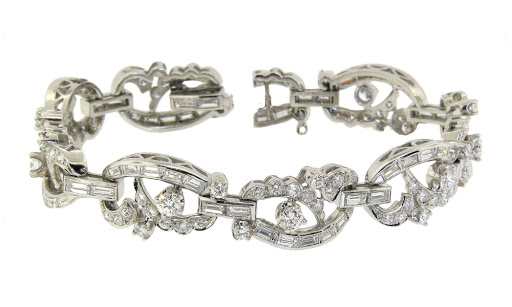 Color and Long Beads
By the end of the 1930s, the fashion of wearing colorful beads returned. Women started to wear long strands of colored glass beads as necklaces. Sometimes they would even wear these colorful necklaces matching with their gowns. The lengthy beads hanging from the neck became the characteristic feature of the 1930s women.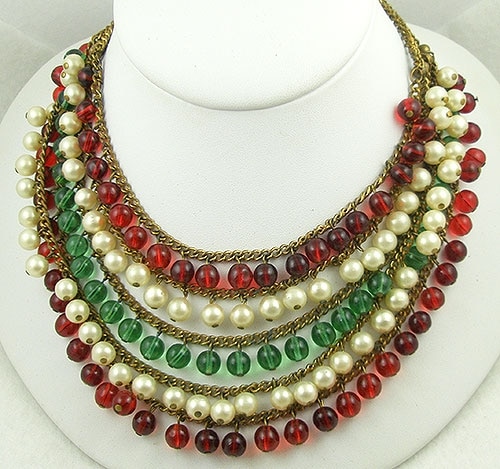 Natural Forms in 1930s Jewelry
1930s jewelry styles became more naturalistic towards the end of the decade. In the mid to late 1930s, natural forms became popular as jewelry styles. Jewelry adorned with designs of flowers, feathers, leaves, and birds became the trending fashion. All these were popular themes for jewelry designers.
In the 1930s, make-up became fashionable and was socially acceptable. As a result, powder and mirror compacts of beautiful designs were produced.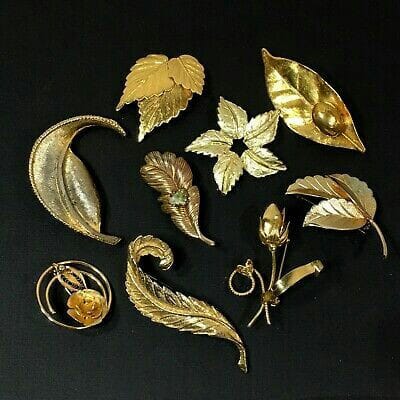 1930s Jewelry Sale
The 1930s were a turning point for flourishing the jewelry industry. The popularity of the 1930s ornaments has extended even to our era. Today's fascination with imitation jewelry has its origin in the 1930s. Now many women like to adorn themselves with 1930s jewelry styles. Recognizing this, many jewelry designers are now producing them with a touch of the modern fashion. You can buy your favorite piece of 1930s jewelry from various vintage jewelry shops as well as online.
Though the 1930s faced worldwide great economic depression, the jewelry industry flourished. Precious stones were replaced by artificial materials to make the jewelry affordable. Hollywood also played an influential role in shaping the jewelry fashionable yet straightforward. 1930s jewelry is still popular among today's women.