The stock market crashed in 1929 due to which economic crisis engulfed the world, which is commonly known as the Great Depression. It lasted till the late 1930s. Along with other things, the price of clothing also declined. 1930s costumes were made of cheap materials to make them affordable to ordinary people and to save the fashion industry. Despite the low-quality materials, the 1930s outfits for men and women were highly fashionable. Many well-known fashion designers became popular in this decade. In fact, the decade is popularly known as the decade of design. This decade gave birth to various fashion trends that are still popular. Here a short description of 1930s dresses and outfits has been given.
1930s Women's Costumes
In the 1930s, women's costumes were simple yet glamorous. Like before, women had different attires for different occasions. Hollywood profoundly influenced the 1930s, women's costumes. A more modest and feminine look replaced the boyish look of the 1920s. Women tried to look good with whatever she could afford. In this decade, women's love for imitation ornaments is noticeable. Almost every garment of women's clothing underwent changes in this decade. In this section, you will get an idea about significant 1930s Women's costumes.
1930s House Dress
Women wore house dresses at home when only her family and close lady neighbors were around. House dresses were made of cotton, and the cut and silhouette were according to the trending fashion. Puffs, ruffles, caplets, and flutters were the popular sleeve styles. Sleeves were usually short and did not cross the elbow for smooth arm movement. Wide collars were used to puff up the chest and shoulder area. These dresses had high necklines. Square, V-shape, small scoops, or high button-up fold-over collars were the popular neckline styles. The bodices were highly fitted. Hooverette was a particularly popular form of a house dress.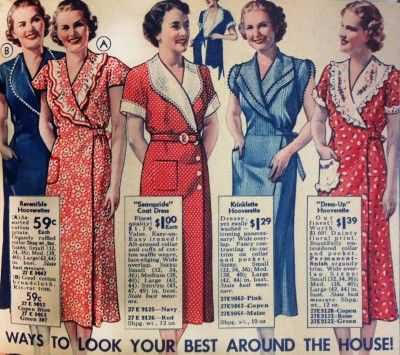 It was a reversible wrap dress having a shawl collar, V-neck, and ruffles on the neckline and wrap. It had a slide or tieback belt around the waist. Bold and bright prints were the characteristic feature of these house dresses. They were also known as floral dresses. Many women of this decade had sewing as a hobby, and they would often make their own house dresses out of their existing dresses. The economic crisis was so severe that the fabric bags or feedback, in which flour was delivered, were used to make house dresses. Women would experiment on the house dresses as no else was going to see it except the closer ones. These dresses often had pockets to facilitate household chores.
1930s Afternoon Dress
These dresses were also known as city or town tailored dresses. Women would wear them during the day for outdoor activities such as shopping and attending a lunch or tea party. They were mostly made of silk or rayon crepe. They had puff sleeves, large yokes, and collars, and often belted waists.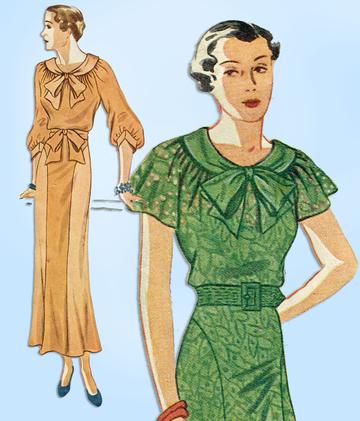 They often had embroidery, bows, decorative buttons, trapunto, lace, pleats, pins, and faux flower trimmed on the bodice, sleeves, or collars to make them more decorated than the house dresses. They had solid colors or prints. Often the waist belt had the same color as the dress. Capelet, flaring, ruffle, or butterfly were the most common sleeve styles. The neckline was mostly high and did not show any cleavage. Often yokes were used between the collar and the sleeves to increase the shoulder area. It was necessary for plus size fashion. Like the house dresses, the afternoon dresses also had a slim waist. Zippers were also used for decoration and ease of wearing.
1930s Evening Gowns
Evening gowns were worn by 1930s women for parties and other special occasions. They were mostly made of silk that would hug the body of the wearer. They were also made of chiffon, satin, and crepe de chine. Madeleine Vionnet made the silk evening gowns popular by inventing the bias cut method. In this method, the fabric is cut at a 45-degree angle so that it can cling to the body. These gowns would reveal the curves of women's bodies, so they symbolized sex appeal. Women loved silk outfits because of the silk's texture. Often they were about floor-length and were slim and fitted in the waist and hips. They had ruffles or puff sleeves. High neckline and halter style came into fashion in the late 1930s.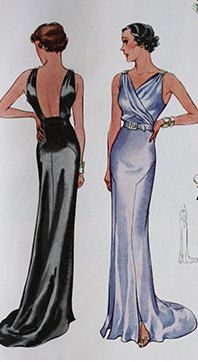 Sunbathing became a trend in this decade. Moreover, Hollywood started to promote the glow of tanned skin. This resulted in the making of backless evening gowns to show the brightness of the skin. These gowns revealed more than the shoulder blades to attract attention to the wearer. It is considered that the styles of almost all formal modern gowns originated from the 1930s fashion.
1930s Wedding Dress
The bias cut method made its way to the wedding dresses as well. The wedding gowns were mostly made of silk, rayon, or satin. Floor-length, bias cut, long sleeves, high necklines, floor-length veils, tiara style headdress, sun hats or small perch hats, and sparkling white jewelry were some of the popular trending 1930s wedding fashion.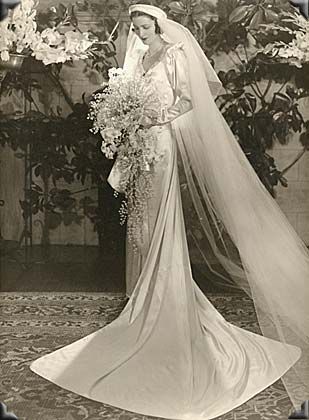 Due to the weak economy, not all brides could afford new wedding dresses. Many brides used to wear their best dress or a simple new white dress, which could be dyed later. Afternoon dresses and evening dresses were often converted into wedding dresses by putting some extra decoration on them—those who could sew made their own wedding gowns after buying the necessary materials from the local shops.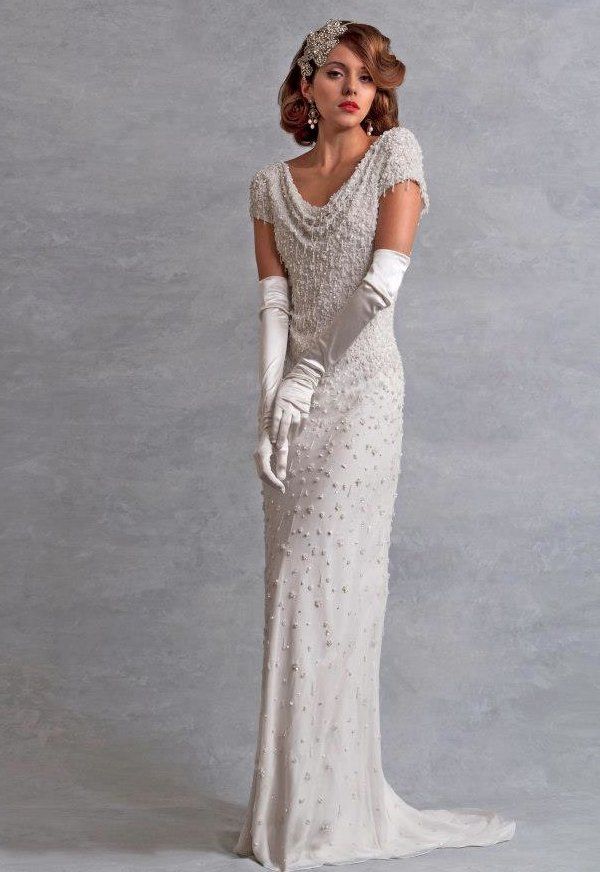 Ankle or calf-length wedding gowns of the 1920s were gone. 1930s wedding gowns had longer and broader trains and veils. During the mid-1930s, wedding gowns had belts around the waist. Later, ruching, pleats, and gathers were used around the waist. Victorian ball gowns came into fashion and were fashionable wedding dresses. Both bride and groom wore wedding rings. Some brides wore pearl or sparkling necklace if the neckline was low. The wedding gowns also had ornamented dress clips for decoration.
1930s Sweaters
In the 1920s, sweaters also ruled the early 1930s. They had large shawl collars or small shirt collars, two front pockets, and buttons. Later, coats and jackets took the place of sweaters as famous winter outdoor outfits. Women chose coats over sweaters as they were made lighter and waterproofed. Sweater became the spring outfit. Often coats were worn over sweaters for more warmth.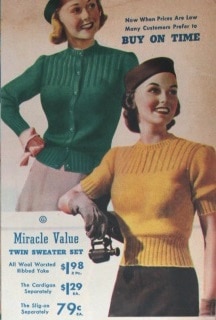 The sweaters became more stylish in the mid-1930s. Now they were shorter and with or without collars to make them more feminine. They had a combination of beautiful weave designs- stripes, zig-zags, and checks. Usually, they had a solid color.
The short barrel sweater was the trending sweater fashion in the 1930s. It had a wide waistband and narrow sleeves. It was not tight fitting. It was available as short sleeve sweater shirts, long sleeve sweaters and sleeveless pullovers or button up vests.
1930s Swimsuits
Swimming was a popular weekend fun in the 1930s. Swimsuits were made of wool that weighed more and sagged when wet. Lastex, a type of elastic yarn, was invented in 1931. Swimsuits made of latex were lighter and sagged less when wet. So these comfortable swimsuits were more prevalent among women. These swimsuits would reveal women's back and legs more than before. The straps were made thin to make the shoulders look broader and more athletic.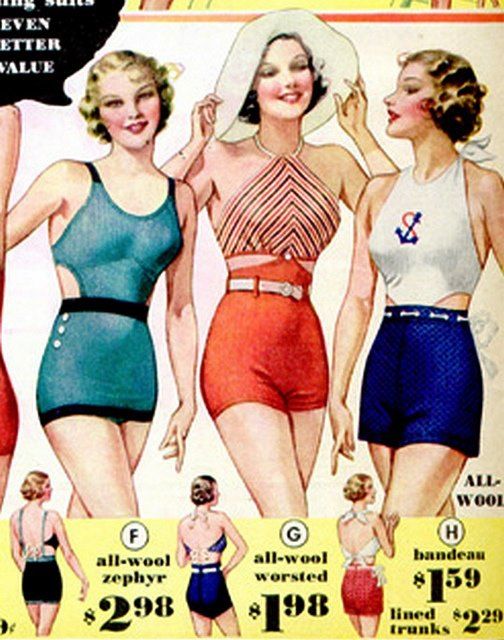 The 1920s swimsuits were of one solid color. But the 1930s swimsuits had different colors and patterns. Even the top half and bottom half of the swimsuit could be of different colors. Belts and ties were used to decorate the waist. The swimsuits had two main styles-the the dressmaker and the maillot. The dressmaker was similar to previous swimsuits and had an A-line skirt for covering the genital. The maillot was more fitted at the torso and had a tight skirt covering the crotch.
1930s Men's Costumes
The 1930s, men's fashion is often called the finest and most stylish men's fashion of the 20th century. The economic depression of 1929 put many men out of work. Men wore classic and practical outfits without spending too much money on clothing. Work and play were two of the main activities of 1930s men. Men's outfits were made suitable for such occasions. Here you will get an idea of the 1930s men's outfits.
1930s Solid Suits
The 1930s, men, were muscular and bold. Men's suits had broad shoulders, a narrow waist, full legs, and an overall masculine appearance. They were cut in such a way that the height and width of the wearer would appear man than the real. Both single- and double-breasted suits were popular in this decade. However, the double-breasted suits were better for adding extra width.
Suit pants had a high fitting waist but bulged out over the thigh and knee and tapered into the ankle, usually with a cuff. Pleats at the waistband produced a baggy effect. The suit had a matching vest that had six buttons with or without lapels and four slit pockets.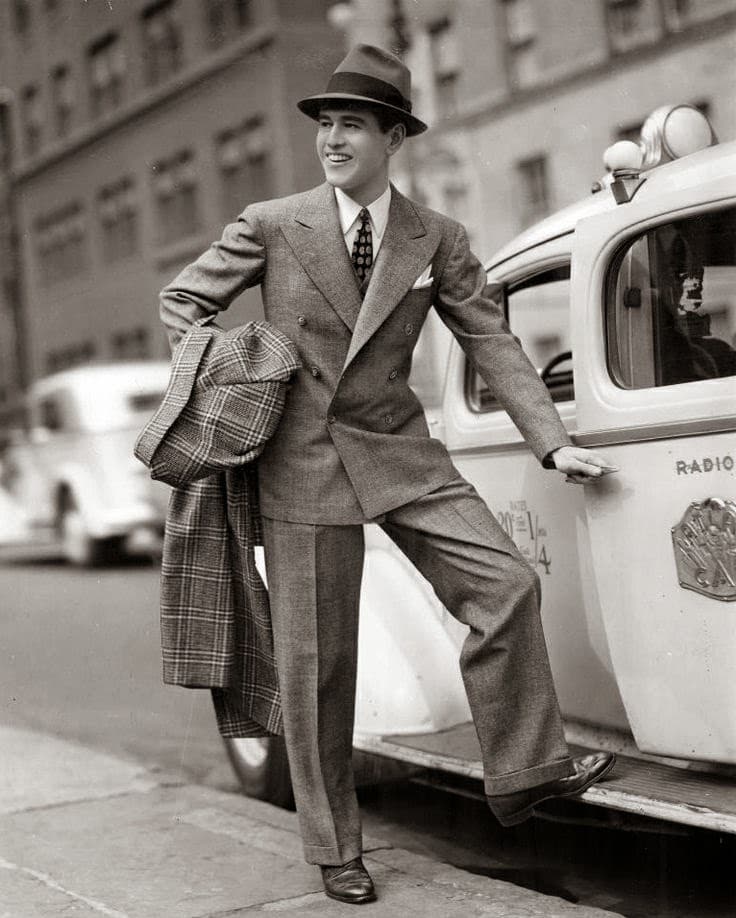 Vests were either single-breasted or double-breasted. They were mostly worn by older gentlemen. Men's suits had different colors such as medium blue, cream, golden browns, tans, beige, and grey shades in spring and summer. In fall and winter, navy blue, medium brown, and dark grey tones were the popular colors. The suits had different distinct patterns, such as large plaids, checks, chalk stripes, windowpane, and herringbone. Men wore long jackets that had broad padded shoulders and wide lapels.
1930s Summer Suits
Summer suits, also known as Palm Beach suits, were made of cotton and mohair blend, shantung silk, seersucker, linen, or rayon blends. The jackets were single-breasted jackets with notch lapels. Middle-class men wore summer suits made of tan gabardine.

Stripe suits had different styles of stripes such as dot or fleck lines, bold or faint lines, dark chalk stripes, or thin chalk stripes. Thin stripes added the illusion of height, and thicker stripes made the appearance of a thin man bolder.
1930s Formal Suits
The formal morning suits of upper-classmen had a dark navy blue or a black cutaway coat having tapered sleeves, peaked lapels, and draped cut shoulders. They also included a white wingtip shirt, a white or buff morning vest, a dotted tie, a striped wide-leg trouser, a top hat, and white or grey gloves. Soon its popularity decreased and was only worn to attend morning weddings.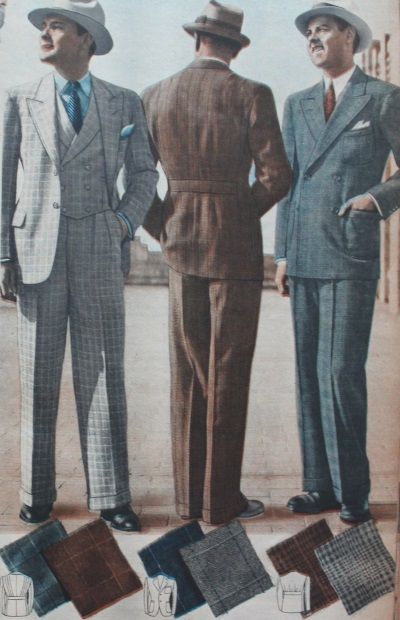 Dinner jackets or tuxedo became popular evening suits in the 1930s. They were mostly black, double-breasted, and had square shoulders and broad lapels. The suits were worn with a black or white V cut vest, a white shirt, a white butterfly bow tie, a black trouser, white pocket square, and black patent pumps. A thin fitting tailcoat and a black satin-striped trouser were worn to more formal occasions.
1930s Coats
During the early 1930s, men's coats were double-breasted with sleeves bulged out at the shoulder and tapered down to the wrist. Side slash pockets, peak lapels, and two pleats on the backside were also the characteristic features. Single and double-breasted raglan sleeve coats were the popular men's coats in the mid-1930s. Later glen laid, plaid over plaid, windowpane checks, and herringbone became the trending coat fashion. The rich men could afford to wear fur coats in winter that had fur lining with fur collars and lapels. Young and rich men liked camel hair topcoats and tan wrap overcoats.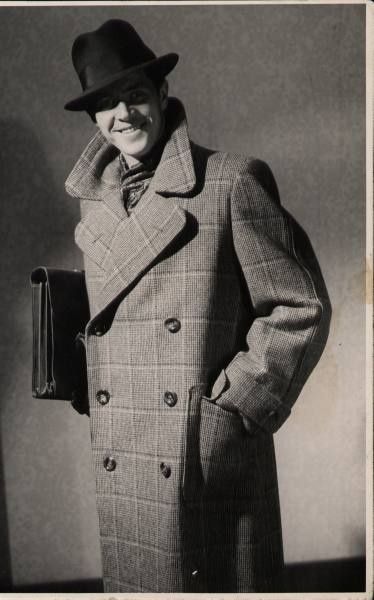 1930s Children's Costumes
Girl's dresses were made of cotton and muslin. They often had embroidery, ruffles, piping, solid colors, or patterns. Younger girls' dresses were short and had high-waists and puffed sleeves. Older girls wore knee-length dresses with ankle socks and Mary Jane shoes.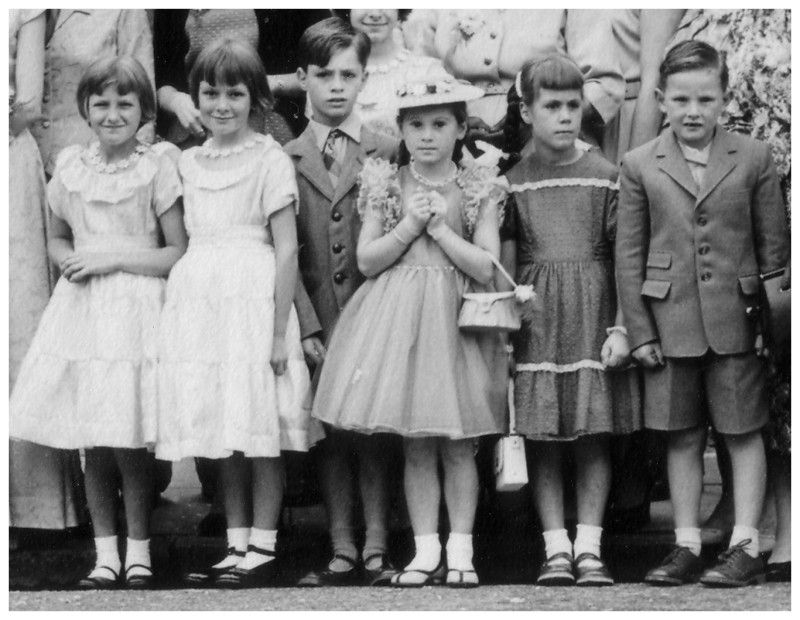 Sailor suits and dresses were highly popular among young boys and girls. Young boys wore shorts or long trousers while younger boys wore corduroy shorts and cotton shirts. Boys' dresses were the miniature versions of men's apparel.
Conclusion
The 1930s were a great decade for the fashion industry. In spite of the economic depression, the fashion industry could keep the fashion craze alive. Many of today's styles and fashion have their root in the 1930s. Many online and offline stores have 1930s costume collection. You can visit them if you want to dress with a 1930s look.