As time passed by, fashion and looks started becoming much simpler. So, was Makeup for women. With the beginning of a new decade, 1930's Makeup saw a much more refined and more uncomplicated version of Makeup.
Here we are going to talk about everything regarding Makeup in the 1930s. We'll try sharing some tips to get such looks as well. First, let's go through the history of Makeup in 1930 to get a better understanding and knowledge.
Makeup history of 1930
Makeup in 1930 had a considerable influence on Hollywood in it. Those looks aren't adapted nowadays, but they are sometimes recreated. As you might have seen in many classic movies of old times, actresses used to have a refined look in their Makeup.
These actresses had their signature look, and you wouldn't see them without this look off reel either. They would always look the same on-screen and off-screen as well. They all had their look with one common thing, and that is the thin eyebrows.
Eye shadows started becoming popular with time back then. Mascara became a must-have makeup accessory in every women's makeup kit. Waterproof mascara was first brought out among people in 1939. Lipstick sales went off the charts then. Lip Gloss was introduced around 1937.
Their skins used to have that natural smoothening feel along with some blushes around the cheek. Moving away from all the gorgeous and royal looks, women were turning towards much simpler looks. They started wearing lighter Makeup to enhance their beauty.
This pretty much created the foundation for modern days Makeup. But in some ways, these were better than recent days' Makeup. That's why still some women try going back to these looks and love wearing the make in 1930's style.
1930s makeup icons
As Makeup got heavily influenced by Hollywood back then, you can assume most of the makeup icons are actresses. They put out the makeup trends and made them popular among people. Besides their makeup look, they were also considered to be the most fashionable women of the thirties as well. Let's check some of them out.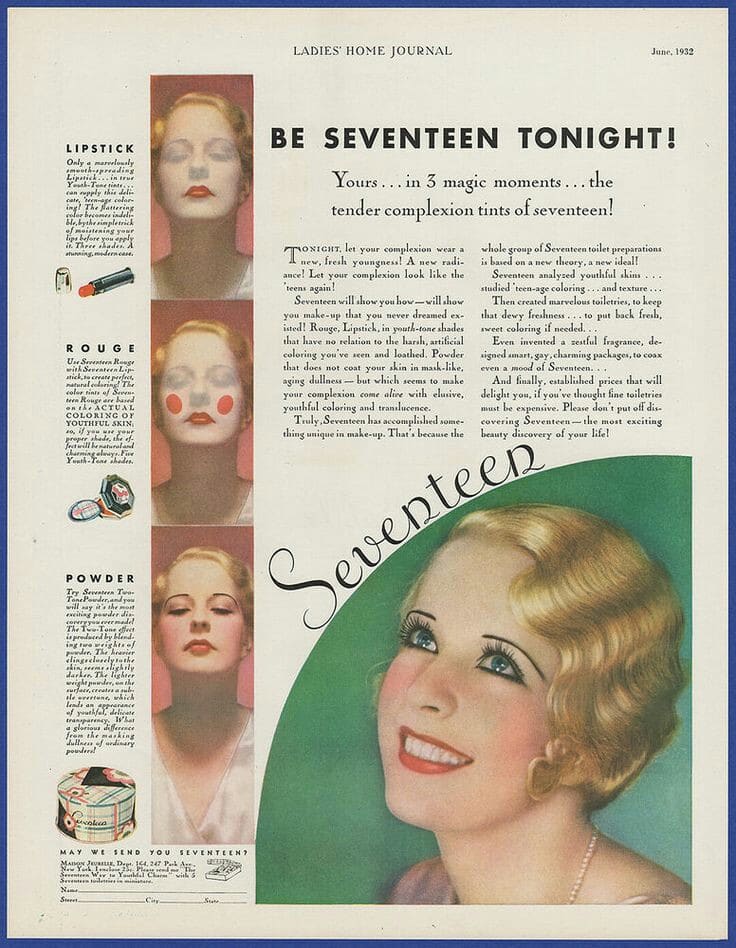 Bette Davis: She was the most realistically beautiful actress of that time. She was like a pioneer to many of the women out there as she chose to be realist instead of the conventional idea of beautiful back then. Bette's iconic style is her blonde bob cut hair, which started a trend in the '30s.
Marlene Dietrich: Another fashion icon of the '30s was Marlene Dietrich. She also defied all the stereotypes of Hollywood beauty and set her own standards. This, later on, became fashion trends itself. She had that thin pencil eyebrow that runs long enough. Besides that, her lip's art was done exceptionally well. Many women followed her style to recreate the classic Marlene look.
Katherine Hepburn: She has left an everlasting impression in fashion. Not many women could do this. She was the one who made wide-legged trousers and shirt trendy, and they are still going on. For her influence in fashion, she was awarded a lifetime achievement award by the Council of fashion designers.
Carole Lombard: If we are talking about 1930's women who made an iconic impact in fashion, then this name is a must there. Within her short life span, she put a lot in the industry. Her timeless sense of style is what made her known throughout the world. Her on-screen beauty and off-screen style both were admired equally.
Besides them, there were many fashion icons who had their iconic makeup styles. The article will get too long if we start listing all of them here. But these women had an impact on creating different looks of the 1930s.
1930's makeup look
Now let's go through some detailed information about the way women used to adorn themselves back then. Well, in Makeup there goes a lot of elements that you need to be wary of. Simple changes can ultimately create a look or ruin it as well.
Let's check out the classic look of women in the 1930's.
Hair
Whether hair is part of Makeup or not, that is undoubtedly debatable; still, we include it here. Because it has a tremendous impact on creating looks. 1930's hair was mostly focused on short length. Most of the women used to have short hair that runs about their shoulder length. And most of them used to have natural curls and waves as well.
Women were opting for a more feminine look with their hairs. As before that, hairs were used to be much shorter than shoulder length. With longer hairs, women had a flair going on where they could try pinning their hair or let the waves do their own thing. It was mostly about shoulder length hair with waves in the 1930s. This is becoming popular once again.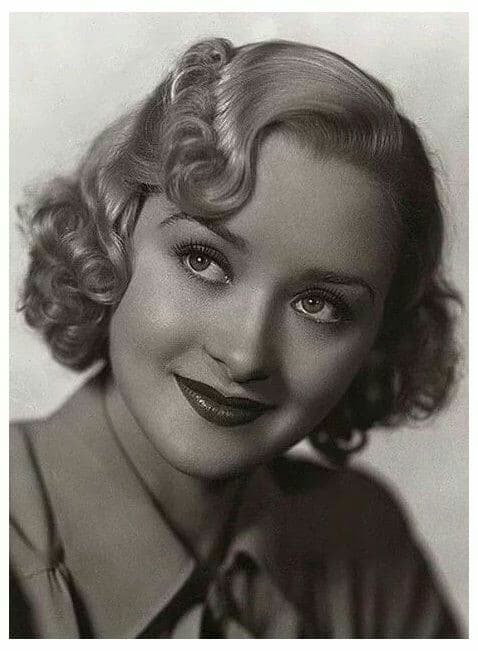 Skin
The skin makeup routine had two parts to them. One was the foundation; another was the blush. For the foundation, light complexion with a pinkish undertone was used mostly. The riviera suntan also became a symbol with the help of the film actresses.
For the blush, women used rouge sparingly. This is the very classic effect of 1930's Makeup. The rouge was very light, and you could barely notice the blush. That was the look women opted for in their makeup routine.
If you want to do this look, you will need to start with a light foundation with a little bit of pink undertone. And finally, top it off with a light application of cream rouge. This will be enough for your skin.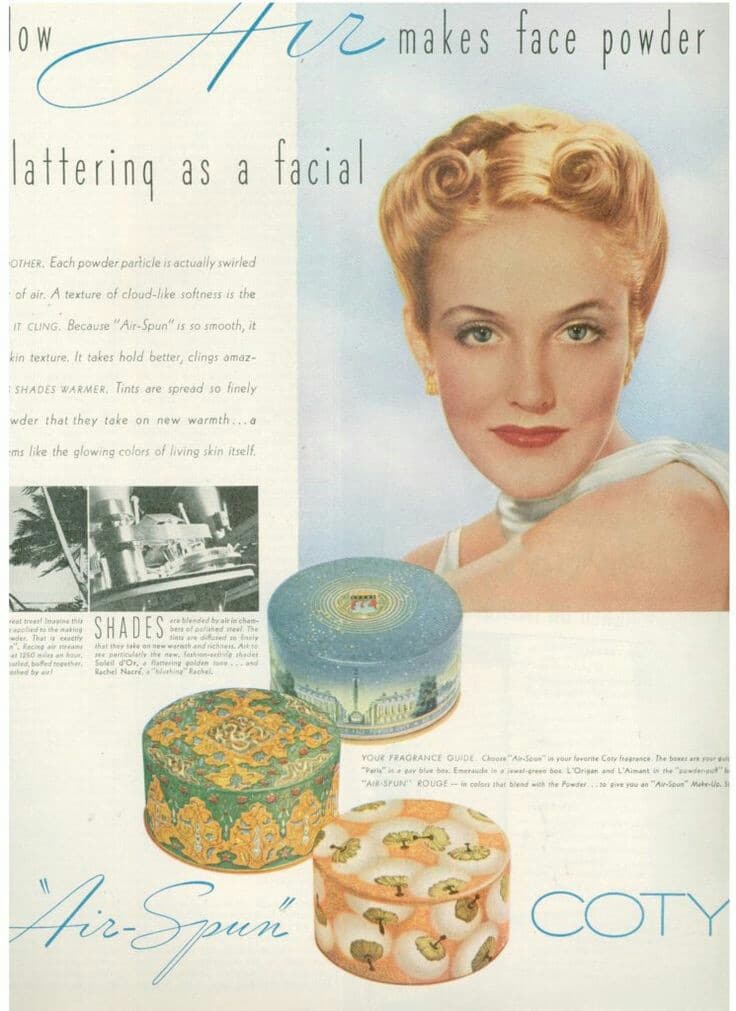 Lips
The classic touch of the 1930s in the lips was the longer and sleeker lip lines. Mostly the upper lip was turned into a sharp bow and had pretty detailed outlines. Lipstick colors, in general, were mostly red, although the color changed over time as well.
The formula back then was heavy, so women had to put lipstick on with a lip brush. They had to blot it for a longer-lasting effect. The lips used to have a light yet perfect outline to make the lips look more appealing.
The color transformation of lipstick was done gradually. First, it was a deep plum red than came a mixture of orange and red. Later on, dark brown and red were mixed. Then came the classic rich cherry red, which signifies the 30's look. Then it was peach, orange, and pink mixed.
To get the lips from the 1930's you can simply fill the lip with the flat surface of your lipstick. And use the sharp edges to create the outline. This makes the outlines more natural and helps to blend in. Make sure you create the bow shape on the upper lip to get the classic look.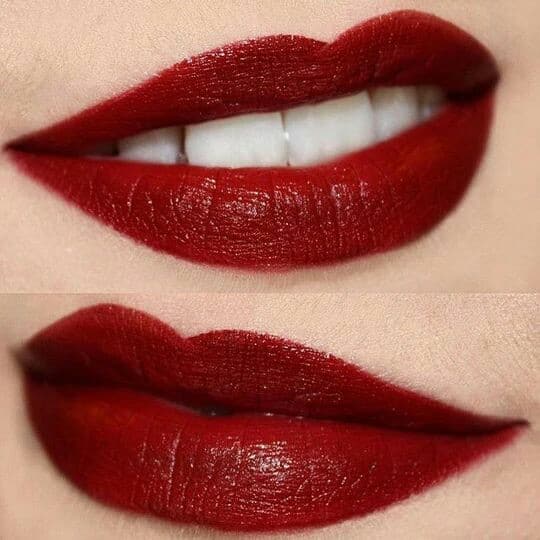 Eyes
1930's eye makeup was nothing like today's eye makeup. Women back then used petroleum jelly or olive oil to get some shine on their eyelids. For night makeup, they used to use bright colors such as blue, purple, pink, or green. Mascara became quite a popular piece of makeup accessory then. It was a must-have item on makeup kit.
The upper and lower lid of the eyes were lined with a brown colored grease pencil. This made the lids more evident to people.
Eyebrows
If something completes the classic look, then it's the 1930's eyebrows. The eyebrows were pencil thin and skinny. The brow used to be plucked into one single thin line. Some women used to shave their eyebrows off and then drew a line over the empty spaces.
In the 1930's makeup eyebrows used to have a higher arch than before. This almost looked like a half-moon shape. And the outer edges used to be winged out. But this kind of eyebrows lacked natural effects. They were more artificial but had that perfect touch at the same time.
This is undoubtedly a signature of 1930's look, but if you want to do this, you must be daring enough. Because going for this kind of eyebrow in modern days will require enough guts to do so. It's not very difficult to replicate but has some repercussions in modern days.
Eyelashes
Eyelashes in the 1930s were mostly dark. Women preferred having dark lashes, but they didn't like it thick. So, they used to have long but sleek and slim lines of lashes.
That's not something in your control. So, they had to use separate lashes, which could be curled and sharped. This way, they created their desired eyelashes look.
If you are willing to replicate this look nowadays, you will surely need fake lashes. To get the look you can use a cake mascara or a cream mascara in black.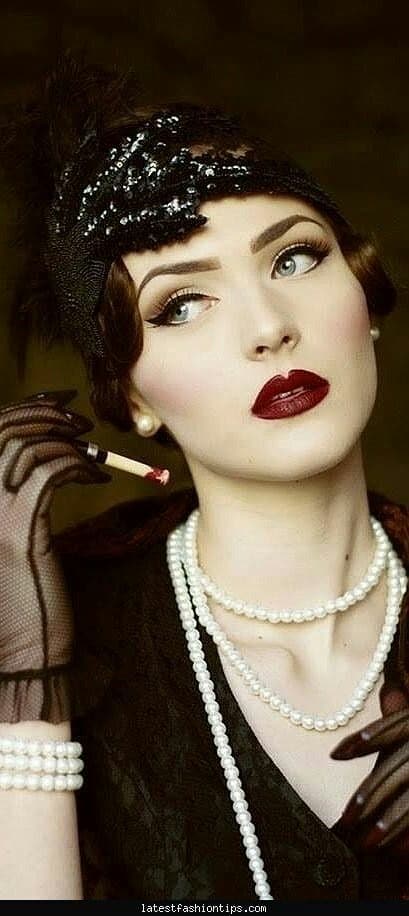 Conclusion
We tried bringing all you needed to know about 1930's Makeup. Hopefully, this article will help you get the classic 1930's look and enjoy the purest form of beauty. We highly suggest checking out the icons we talked about. You will get the whole idea of the classic look.