Fashion has radically changed over time, especially for women. How women dressed themselves up in the 19th or 20th century is quite different from the women's fashion we have now. The dominant trendsetter society and their culture influenced fashion in earlier ages the most. As King Edward was the rule maker and trendsetter in the time of 1900- 1910, fashion in that period had a strong influence of King Edward VII and it's called the Edwardian Fashion or Edwardian era fashion.
If you want to know the general concepts about Edwardian fashion for men and women, click here!
The Edwardian ideal: Gibson Girl
A classic Edwardian Woman was very much aware of fashion and this era brought some extraordinary new changes in fashion. The Gibson girl was a major fashion influencer of Edwardian women. The Gibson girl was a pen and ink illustration by artist Charles Dana Gibson (1867– 1944). At the beginning of 1900, the Industrial Revolution started to create more job opportunities by making manufactured goods available. Middle-class women, along with the poor women started to work outside. Women needed to be fashionable as well as active. In the early twentieth, simpler yet practical dresses became more preferable as working class clothes. Long skirts and outfits with high necks and well-fitting sleeves became popular. These dress styles attracted artist Charles Dana Gibson and he created the Gibson girl.

The Gibson girl happened to be tall, sporty, and gracious. Sometimes she was portrayed at a desk in a custom-made shirtwaist or sometimes playing tennis in a casual sports costume. She used to style hair with a simple hat. She was skillful and self-determining, also attractive and well-dressed.
The popularity of Gibson girl fashion spread quickly. Women from all classes desired to follow the Gibson girl dress patterns. Women started to imitate the styles from the picture and The Gibson Girl became one the major fashion icon in the Edwardian era.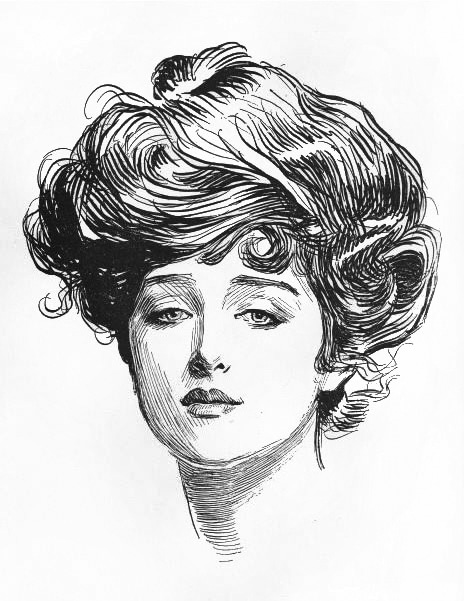 The Edwardian Fashion Trends:
The Edwardian era fashion brought a totally new style in silhouette which made rounded hips and fuller low chests the unique feature of the time.
S-curve corset
These corsets highlighted the bends of the hips and bust. They usually pulled the shoulders back which in fact, raised the chest and pushed the hips forward. S-bend corsets became a popular product in the Edwardian era because of the Gibson Girls. This corset puts less stress on the front of the abdomen directly. People thought it was better for women. Edwardian Women started to use it on a regular basis. Gradually it started to take the place of The Victorian hourglass silhouette which was commonly used in the victorian era fashion. But later, people found that this corset was more harmful to the backbone if they compare it to the Victorian silhouette. Because the Victorian corset was neutral to the posture.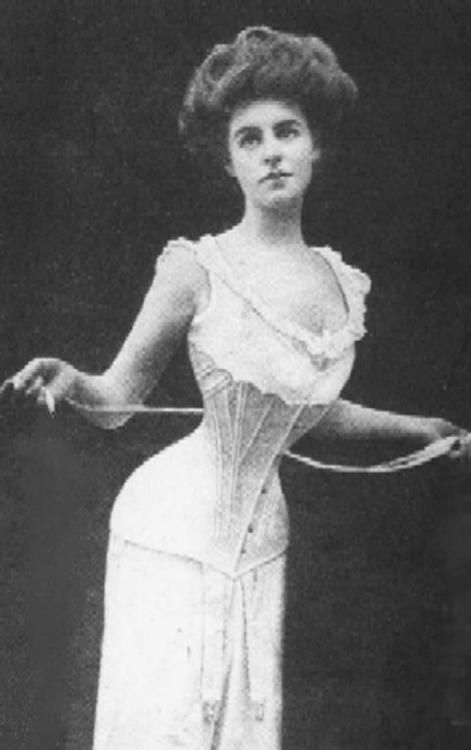 Edwardian Dress
Edwardian dresses were lightweight, elegant, and incredibly ladylike in design. They were basically made from fabrics like linen, lace, or cotton. Ruffles, bows, etc. were used to decorate the gown. Women started to switch from dark colors to light pastel colors. Pink, green, blue, and floral patterns gradually became common during the time. Here you will find the details about Edwardian dress patterns.
A tailored outfit in the morning was popular in Edwardian era fashion. Custom-made outfits were chosen for events outside home. The shirtwaist arose as a new favorite of this time which was like a man's shirt with high collars. It became popular among the working women. The Day-dress normally was a long gown. But sometimes it consisted of a smart high-necked long-sleeved blouse and a floor-touched skirt combination, worn with a jacket during the colder months.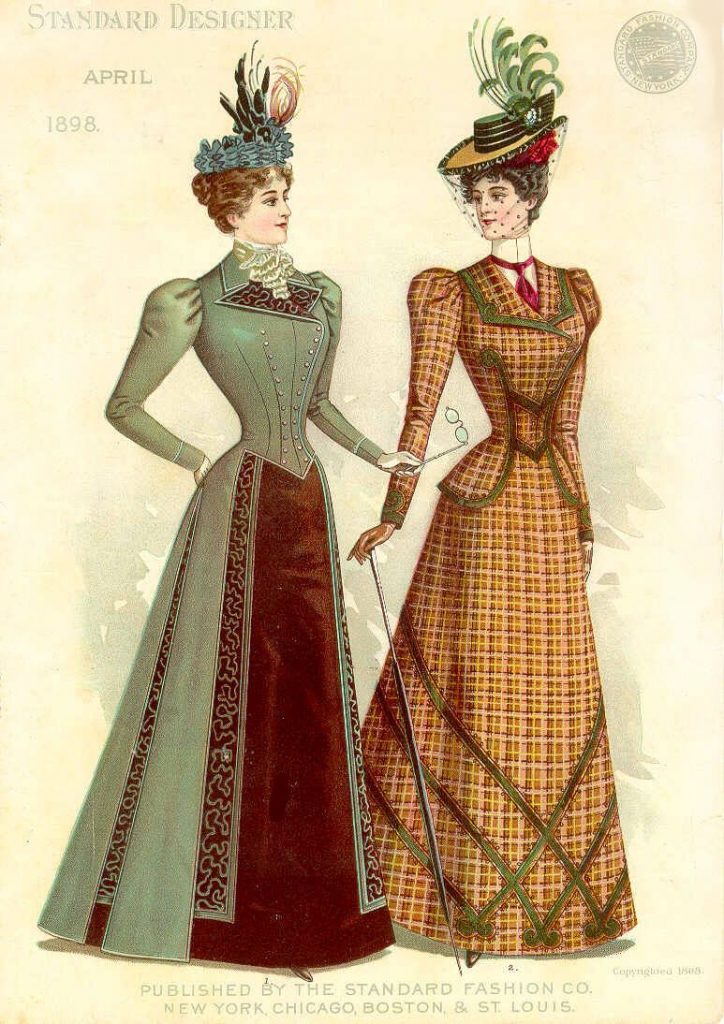 The evening dresses followed the same pattern. But rather than high, modest necklines these dresses had square necklines which were more revealing and highlighted the collarbone. They were effortless and easy to wear and made from lightweight yet sophisticated fabrics such as velvet or silk. Towards the end of the Edwardian Era the skirts became a little shorter and got length till ankle. This trend continued till sometime after the Great Wars.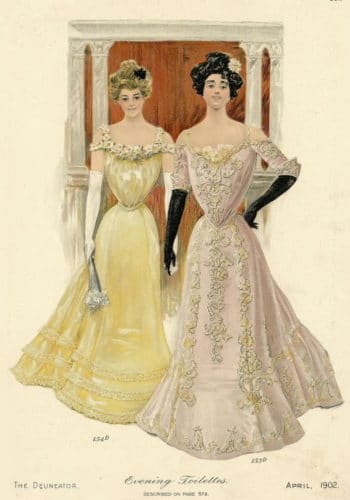 Edwardian Hats
The Edwardian fashion has its popularity for its uniqueness in hats. Women were often noticed to wear hats of different size to complement their dress. Women from all classes wore hats. However for the high society women they were their symbol of elegance. Usually the Edwardian hats were wide and tall and they were decorated with flowers, bows, feathers, birds or lace. But the use of long feathers and stuffed birds on the hats was threatening for the birds. The hat makers started to use only the largest of feathers along with ribbons, flowers etc. The largest feathers were collected from ostrich farms as these feathers fell naturally over time.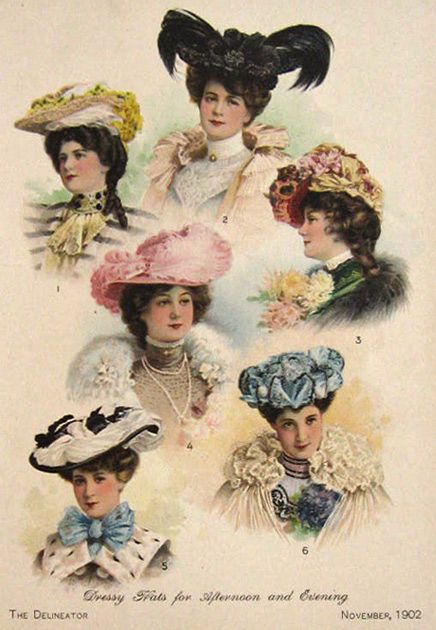 Shoes and Boots
Edwardian women also used the button up high boots like Victorian women. The boots were typically made of leather and black or brown in color. Sometimes, embroidered fabrics were also used in making these boots. They also used slippers or pumps for their evening shoes. Slippers were used for dinner, dancing, or weddings. A simple yet elegant shoe was the classic pump. They didn't have any belt or lacing and they were merely used for standing occasions. Here's a detailed post about Edwardian shoes.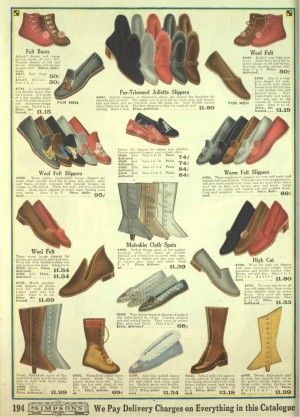 Bags
In the early Edwardian era women used bags from different styles. There were some bags made and designed with beads, embroideries and crochets. Some were made from leather. There were clasp-style bags, drawstring bags and tatted bags. Even there were bags made from metals. These bags came out in different shapes and different sizes. Both long and short strips were popular but usually these bags had long strips. Over the time small purses with wrist straps started to come in improved design and became more popular. There was also a trend of using different bags on different occasions.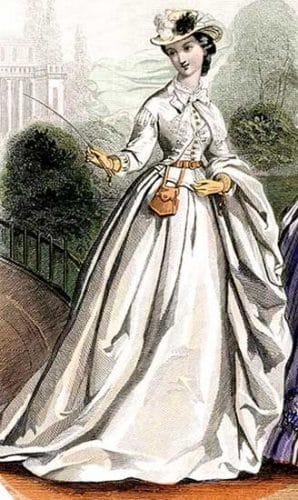 What about Gloves?
During the Edwardian era, gloves were still a common preference in fashion. During the day, women wore leather gloves which were long to their forearms. In the evenings, they preferred extravagant gloves made of leather, silk or suede. They were usually gray, white or ivory in color or had various pastel tones like pink, sky blue or lavender. Edwardian gloves helped the women complement their dresses.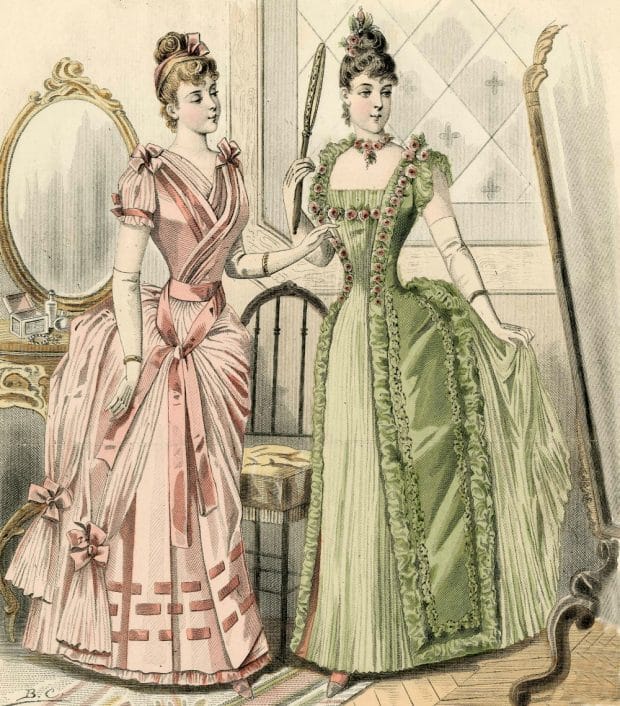 Finally, they completed their look with the perfect and subtle Edwardian Makeup! Edwardian women used to adorn themselves with the perfect piece of jewelry and they were ready to go! Though the Edwardian era lasted less than a decade in between the Victorian era and WWI, it had some major changes in fashion. It had some influences from Victorian fashion yet Edwardian fashion has its own sophistication and exceptionalism. World War I put an end to the trends as the world faced shortages of fabric and leather. But the fashion of the Edwardian era was not only extraordinary for the Edwardian ladies, it can still be used as the representation of elegance and gracefulness.