With the beginning of the 20th century, a new fashion era began and people desired changes in the styles and designs of shoes as well. The industrial revolution in the early 19th century brought modifications in the manufacturing process of shoes and this brought the era of Edwardian shoes. Earlier, people used to wear straight shoes which were the same for both feet, any of them could be fitted in both of the feet. The late 19th century felt the necessity to use specific and different styled shoes for left and right feet. During the time 1900-1920, different styles in shoes were emphasized like Edwardian shoes, titanic shoes, the Downton abbey shoes, etc. This article is about the Edwardian shoes.
Early 1900s shoes:
The footwear became more visible as the length of the skirt or dress became shorter in the early 1900s. So, colorful and well-decorated shoes were more preferable with evening wear. But black, white, tan, or ivory-colors were popular choices of color for shoes. These were preferable as day wear.
With time people started to feel the need for bathing shoes and low heeled shoes. So flat bathing shoes got popularity in this era which was comfortable to wear on beaches rather than the heeled shoes.
With the rise of hemlines during and after the great World War I, the space between the skirt and boot top seemed to be unattractive. So women initiated to wear Mary Janes, which had low and curved heels.
1900 shoes were mostly handmade by shoemakers. This was a tough and long process. But with time factories began to rise and factory-made shoes started to take the place of handmade shoes. The changes in the manufacturing process made shoemaking easier and affordable. Moreover, shoes started to become available with various designs and colors. These changes spread easily and women tended to focus on fashionable shoes equally.
Types of Edwardian Shoes for women
In this century, women's skirts became shorter and their footwear got more visible. They wore skin-colored stocking so they emphasized decorative shoes with quality design and comfort. Moreover, walking became a popular recreational activity during this time, so this increased the necessity of variation in shoes as well. Their preference for shoes was dependent on their activity. However, some shoes were quite popular among the women of all classes.
High top leather boots:
These were the most popular shoes for women during this time. They were closely fitted and black or brown were the most common choice. They sometimes had pullouts of canvas or embroideries into their shaft. When this was a trendy fashion, the fashion of famous two-toned boots also got popularity. These boots were made with the combination of two colors: black and white, black and ivory, etc. these boots were popular for pairing with the Edwardian evening attire. But at the end of the Edwardian era, these boots had differences in heel shape, arch and toe than the beginning of the era.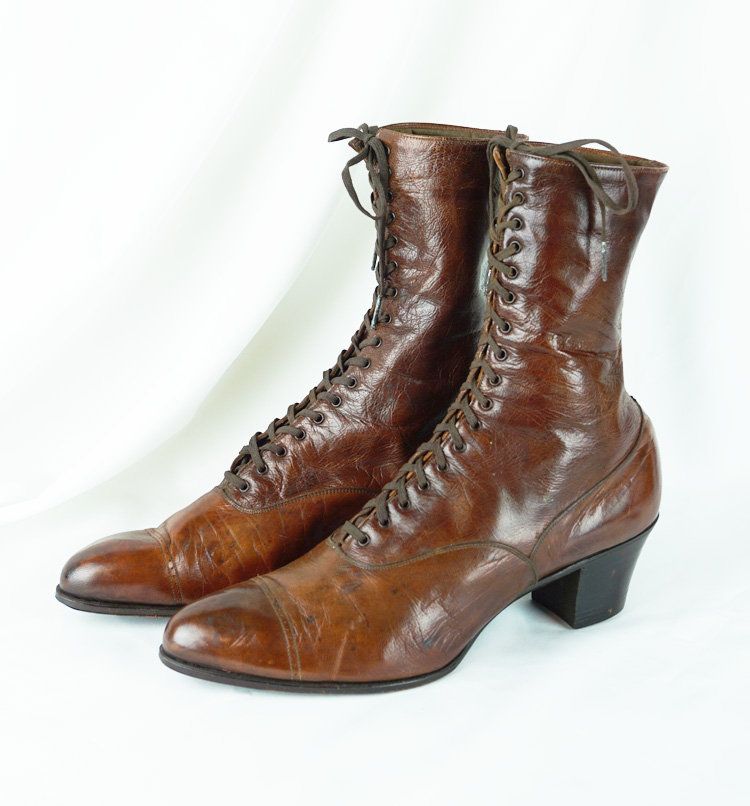 Pumps:
These are actually a pair of shoes with moderate-high heels. They covered the upper part of the feet, wrapped the sides and toes, and left the top of the foot bare. Pumps were a common choice with any dress or skirts. They were leather made and ornamented with ribbons, buckles, or other ornaments. These shoes were mostly used in the standing events. They were not so comfortable for dancing but some women could manage anyway! The pumps had a slip-in design. Like today's pumps, they had designs on the toe with beads, pompoms, ribbons, or other sparkling ornaments.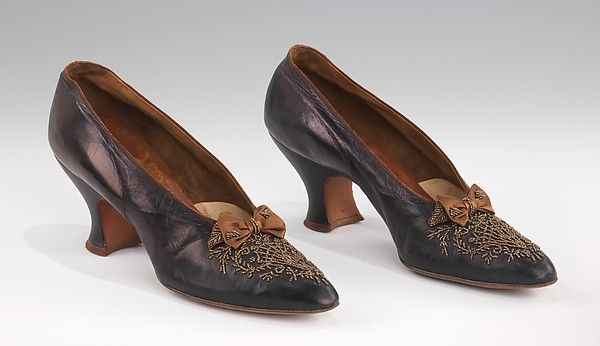 Chelsea boot:
The Chelsea boots were a comfortable home or garden footwear especially for elderly people. Unlike the boots or pumps, it only had one or two elastic sheets on the sides and they had pull tabs on the front and back. These features made them very easy to wear.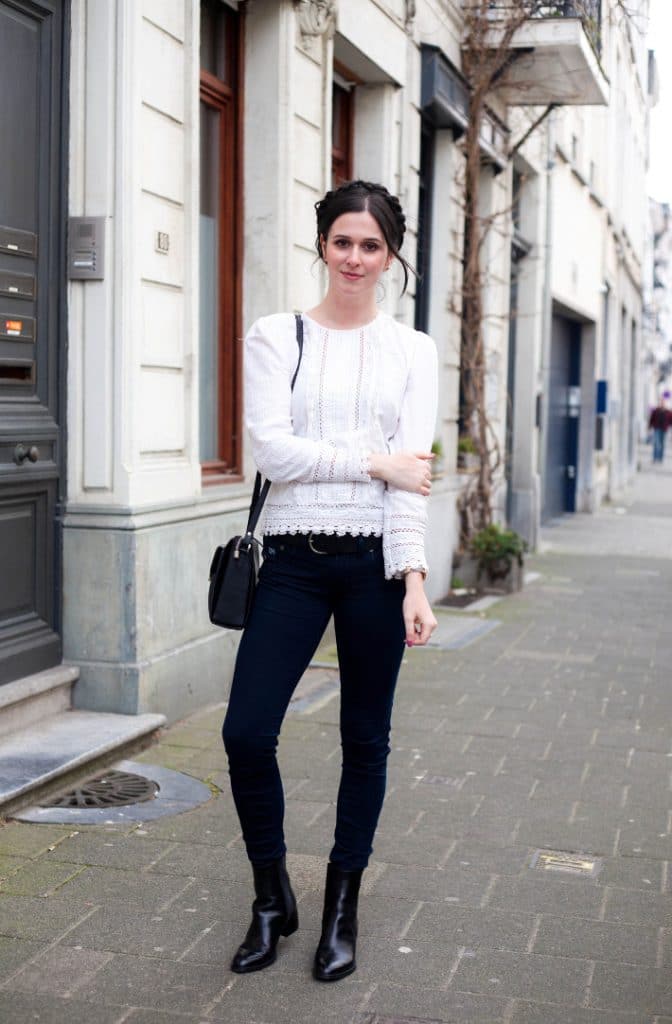 Oxford Shoes:
Apart from the boots, Edwardian women also liked oxford shoes. Usually, it had a long toe cap so that the toe had enough space for movement and the leg got its proper relaxation. Shoes that had moderate-high heel was worn with a skirt and blouse or suits as a walking shoe or home shoe. Working-class women used low-heeled oxford shoes. These shoes were the most comfortable and they were also very easy to clean.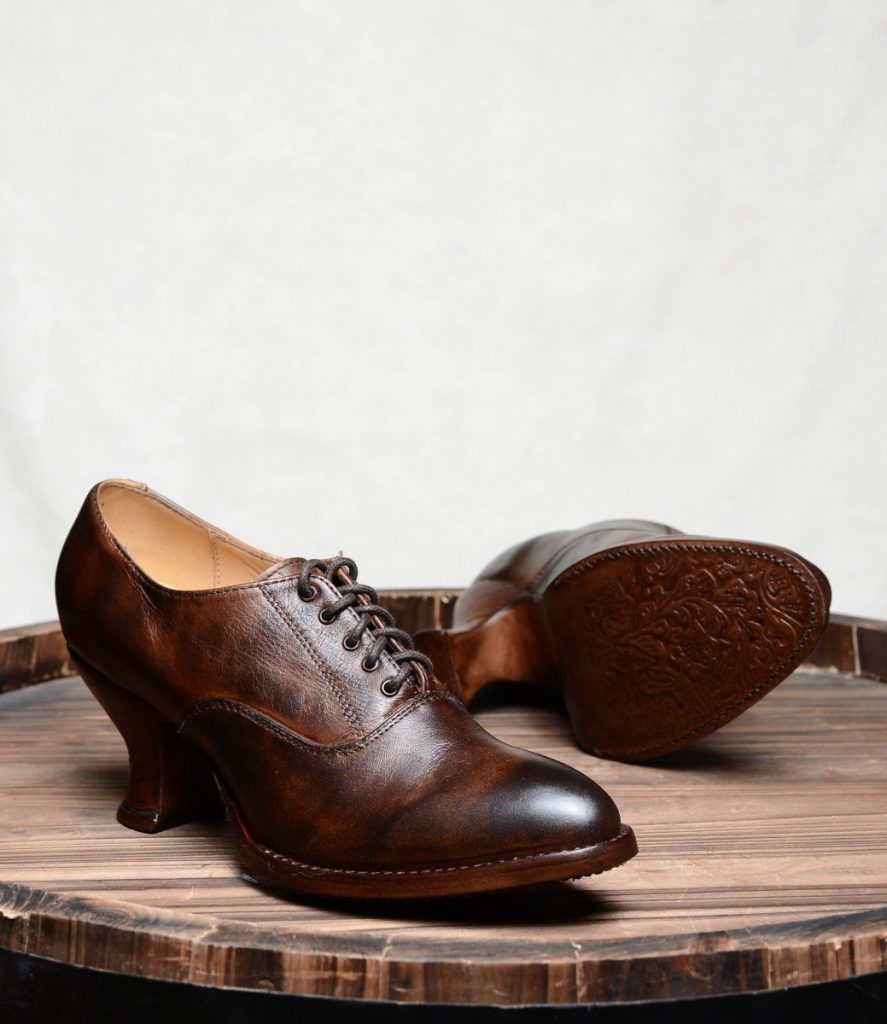 Slippers:
Edwardian women used to wear slippers in their bedrooms. But the slippers were not only confined in bedrooms. For weddings, dancing or evening shoes at dinner also, slippers were used. Mary Jane was the most common style for slippers. They had a particular belt across the vamp and they were decorated with pearl, plastic, bone, or metal. Sometimes they had more than one strap or a wide flap across the vamp. They were well decorated so that they could go well with evening wear. Slippers were also called bedroom shoes. These bedroom shoes were cozy and warm. They came as opera, colonial, or pump style. They were made with felted wool, cotton, or fur. Though they were bedroom shoes, they never got out of style or class.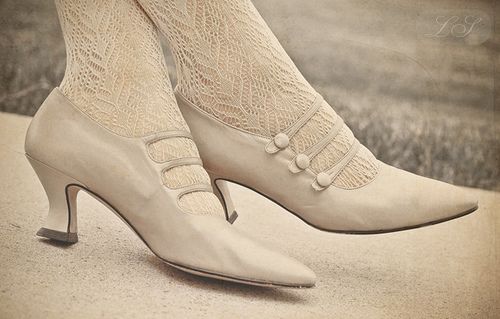 Balmorals:
Balmorals were common among both men and women. In these boots, the upper and lower parts were divided by a seam. This was the basic difference of balmorals from other boots. The upper part was made from different materials than the lower part. The upper part was often made from heavy fabric or suede, the part was made from leather.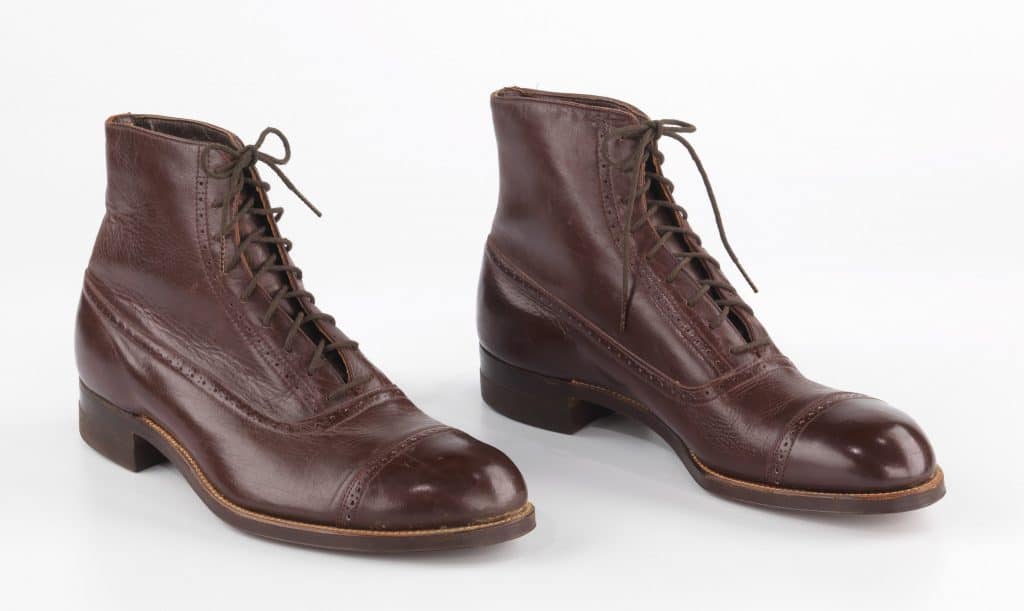 Edwardian shoes for men:
Men's fashion for shoes during this time followed the fashion of the previous era, the Victorian era. But certainly, it had its uniqueness. Like women, men also had varieties of shoes that they could wear according to the purpose. However, men also had some common shoes for their regular use.
Lace-up Boots:
For everyday use like going to work or walking, they used Lace-up boots. These boots were usually made of leather. The heavier ones were used for work. But they saved the lighter ones for entertainment or recreation purposes. Sometimes they were used for business or leisure.
Chelsea Boots:
If the shoes didn't have any lace, they had buttons or elastic straps. Boots with elastic straps or buttons were called Chelsea boots.
Two-toned boots:
Two-toned boots were also common in men's shoe fashion. They also loved to wear boots with two colors like black and white, black and brown, white and brown, etc. Black, white, tan, brown, or ivory were the common colors but the combinations were different for different boots. This was a quiet trendy fashion back then.
Slippers:
As the evening time was for recreation, they preferred something light for this time. Leather made slippers were the best choice with Edwardian men's evening dress. Slippers were light for feet and comfortable for dancing and entertainment.
Oxford shoes:
By the end of the Edwardian fashion era, the ankle-high lace-up boots became very trendy as Edwardian men's casual footwear.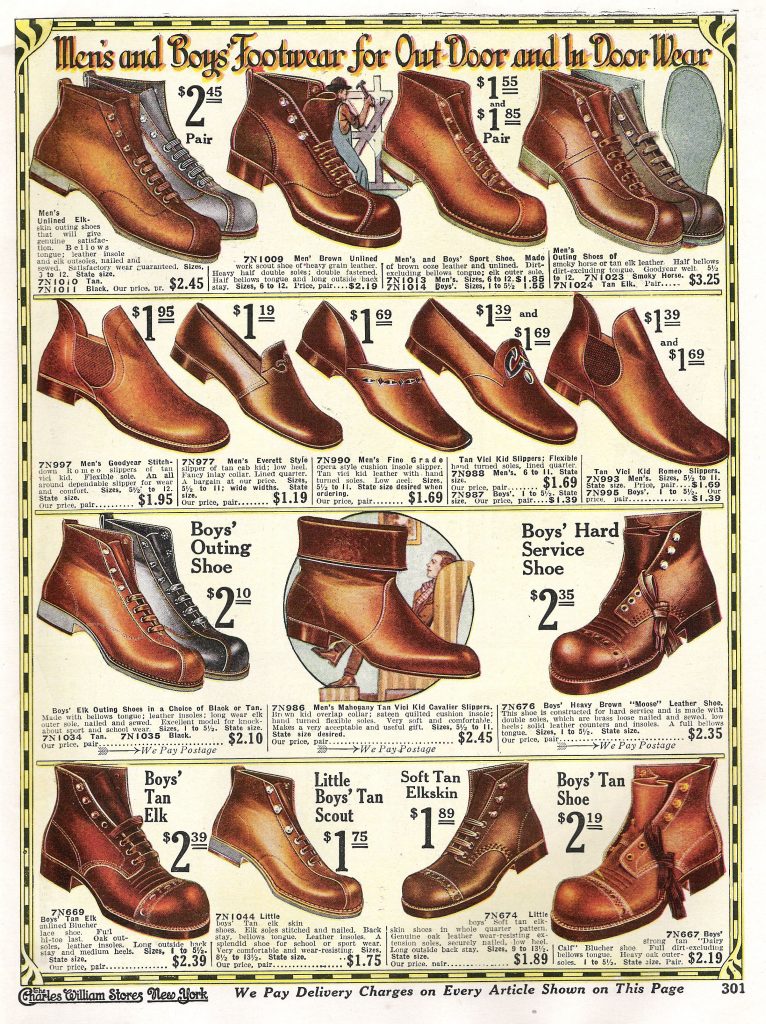 In the 1900s footwear fashion, men and women had some similarities in their choice. The structure of the shoes also had similarities. But men and women had different choices in color and the size of heels. However, both of them focused on stylishness and comfort while choosing a shoe.
Wood Soled Edwardian shoes:
These shoes had a different structure than the regularly used shoes. Because of their structure, wooden shoes were not commonly used on a regular basis. They were mostly seasonal or had different purposes of use. These are some shoes that the 1900s people used on different purposes:
Clogs:
The workers and peasants were sometimes seen wearing some shoes with wooden soles. They also had differences in style. Clogs were one of them. These shoes with high wooden soles helped the wearer to lift their foot up from the mud or puddles. They had a closed feet design which prevented the wearer from getting cold.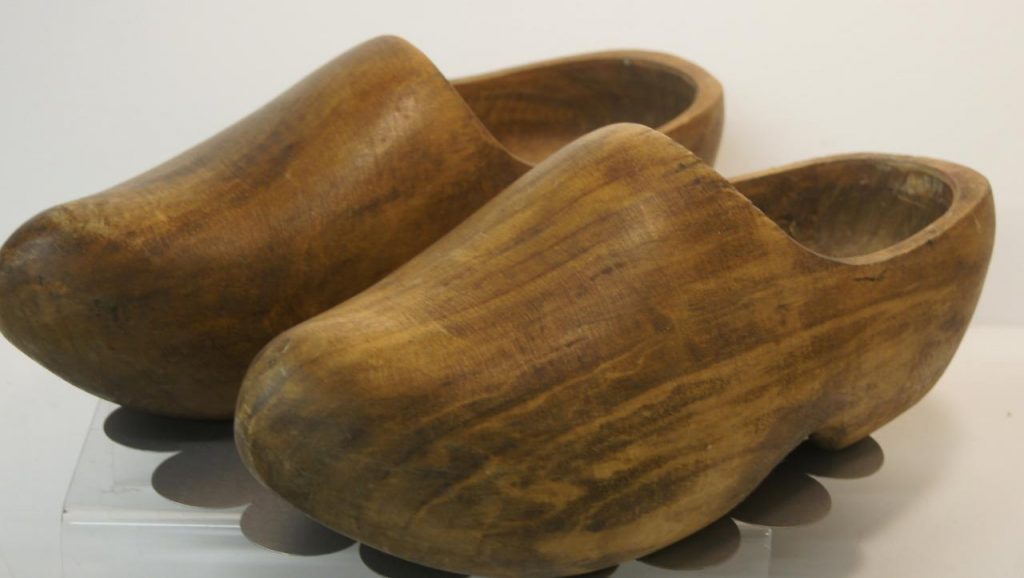 Pattens:
These were the type of slippers. They had wooden or metal heels or heel-like structures strapped under them to lift the body up from the floor. These shoes were used in cold weather or while mopping the floor.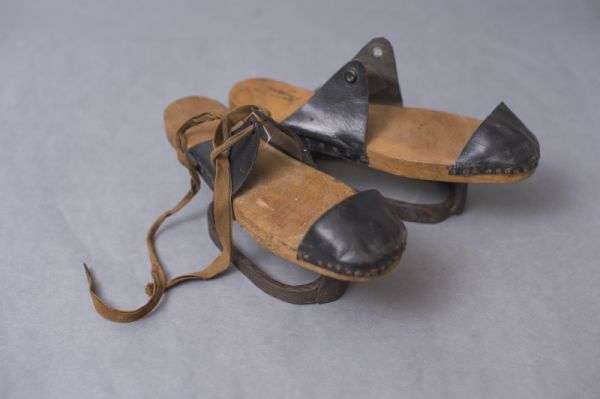 Sabots:
These were a simple kind of shoe made from a single block of wood. The wooden block was cut and polished to get the shape of a shoe. These were worn by factory workers or peasants. They wore it to wreck machinery in factories. This "sabot" is said to be the origin of the word "sabotage".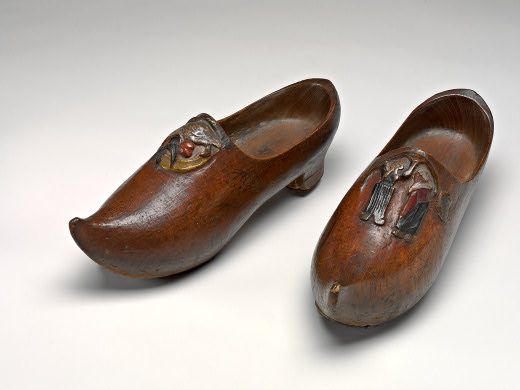 We have various kinds of shoes today. They are unique in color, shape, and design. But if we want an elegant and classy look, we can still depend on the fashion sense of the 1900s. This era was all about class and stylishness.