Wedding dresses are like a culture no matter what the age is. They have their own styles and designs in every era. The wedding dress we see nowadays has evolved through time and got this look after all these years. But 1930's wedding dresses have a lot of influence on wedding dresses in modern times.

Here we will be talking about different aspects of wedding dresses from the 1930s. These will help you understand the early classic days of the wedding dresses you see today. And maybe you develop your own ideas for making a dress like that as well.
Let's go through the facts then.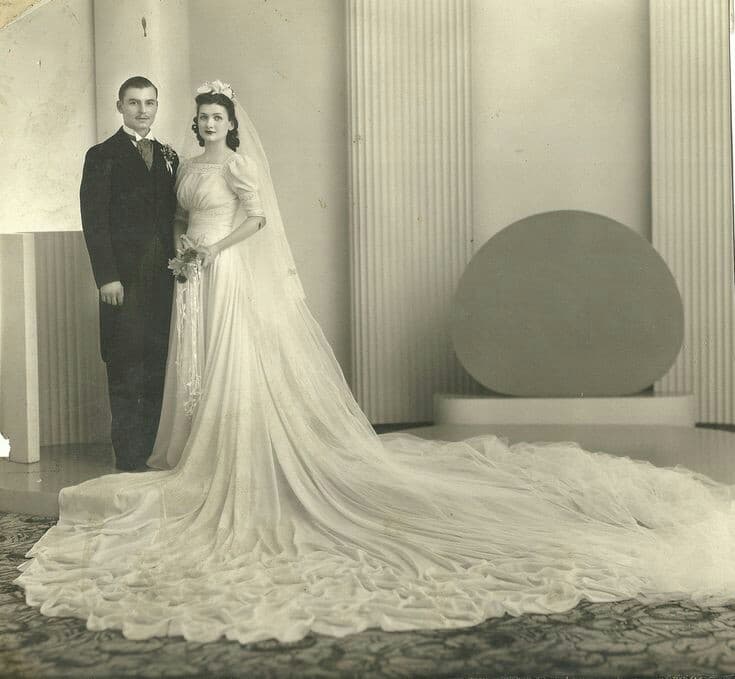 1930s wedding dress history
1930's fashion was mostly based on Hollywood movies. Whatever was shown in the film became a trend. Wedding dresses were also inspired by the ones shown in the movies as well. Wedding dresses in the 1920s used to be really different from than '30s. In fact, most of the 20's fashion was quite the opposite of 30's fashion. Instead of dresses with the drop waist and short lengths, it became long till ankle height.

Then came bias-cut gowns with a slim fit in different materials. Among them, rayon was the new edition. Also, there were silk and satin gowns as well. The necklines of the dresses were pretty high, and the sleeves ran long enough. Women moved towards jewelry with a much more royal vibe to them. The wedding dresses were top in fashion, but the budget was pretty low at the same time.
Women wedding dresses in the 1930s
In the 30's wedding, dresses had some trends. Such as having floor-length dresses. The bias-cut dresses made of satin with long sleeves and higher necklines. Some used to wear sun hats or maybe perch hats. The jewelry used to be pretty minimal, as well.
But these weren't the cases for every bride of that time. Because the '30s was called a depression era, so everyone had a tight budget. There were women who couldn't afford to buy an expensive wedding dress. And there were some women who could afford it and have a luxury wedding as well.

Now let's check out the 1930's dresses of that time. You will see mostly two types of these dresses one a bit expensive and one for the women who couldn't afford a fancy wedding dress.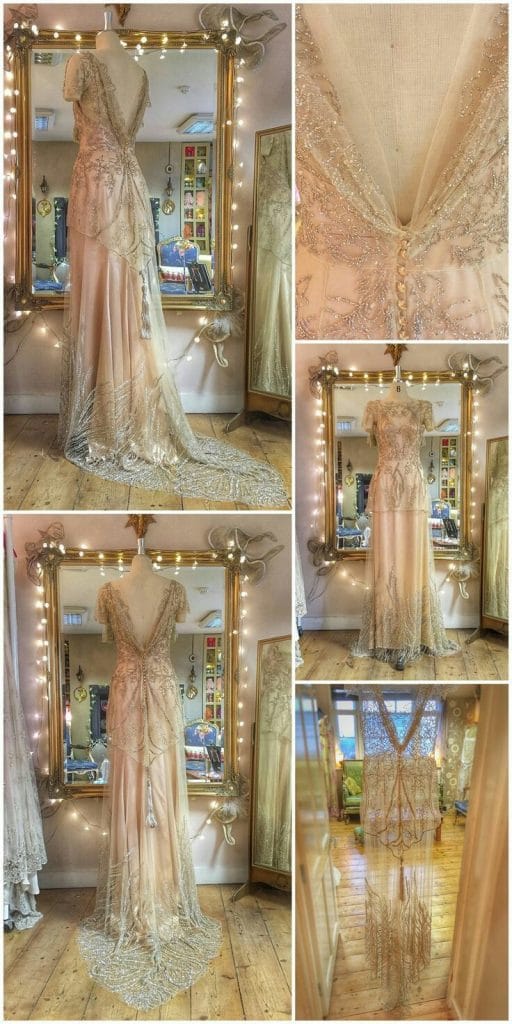 The wedding gowns
Well, this was the dress that required some money to be spent on them. These gowns were mostly famous because of their appearance in the movies. Also, various movie stars wore dresses like this.
Also, royal weddings were another inspiration for wedding dresses. These dresses were different from the Hollywood inspired ones. But at times, they had some similarities between them as well.

One extraordinary gown was worn by Joan Crawford, an American actress. She wore a gown with oversized sleeves that had a ruffled design. This, later on, became really famous and became a classic of the '30s. Many celebrities had an influence on coming up with gowns like this. And soon, they became a trend. Women who could spend money on handmade gowns had many options. There were various types of sewing patterns they could go through. Also, different types of fabrics were available for them to purchase. They could do all this from a local shop and from mail orders as well. They had lots of choices.
Fabrics:
For the materials, they could go with rayon, shiny silk, and satin. Among these, satin was a popular choice because of the glam it had. They used to wear lace along with their wedding gowns at times.
Fitting:
This was the time when women started gaining control over their choices. In the movies or the movie, stars went for dresses that fit them perfectly. But in reality, women used to go for dresses with a bit of a loose-fitting but not too much like in the '20s. It was a perfect blend of the tight fit and loose fit. These dresses were better than they used to illustrate them.
Length:
Sometimes, the skirts used to be calf or mid-calf height. But mostly they used to touch the floor, and that was the classic trend going on in the '30s. As a more extended gown could create a more elegant look, women moved towards that once again. In fact, it wasn't just the gown; they used to have trains and veils that went really long in the dresses.
Body:
This was the time when fashion took a big leap. So was the case in wedding dresses. Women could go with different custom-made patterns and designs on their wedding dresses. Details such as chevron or triangular patters or maybe long paneled design were the part of 30's classic designs. This was mostly at the beginning of 1930's fashion.

Later on, an addition like belts and side buckles made a really different look at the wedding dresses. They used to go around the waist and accented the very look of women in their wedding dresses. Finally, the era ended with the use of pleats, gathers, and ruching in the waists and neckline. These were used for creating a more defined and structured hourglass feature. This made women look even more attractive.
Sleeves:
There was so much to with sleeves of wedding dresses. But the classic was the long sleeves, which symbolized the fashion of the 1930s. Even though women used to go different ways at times, some went away with sleeveless dresses combined with a cropped jacket. This had a different kind of wedding vibe to it.
Apart from that, there were options such as butterfly sleeves. These made the sleeves look like a cape of small wings. They used to have double layering to make it look better. There was another kind of sleeve called the split sleeve. It was almost like a cheat sleeve. The sleeve used to be open right around the elbow to give it some breathing space of its own.
But all the church weddings demanded a long sleeve wedding dress to be worn because women were moving towards more modest clothes around that time.
The headwear
A crucial part of wedding dresses besides a wedding gown is the wedding veil. In the beginning, there was a tradition of using lace veils, but over time tulle was replaced. Some brides made a combination of lace and tulle to create something of a whole new veil design. Just like the gowns, the veils are also starting going longer in length. Some used to reach the floor and looked like a billowing cape. While this was the trend, some of the brides still went for that simple skull cap version of the veil. This was a popular choice in the '20s. But in the '30s, that same skull cap became much more straightforward and didn't have any embellishments on it.
Women who could afford an expensive tiara used go for something like a tiara made of diamonds. This could reflect and glow brightly in the light. Some also went for colored gems to make the tiara look even more gorgeous. These used to cost a lot, so that wasn't the option for middle- or lower-class people back then. The middle-class people opted for a starched lace veil or some small pears to design their tiaras. These tiaras were mostly made of fabrics. They used to surround the head of the bride like a royal crown that really made an impact on the look of the bride.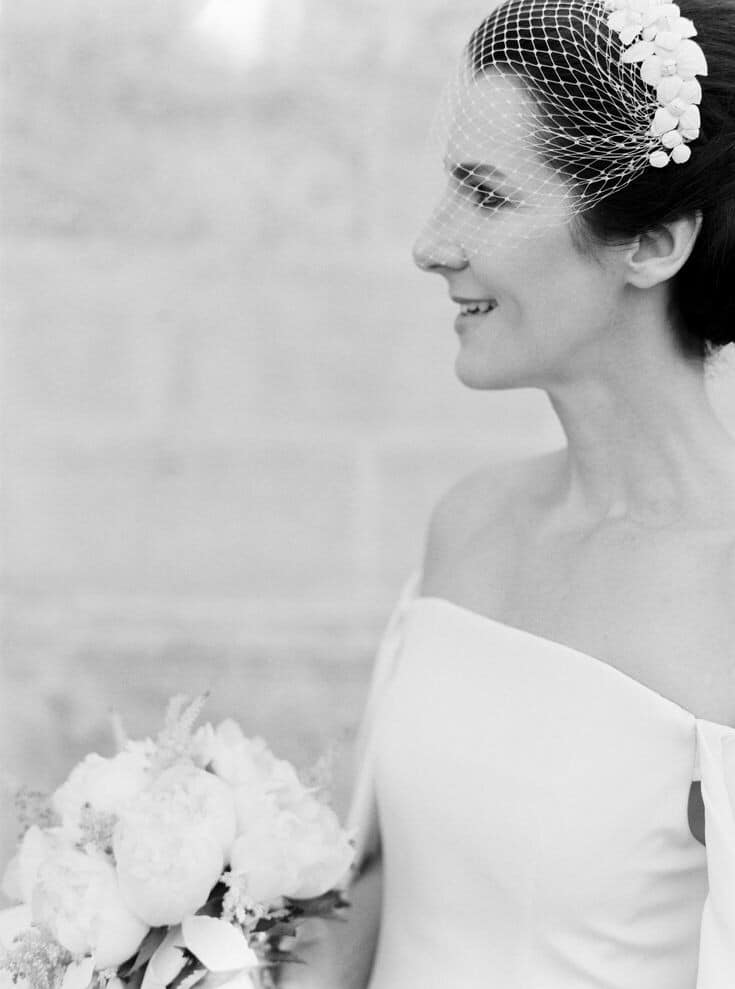 Jewelry
This might be surprising, but jewelry had minimal impact on the wedding fashion of the 1930s. It was very uncommon in the wedding dresses. As women used to dress more modestly, there wasn't much skin showing; hence, they didn't need to wear much jewelry—the brides who chose revealing clothes used to wear some pearls or a sparkling necklace to look good. Even though they didn't wear jewelry, they had the option to decorate their wedding dresses with various jewelry items. They could have embellishments according to their choices. There wasn't anything specific about that.

Still, women would go for some kinds of bracelets that accented their hands. Women who opted for shorter sleeves used to wear white paste bracelets to make their hands sparkle. Some even wore diamond charm bracelets as well.

For the wedding rings, the diamond set in platinum was the popular choice among the upper-class people. Some also went for gold rings or white gold because of their affordability. Most of the designs of the rings took inspiration from the Victorian era. The middle- and lower-class people used to go for more straightforward choices. They used to for carvings of flowers or maybe small wedding bands.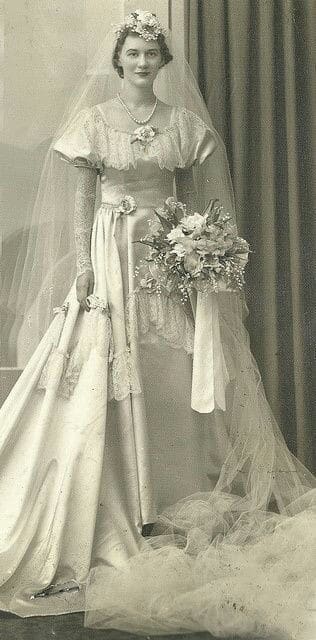 Shoes
As you already know, most of the wedding dresses used to run to floor height. So, focusing on the shoes was a bit unnecessary for women. So, they didn't put much emphasis on their shoes. But wearing white wedding shoes was a tradition at that time. Women were moving towards a much simpler form of fashion, so they presumably went for sandals instead of any other types of shoes. As the dresses were long, heels should have been an obvious choice for women.
Men wedding dresses in the 1930s
Men haven't had many choices in fashion, no matter what era that is. Yet they had some classy options all throughout the times. For grooms, the classic choice in the '30s for a wedding dress was Tuxedos.
Before the '30s, Tuxedos were almost forbidden to wear in churches. But later on, men would wear tuxedos in evening parties and wedding occasions as well. That was the very classic choice for men. Apart from that, suits were also another option as well. Let's go through some detailed look for the men's wedding dresses.
Tuxedos
There isn't much difference between the tuxedos in the 1930s and the tuxedos we see nowadays. They are almost the same thing as before. Even though in the 30's the economy was terrible, so only the upper class could afford a high-end tuxedo for their wedding.

Usually, the groom used to wear a black or light gray colored tuxedo along with a white shirt inside. Sometimes they used to wear vests to make them look even more proper. With the tuxedos, bow ties were much more preferable, and sometimes they used to adorn the tuxedos with different kinds of brochures as well. This completed the classic wedding look for men in the 30's.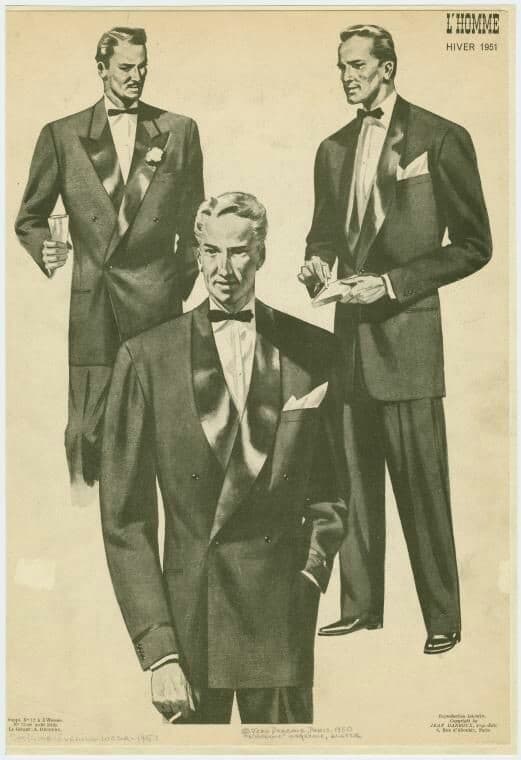 Suits
Suits were a popular choice from the '20s. Men used to wear suits on every occasion before tuxedos were a thing. Also, the men who couldn't afford to buy a tuxedo would get married in a suit. They used to have full, padded shoulders. The sleeves used to have tapering done on them. The lapels used to be peaked, and the neck of the suit had a V-shape on them.

Another noticeable change in the suits of this era was the striped designs. Almost every man had a striped suit in his wardrobe. They used to get married in these suits as well. But that was a rare case back then as fashion was getting more sophisticated. Grooms used to choose a plain pattern and a dark color for their suits. Some upper-class men also preferred suits over tuxedos. They opted for the suits with a drape cut suit. It had more sophistication and a royal vibe to it. This was also a classic choice in the 1930's men's wedding suits. There was also another type of suit called the palm beach suit. It was mostly in white color and many men like getting wedded in this suit.

But a palm beach suit was the preference of men who used to be groomsmen or were guests at the wedding. So, a groom choosing one of these was a rare occasion.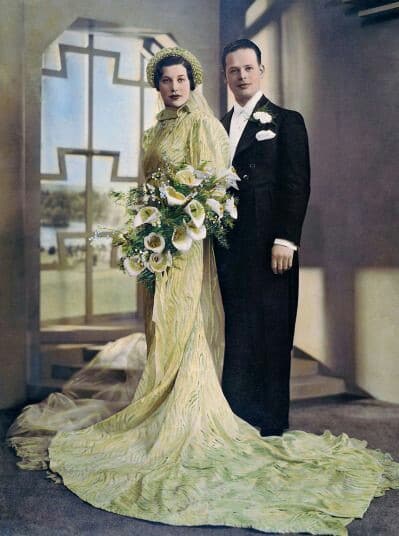 Vests
When we talk about vintage wedding dresses, vests will always be a part of it. Vests have been in fashion since the '20s. Men used to wear a vest under their suits or tuxedos for creating the perfect look. Vests were a classic choice to go with suits and tuxedos.

Underneath the vests, men used to wear white shirts, and mostly a black-tie create contrast and look much more formal. Grooms used to wear a black or gray vest depending on their suit color. Match it up with a white shirt, and they were pretty much ready for their wedding.
Sometimes the groomsmen wore only vests without any suits that created a new trend of wedding dresses back in the day.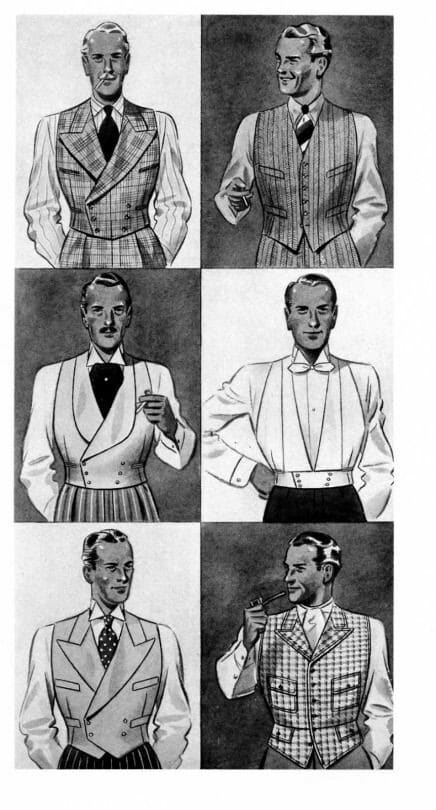 Shirts
Well, the shirts were an obvious choice. Men's fashion didn't evolve much from the 1920s to the '30s. They were pretty much the same in these both decades. So, men used to wear the same old classic white shirt and pair it up with a black or grey suit. Some wore lighter colors at times, but white was the primary choice for most men.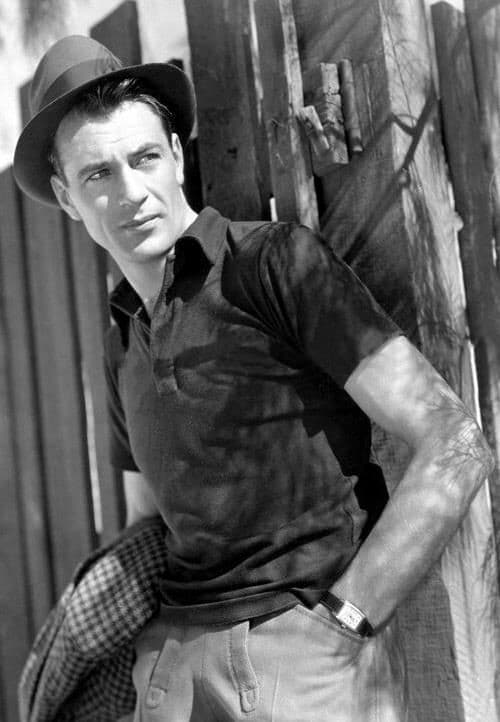 Pants
The most significant change in Men's fashion came in the pants. In the '20s, there was a trend of wearing pants, which are of calf length. The breeches were gone, and men preferred much simpler forms of pants. Men in the 1930s wore pants that were much more like the pants we see nowadays. The pants were pretty plain and simple, with two front pockets and one back pocket.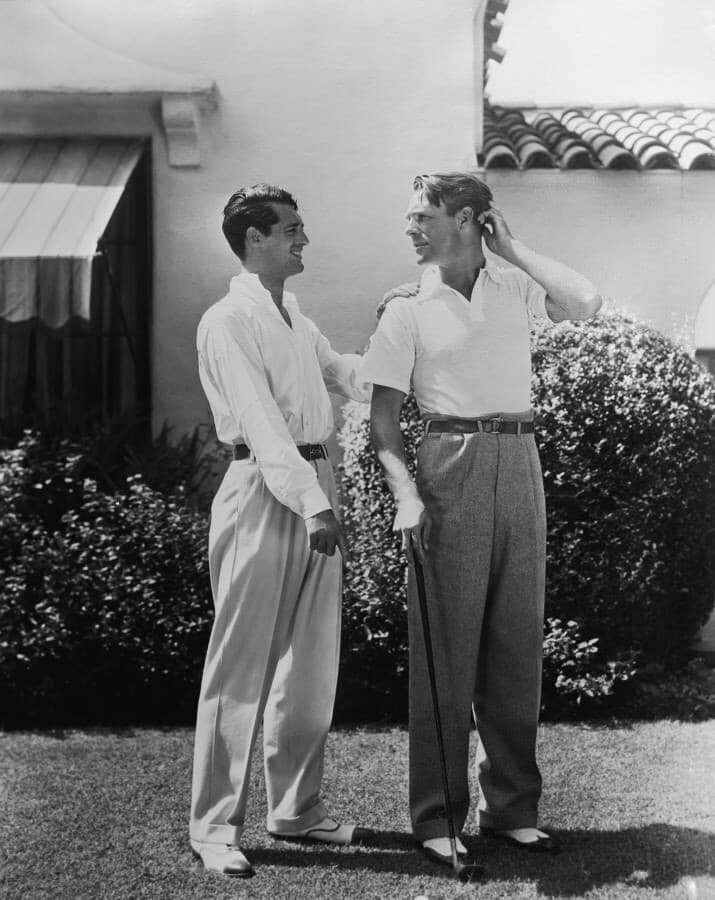 Shoes
Men's shoes were an attraction to every wedding. As women didn't get to show off their shoes, men could show theirs as they pleased. The trend was to wear a pair of glossy boots that would shine and would be noticeable. The pants used to run up to ankle height to match up the shoes.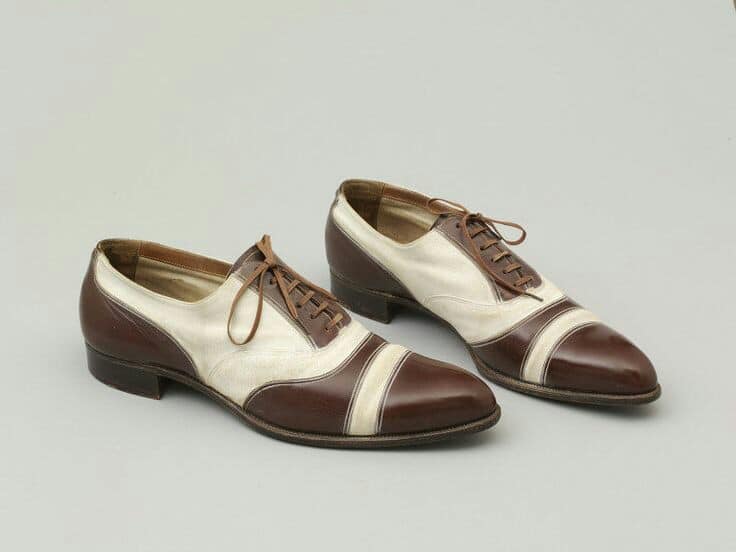 As you can see, there isn't much evolution or change in the fashion of the 1920s or '30s for men. They are almost the same. You can check out the 1920's fashion and look through the details. Here we just brought the significant parts of men's wedding culture in the '30s.
Conclusion
We tried to go through the whole 1930's wedding dresses scenario so you can have a better understanding of fashion at that time. It wasn't an easy time for style, but somehow it got the most evolution in fashion. Especially women's dresses had taken a big leap around that decade.
This article was to help you get some information to develop your own ideas of the 1930's fashion at weddings. If you are opting for a vintage wedding, then this is the best era to glam yourself up like your favorite actresses from classic movies.