Although, in the previous years, most of the women purchased dresses or gowns as their regular wear, blouses with skirts were also very trendy. These blouses and skirts changed their designs and fashion over time. Especially around the 20s, blouses and skirts were considered fashionable wear and many patterns and designs in blouses started to appear. They were used to wear inside their home for comfort as well as outside the home when they went shopping or for other activities. This article is all about the history, designs, and fashion of blouses till now throughout the time.
How blouses came into fashion?
Before the 1900s century, especially around the 1850s, blouses were not a common costume for women to wear. Only working people, artists or peasants wore blouses which were very loose-fitting. Blouses were considered as a very unfashionable and informal dress. They were hardly found in any women's wardrobe. With time, blouses along with skirts started to become the regular use dresses for women. Blouses can be identified as the ancestors of the modern women's shirts.
The French Revolution had an important impact on women's fashion. In the early 19th century, women's fashion was mainly neoclassical fashion. The blouses they wore at this time were similar to the fashion of Greece and Rome. The blouses were longer in shape and they were called "empire" fashion which existed till the mid-19th century. After that, the blouses became a little bit shorter. Blouses were not that common in Victorian fashion, still many women were seen to use blouses and skirts in the Victorian era.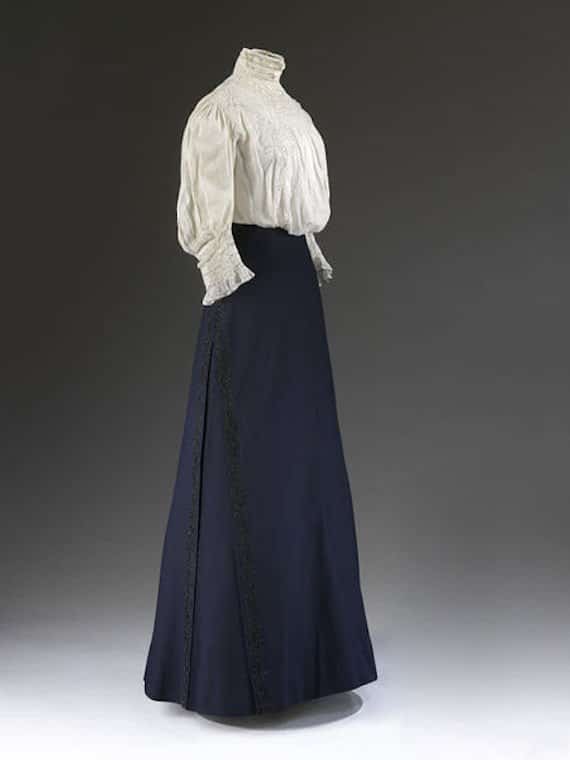 Queen Victoria was the ruler of the Victorian era. Most people of society tried to follow the trends and fashion of the upper classes. Thus the dresses of the royal family, especially the queen, had an important impact on Victorian fashion.
Victorian Blouses:
The Victorian period existed for a long time. In this long time, Victorian fashion went through several changes in different time phases. For example, the civil war dresses were quite different from the regular dresses but all of them are technically a part of Victorian fashion. Women's fashion faced a drastic development around the 1890s, the late Victorian era. Maybe it is because women started to get admitted to schools or work outside the house. But fashion upgraded and simpler and comfortable dresses got popularity according to the work.
As I said earlier, blouses were considered as a very informal dress, so they were used for dirty works or when women had to work alone without any company. But later when blouses became trendy, they were surprisingly changed in design and became a part of sophistication for women. All Victorian blouses had kind of a common pattern with different designs.
White Victorian Blouse:
The white Victorian blouse was the most commonly used blouse which matched with any kind of skirts. Also, they were made of lightweight fabrics. Generally the fabrics were cotton or linen. As blouses already had become casual wear, the wearer's comfort and flexibility became a concern. So, these regular use blouses were made accordingly. Victorian Blouses always had long sleeves. But he sleeves had variation in their design. Some liked the slim-fitting sleeves when others preferred the loose-fitting or puffy shouldered ones.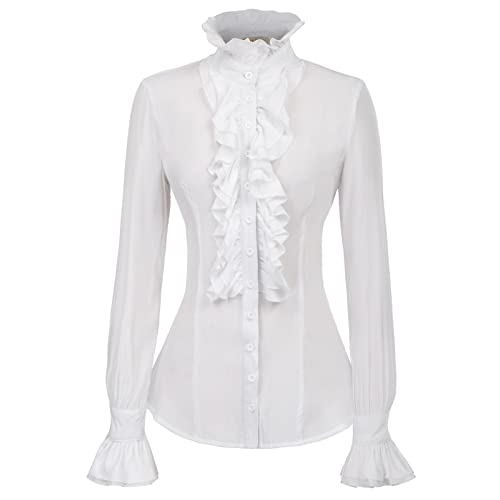 Black Victorian Blouse:
Black dresses were generally used as the mourning dresses in Victorian society. White blouses were common general fashion but black Victorian blouses were commonly used as their mourning dresses. These blouses had the same pattern as the white blouses and were worn with long ankle-length skirts. Sometimes they were adorned with black laces. Otherwise had embroidery designs, ribbings, lace jabots, or frills on the front. All kinds of blouses had a high neckline and long sleeves. Apart from mourning, these blouses added a gothic vibe for Victorian women.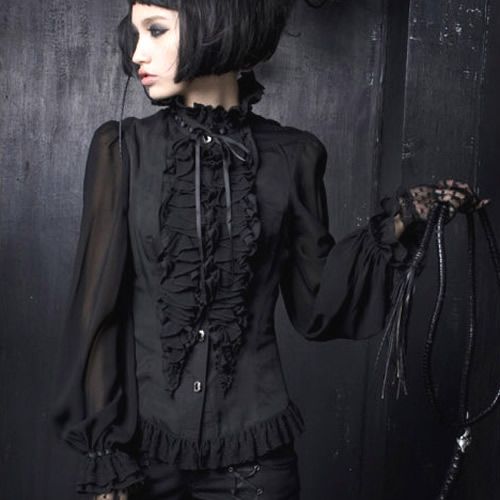 So, if you want to create a gothic look for yourself, a black Victorian blouse can be your ideal choice. You can always go for a blouse with the bell, frill or bishop sleeves and a high neckline. Your blouse can be made by or designed by lace to get the desired gothic look.

Apart from the colors, there were various designs in the Victorian style blouses. Some blouses were made from lace and had a layer of other fabric under the lace. These Victorian lace blouses were the most sophisticated and suitable choice for outdoor parties. Victorian ruffle blouses were also as good as the lace blouses.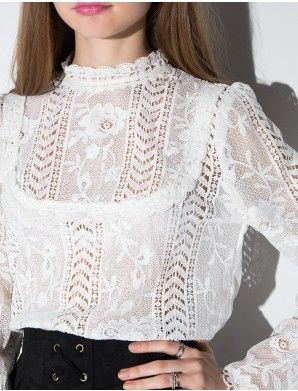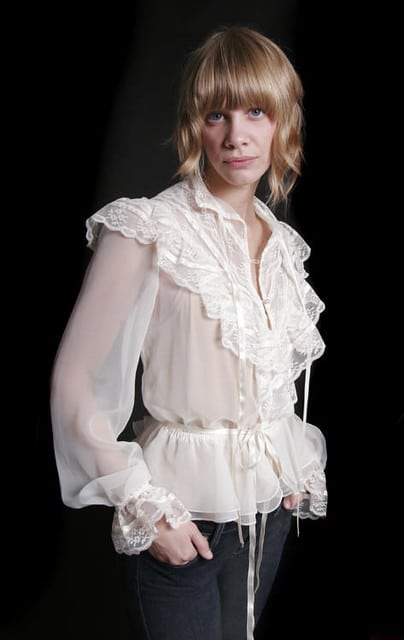 Features of Victorian blouse:
Neckline:
High collar Victorian blouse was the most trending item among the blouse designs. Most of the blouses usually had a high neckline which actually was the representation of elegance of the Victorian women. These blouses often had a front opening to wear them easily. They used large well-designed buttons to the opening. Upper-class women wore fancy brooches to close the cut. High collar necklines were often decorated with bead chains, bows, fabrics, laces, or frills. It was not mandatory for the women to wear Victorian high collar blouses, they were free to choose their desired neckline. But they willingly preferred the high collars because it was unique and trendy.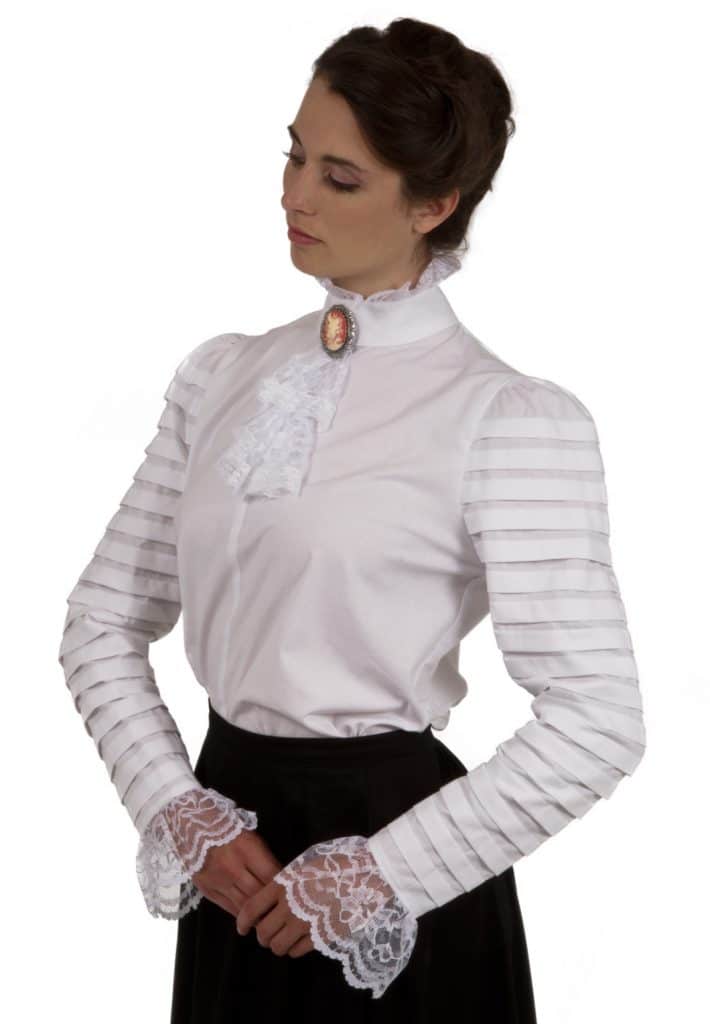 Sleeve design:
Although Victorian blouses had limited neck designs, they had various sleeve designs. Different designs in sleeves brought newer looks to the Victorian blouses. Generally, long-sleeved blouses were the most popular. But half sleeved blouses were also seen to wear by some women. The long sleeves sometimes had a puffy shoulder and were very slim fitting from the elbow to the wrist. Bell sleeves and bishop sleeves were other common sleeve choices for blouses. Cuff sleeves were also seen to wear by some women.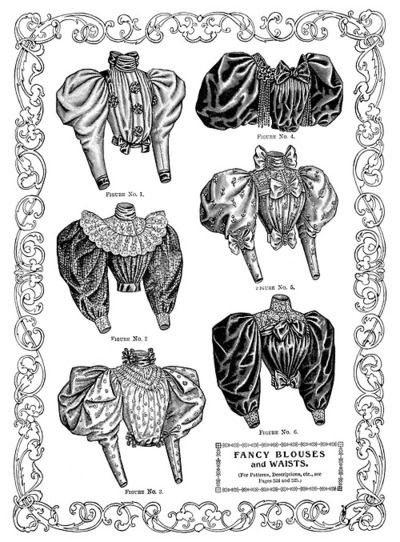 Belts:
Belts were a unique feature for Victorian blouses. Victorian blouses had a loose-fitting body so they required a belt to fit the blouse properly with the body. These belts were made by the same fabric as the blouse and they were worn around the waist. The purpose of using these belts was to highlight the waist. These belts were made by silk or satin as Victorian blouses were made by these fabrics. Victorian belts had embroideries or bead designs according to the blouse. At the end of the Victorian era, different colored cloths were used to make the belts. Mostly the contrast colors or highlighted colors like yellow, pink, blue, etc. became popular.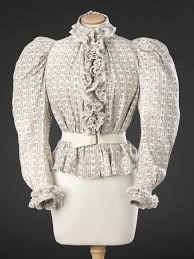 Victorian blouses were popular throughout the whole century, especially in the last decade of the 1800s. In 1901, Queen Victoria died and King Edward raise to the throne. Thus the Victorian era ended and a new era began with the new century, which is called the Edwardian era. This era is commonly known as "La Belle époque".
Edwardian blouse:
Edwardian fashion got many fashion trends from Victorian fashion. The early Victorian era didn't have a blouse or skirts as the women's common wear. But as blouses became very common in the late 1800s, the Edwardian era had already got that. Edwardian blouses were not very different from the Victorian blouses. But as fashion changes from time to time, some changes were seen in the blouse fashion as well!
Features of Edwardian blouse:
Edwardian Blouse Pattern:
These blouses were very lightweight and easy to wear. The Edwardian era was the time of s curve silhouette. So these blouses had the feature of fastening down in the center back so that the shape of the corset remains visible. As the industrial revolution increased the number of sewing machines, the production of blouses increased. Readymade blouses started to take the places of tailor-made blouses. Regular blouses were made with comfortable and light fabrics like cotton, silk, or linen. There were also blouses of other rich fabrics or laces for special occasions.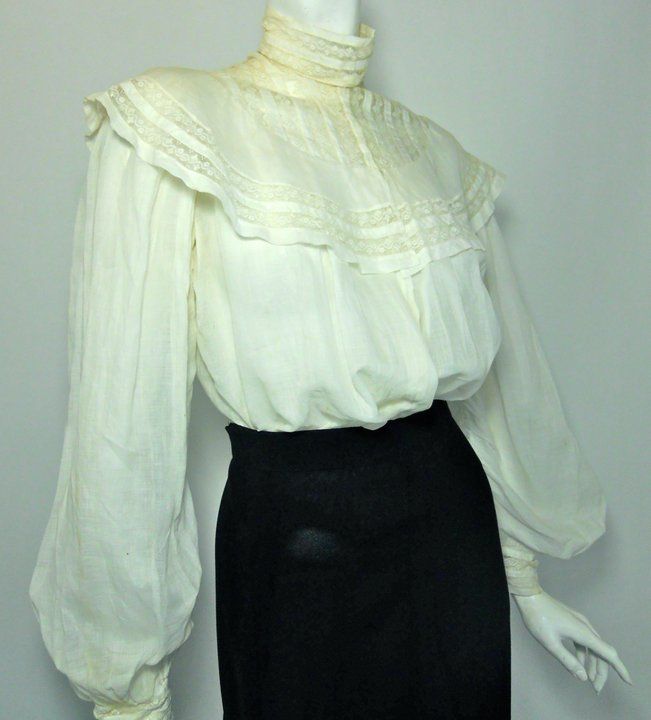 Sleeve design:
Edwardian blouses also usually had long sleeves like the Victorian blouses. But unlike Victorian fashion, these blouses didn't have very slim-fit sleeves. Loose sleeves were the most common and trendy sleeve pattern for the Edwardian blouse. These loose sleeves usually ended with a cuff or bishop sleeve design. But other sleeve designs from the Victorian era were also still popular.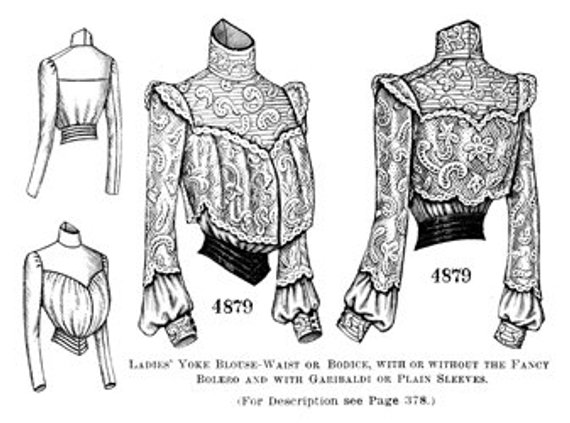 Neckline:
High neck fashion was still popular. These high necklines were decorated with ruffles or frills. But apart from these, lace high necks also became a popular trend during this era.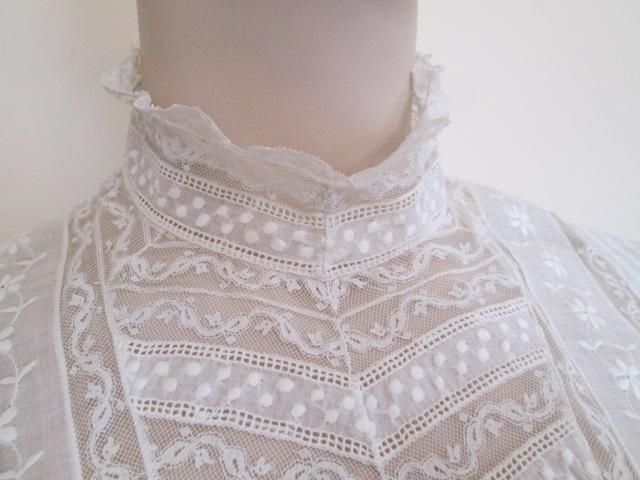 However the fashion was, both the Victorian and Edwardian women always liked to adorn themselves with the best designs and latest trends. They might use the simpler blouses to ensure the comfort of their regular work, but for the special events they always had some gorgeous blouses made by chiffon or lace in their closet. Women of all classes always tried to maintain their social status according to their capability. So though blouses were the symbol of working-class people at the beginning of the century, with time it became a very important and fashionable dress for women of all classes. Nowadays what we wear as women's shirts are basically some changed versions of these blouses!