Have you ever wanted a unique and vintage hairstyle but failed because your hair is a mess? Well, this problem can be solved by using a hair setting lotion. As the name suggests, hair setting lotion is a kind of lotion, or you might think of a professional formula, that helps you to keep your hair in a particular shape. A hair setting lotion is a gel-like product that creates a coat on your hair and keeps the hair from drying out. So, basically, when you are styling your hair with a roller, using a hair setting lotion can make the process easier by stopping the moisturizer from being absorbed by your hair.
But there's nothing to worry about! It will not make your hair flaky or sticky. Rather this will give a long-lasting firm hold and beautiful shine to your desired vintage hairstyle.
What does setting lotion do for your hair?
As I have already mentioned, hair setting lotion creates a thin coat on your hair. This helps your hair to get a good hold to your hair and style your hair in your desired way. It prevents your hair from looking frizzy and gives your hair a natural shiny look. When you apply a hair setting lotion on your hair, combing it becomes easier and helps you keep your style protected for a long time.
Looking for a best setting lotion for vintage hair? I have listed some of the most popular hair setting lotions that actually work for vintage hairstyles.
12 best setting lotions for vintage hair:
Finding a good product for your hair is a tough job. After all who want to risk their hair by trying out harsh products, right? Well, I have spent days and hours doing the research for you so that you don't have to worry much and can just pick the perfect product. Here I've listed the 12 best hair setting lotions for you. All you have to do is to pick the product and style your hair in your desired way.
#1 Lotta Body Setting Lotion

You can use Lottabody Setting Lotion for wet setting, blow drying, or waving your natural or relaxed hair. This lotion dries quickly, does not flake, and adheres to hair to help overcome porosity and seal split ends. Lottabody provides a solid grip that makes your hair simple to comb, giving hair excellent body and gloss. This hair setting lotion helps to keep your hairstyle stay for longer. This has made this product a salon favorite for years.
Usage tips:
Damp your hair and apply Lotta Body Setting lotion. Then comb your hair through evenly and style it as you want. If hair dries before you finish setting your style, you can add more as needed.
You can also dilute the product according to your hair type. On normal hair: 2 to 3 parts water to 1 part Lottabody. On tinted and bleached hair: 4 to 5 parts water to 1 part Lottabody.
#2 Design Essentials Natural Twist & Set Setting Lotion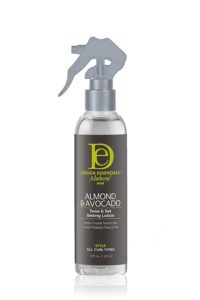 The Design Essentials Natural Hair Care System is a wide range of curl-definition products for loose, curly, coiled, and tightly coiled hair types. It is enriched with a variety of natural butter and oils like- avocado, almond & jojoba oils. This lotion is fit to style any type of hair. Not only that, it fits any curl type as it is paraffin and paraben free and has no mineral oil. The ingredients include panthenol and silk amino acids that helps to create a shiny long-lasting hairstyle.
Usage tips:
1. Wash your hair with shampoo and condition your hair.
2. Apply Natural Twist & Set on the wet hair and then comb through the product to distribute evenly.
3. Continue to twist or set in the desired manner.
4. For best results, use a hooded dryer (air drying optional)
#3 Moroccanoil Smoothing Lotion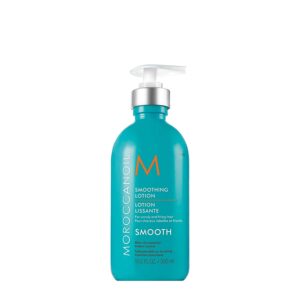 If you have frizzy hair and looking for a product that makes your hair manageable, shiny, and smooth, Moroccanoil Smoothing Lotion can be your solution. This product is enriched with argan oil, argan butter, Vitamin E, and essential fatty acids which nourish your hair and make them soft, smooth, and frizz-free. For styling, Moroccanoil Smoothing Lotion will give you a medium hold which will stay up to four hours without weighing down your hair.
Usage tips:
Damp your hair first and apply a small amount of Moroccanoil Smoothing Lotion on your hair. Then you can blow dry as you want.
#4 Design Essentials Almond & Avocado Hair Moisturizing Lotion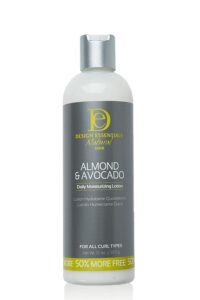 Design essentials Natural Daily Moisturizing Lotion is a lightweight product containing olive oil, jojoba oil, cocoa butter, and wheat protein in it. Whether your hair is wavy, coily, or curly, this product will keep your hair hydrated and give them day-long protection. This is a paraben-free and paraffin-free product with no mineral oils, so it is great for everyday use. This will not harm your hair from your everyday styling instead it protects and strengthens dry, damaged hair from breakage by sealing the cuticle. So, this will give you a shiny, manageable, and healthy hairstyle. With Design Essentials Moisturizing lotion, you can easily tame your frizzy curly hair!
Usage tips:
Step 01: Apply Daily Natural Moisturizing on clean, wet hair.
Step 2: Blow dry or diffuse after combing through or do finger styling as desired.
Step 3: Alternately, use dry hair to revive curls and tame frizz or take-out twist sets.
#5 Marc Anthony Curl Defining & Enhancing Lotion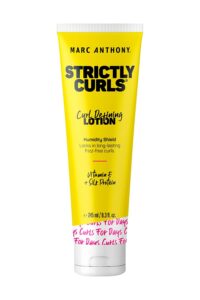 If you are looking for a light product with a heavy hold, Marc Anthony Curl Defining & Enhancing lotion can be your choice! This product is enriched with Vitamin E and Silk Proteins which will lock your hair according to your desired style, and create a maximum definition for your hair. This will make your hair feel soft to the touch, remove frizziness from your hair and make the hair look bouncy.
Usage tips:
Apply evenly to damp or wet hair, then scrunch it lightly. Gently twist tiny portions with your fingertips to form swirling curls. Let it air dry naturally or use a light diffuser. Once dry, use tiny portions of hair to curl a small or medium barrel curling iron for greater definition. This is a great product to keep your curl in shape and give a voluminous look.
#6 Argan Oil Hair Lotion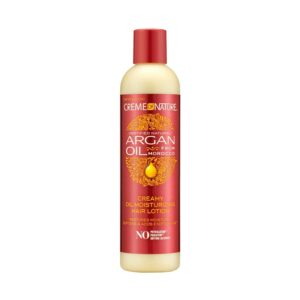 Argan Oil Hair Lotion is a hair product from the brand The Creme of Nature which will give you a healthy hairstyle to get the perfect look you desire. It nourishes your hair, gives protection to your colored hair, and makes them look shiny. It has the essence of all-natural ingredients like coconut milk, mango, and shea butter.
Usage tips:
Place a modest amount in your palm. Rub your palms together, and then work it into your hair. You can use it daily or when you require to style your hair. Comb your hair after applying the product and then style it as you desire.
#7 Moroccanoil Hydrating Styling Cream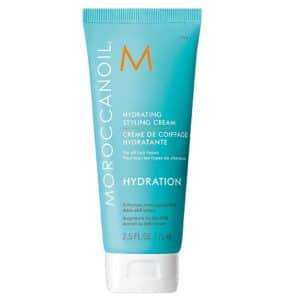 Moroccanoil Hydrating Styling Cream is another argon oil-based hair product. This product is suitable for all hair types but if your hair is coarse and super dry, I especially recommend this for you. This lotion is super hydrating and moisturizes your hair. As a result, you will get frizz-free, silky, and smooth vintage hairstyles.
Usage tips:
Apply 1-2 pumps of Hydrating Styling Cream and a few drops of Moroccanoil Treatment to wet hair after washing and conditioning for optimum results. Style as usual or let hair air dry naturally. A pea-sized quantity applied to dry hair each day to combat frizz can also be used with a tiny bit of Moroccanoil Treatment to revive the style.
#8 Cantu Moisturizing Curl Activator Cream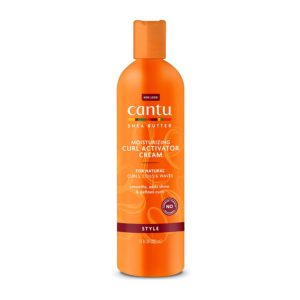 Cantu Moisturizing Curl Activator Cream is perfect for wavy, curly, or coily hair. It has no harsh ingredients like mineral oil, parabens, paraffin, silicone, or sulfate. The shea butter formula with the 7 essential oils protects your hair and nourishes them. You will get an extra shine to your natural curls!
Usage tips:
Apply to damp hair section by section and style as you want. You can reapply if your hair is dried out to get additional moisture to your hair.
#9 OGX Argan Oil of Morocco Curl-Defining Cream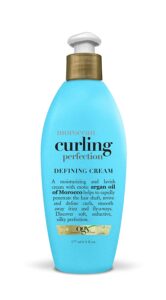 OGX products are my personal favorite as I have curly hair and this product works great on curls. OGX Argan Oil of Morocco Curling Perfection Curl-Defining Cream is ideal for all types of curly hair and it will make your hair smooth and create shiny curls. The richly moisturizing formula will help you to hydrate your hair and make them frizz-free. It has a fresh citrusy fragrance with a blend of floral and woody flavors. This fragrance will leave your hair smelling good all day long. This product is free from sulfates, parabens, and other harsh materials that will help you get healthy defined curls.
Usage tips:
To apply OGX Moroccan Argan Oil Curling Perfection on your hair, first apply the cream to your palm, massage palms together, and then apply evenly to damp, towel-dried hair. Massage them to the ends of your hair. Scrunch hair with your hands and let it air dry. You can also use a diffuser to add volume to your hair.
#10 SheaMoisture Smoothie Curl Enhancing Cream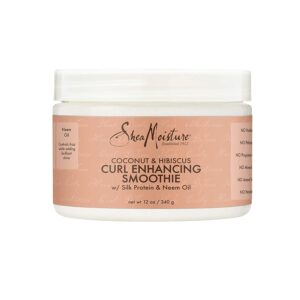 SheaMoisture Coconut and Hibiscus Curl Enhancing Smoothie are one of the best lotions to get healthy defined curls. It is a great option to get a thick hairstyle with shiny curls. This is a product enriched with silk protein, neem extract, and coconut oils. These products help your hair to restore moisture to your dry and frizzy hair and create shine. This is also sulfate, paraben, paraffin, and mineral oils free.
Usage tips:
Section the hair and use a little amount of product to damp or dry hai,. Leaving out the rinse Style your hair as desired. Use as a styling cream for twist-outs, braids, and wash-and-go styles for optimal results.
#11 Moroccanoil Curl Defining Cream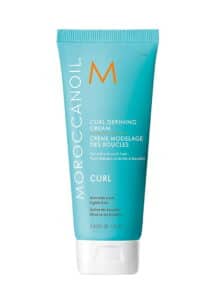 Moroccan oil Curl Defining Cream can be your all-in-one solution to get frizz-free and full-of-life hair. It has argan oil in its ingredients so you will get moisturized, smooth, silky, and shiny curls. This is made for all curl types and gives a good hold to your hairstyle. It keeps your hairstyle secured for a long time.
Usage tips:
Towel-dry your hair and apply 1-2 pumps of Moroccanoil Curl Defining Cream. To activate and define curls, spread the product throughout the hair. Let hair air dry naturally for a defined curl.
#12 Cantu Coconut Curling Cream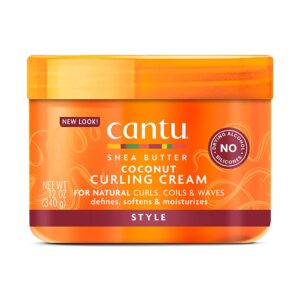 Cantu Shea Butter for Natural Hair Coconut Curling Cream defines and softens curls, allowing them to achieve their greatest, healthiest potential. This is a creamy, weightless, coconutty cream that leaves your curls smoother than before. This solution combines the essential moisture of pure shea butter with a lightweight texture to create the ideal curl conditioning treatment. This product contains no mineral oil, sulfates, parabens, silicones, phthalates, gluten, paraffin, or propylene, making it an excellent complement to your curl-care routine.
Usage tips:
Apply over moist hair, section by section, starting at the root and working your way to the ends. No need to rinse. Can be used to re-moisturize curls on dry hair. For super soft, long-lasting twist or braid outs, combine with Cantu Moisturising Twist & Lock Gel.
How to use setting lotions
For most hair setting lotions, the usage tips are almost the same. For using these products, you need to dampen your hair first. But you should be careful not to make your hair too wet because too wet hair will dilute your hair setting lotions and this can make the hairstyling procedure difficult. For most of the lotions, you can directly apply them on damp hair. Then comb your hair to spread the product evenly throughout the ends. The last step is to style your hair as you want. You can easily go for a 1930s hairstyles if you want or simply enhance your desired vintage hairstyle. Hair-setting lotions can be used on any hair type but this mostly works effectively on curly, wavy, or coily hair.
Although instructions for all the products seem similar, I would recommend reading the instructions written on the product bottle carefully before using any product and following them accordingly!
Conclusion
With the appearance of so many modern hairstyling products, hair setting lotion might seem a little bit old-fashioned but hair setting lotion is still an effective product to style your hair and make them healthy at the same time! So, why not give it a go?