The roaring twenties was a golden era of fashion: it was the epitome of the new modern age fashion.
As a result of WW1, women were left with a comfortable lifestyle. 1920s fashion made a statement that resembled their spirited and youthful style of living: it was made for the youth. 1920s women embraced their carefree and lively manner which is easily represented by their choice of clothing. As a result, this enabled them to pursue new identities and opened new doors for the rise of women's rights.
Often, the 1920s is associated with an era that is timeless even throughout generations. However, the early years of the 1920s are not often brought to light. Often, the early years in the 1920s presented clothing trends that complemented various body shapes and sizes across the ends of the spectrum. This is quite a new achievement, especially in the early 20s.
Outfits in the early 20s were usually more flattering on all body types whereas the later 20s presented choices of clothing that were more fitting on certain body types more than others.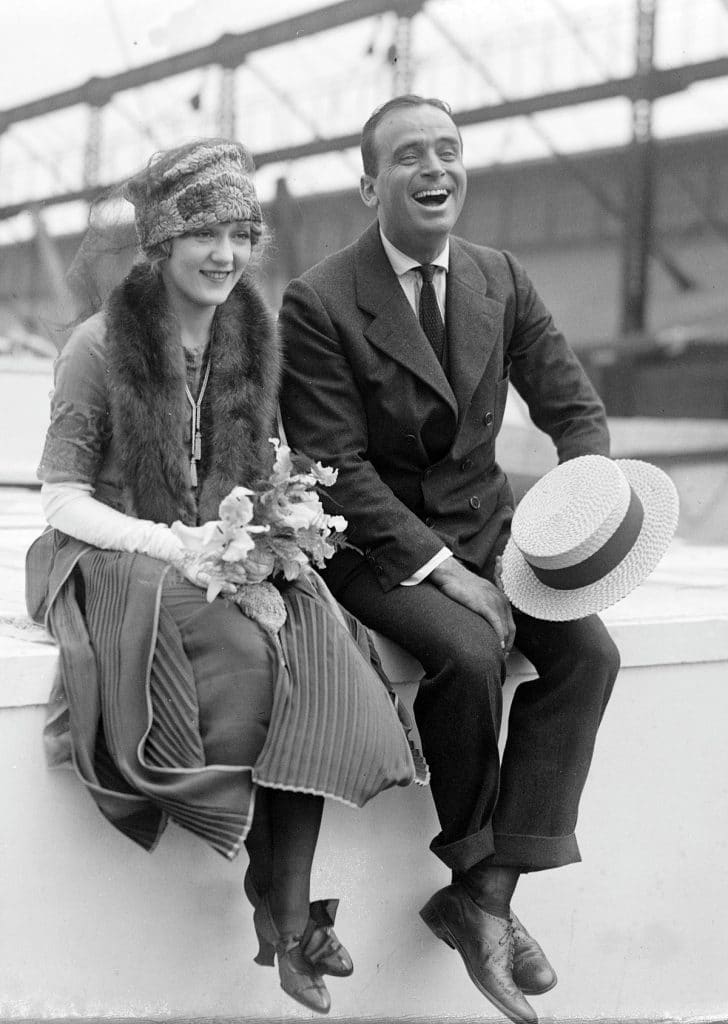 Women's Clothing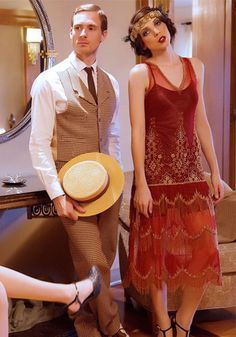 Cotton house dresses were typically worn by women working from home. Cotton house dresses were usually made out of soft cotton material to ensure durability.
Dresses were so easy to make, women often had time to sew their own dresses. Using different materials from day-to-day materials, dresses were made using the materials women had during the 1920s.
Apart from cotton house dresses, many women were involved in manual labor. During the roaring 20s, factory work was one of the prime fruits of labor. Work such as sewing, nursing, maid, or nanny represented the fundamental jobs as a woman. They were told to wear a uniform coat or apron over a cotton house frock.
When a woman completed her housework chores and was done with her professional work, she is typically the one in the household who conducted errands around town. While men were told to work and earn money, women were the ones taking care of the house and running errands. Clothing was kept simple but the quality of clothing was of higher quality than cotton house dresses. They wore either dress paired with a pair of mid-heel Oxfords, Mary Jane, or T-Strap shoes, which is most common in the daytime fashion.
Skirts during the twenties went from the vogue thing to out of fashion by the mid-decade. Women wore skirts and blouses in everyday activities.
In the late 20s however, skirts came down to the knees and had a slightly flared shape towards the bottom. Skirts were often in solid colors, lacking patterns or decorative embellishments.
However, during summer, skirts were seen as an asset in the wardrobe of women due to their versatile and light-weight nature! It is often dressed in casual occasions – complementing the energy during summer.
As swimwear became shorter, women had to be on the lookout for beach police with measuring tapes to ensure that the swimwear does not undermine the conventional length. Too much bare skin could result in fines and even interestingly, being sent to jail! What a revelation to today's swimwear. Most of these rules were lifted by the late twenties and women were allowed to wear whatever piece of clothing that they desired.
For some women who preferred to cover-up, they could still wear swimwear that accommodates their style. Similarly, a popular fashion trend was buying two-piece swimsuits: incorporating swimsuit trunks and tank tops sewn to make a swimsuit! This was a popular piece of swimwear during the roaring twenties for women who preferred swimsuits that could cover their skin.
Stockings came about mid or upper thigh area and had to be held up and clipped. It was typically attached to either a corset or a girdle with clips or gilt mounts. For some women, they preferred to use elastic bands or to simply roll their stockings down using elastic bands to just above the knee area. The choice was simply theirs!
Interestingly, stockings were worn at the beach! With flippers and flip-flops of this era in contemporary today, women wore stockings to the beach. However, the stockings that they were did not fit the obligated measurements for beaches. They were told to cover their knees if it went above their knees, some beaches prohibited women from entering or using beach facilities.
There are four main styles of stockings: full-fashioned, semi-fashion, tubular, and cut.
Full-fashioned stockings – These stockings are typically the best types of stocking constructions. It has the least amount of bagging at the ankles. This was the preferred length of stockings that was widely accepted during the roaring twenties.
Semi-fashioned stockings – These are of circular knit.
Tubular hose – These are usually made for children; they are not shaped.
Cut hose – these are tubes stitched on a circular knitting machine, then cut the length of a leg. Only the poor were able to afford this and it was only worn exclusively by them.
Daytime purses were carried out by women every day. As mentioned above, if it wasn't for the increase in demand for cigarettes and using make-up, there would be no need to carry purses at all.
These are the main types of purses during the roaring twenties:
Pochettes, underarm bags, and clutch bags were names given to a new-ish style of the small handbag in the roaring twenties.
Reticules were small pouches with drawstrings. Women usually carried it around to hold either their coins or a small cell phone. They remained in style during the early twenties but quickly went out of style as more popular and trendy purses and bags that were more versatile and practical were introduced.
The clutch purse was so popular it stayed that way for decades.
Mesh bags were usually longer and more slender in style. Bags made from metal mesh went back decades but found a new popularity in the '20s.
Evening Bags was the epitome of bags from the roaring twenties. They were authentic and displayed the style and trend during the famous twenties!
A woven straw shopping basket remained popular for women, especially in Europe for groceries and running errands.
The roaring twenties presented an era where beauty lines and products surfaced. As opposed to the extravagant and extensive collection of makeup today, the roaring twenties presented make-up in a limited form. It was only exclusive to a few, limited shades and designs. It suited women with conventional skin types and colors during that era.
To summarize, the roaring twenties were all about enhancing one's natural beauty rather than subverting the looks of an individual. Instead of incorporating make-up, the roaring twenties presented beauty in a more naturalistic form. This included face creams, lotions, powders that helped balance one's skin tone and to accentuate one's natural beauty and features. By the end of the decade, the women's beauty industry has completely transformed for the better. There were many new brands and stores, and women wearing make-up was becoming more widely accepted in social norms.
Women's flapper style look 
Flapper evening dresses aimed to show as much skin as possible. Hence, the below knee-length dress styles and short-sleeved tops. Although exposing cleavage was still taboo in the roaring twenties, women were allowed to show other parts of their skin – especially their neck and back. It was becoming morally acceptable to show different parts of their skin – but sizable chests were still not in fashion.
Flapper dresses were commonly loose-fitting slip-overs with either long or short sleeves. Belts accented the low waist called drop waist. The flapper costume was meant for the young and thin: youths! This resembled the potential and the rising power of the youths, although older and more mature women can also put together similar flapper-style looks.
Earrings and pearl necklaces are of style in this era. Although it is easy to be caught up in the expensive variety that some vintage stores may offer, it is also easy if you look to get affordable jewelry!
In terms of jewelry, intricate jewelry complimented the simplicity of the designs of the dresses. Accessories with a suit or dress would coordinate, but not match, a woman's outfit. Although the jewelry represented the cohesive nature of the outfits, and the outfits were seen to be accentuated through the use of jewelry, it was still kept simple. Especially for women involved in housework chores, thick black stockings was an essential piece to complement the house dresses. However, for women running errands, cloche hats and gloves were usually worn.
Women never left their houses without hats. As explored in previous articles, the most iconic hat during the 20s was the cloche hat. This is also named after the word 'bell' because they were shaped around a crown and a small brim. Women often had to tilt their heads to visibly see clearly while wearing the cloche hat.
Hats were more simple than the other eras: it was usually presented in solid colors with visibly fewer decorations. They normally wore these with evening dresses, but not commonly for the flapper dress look.
The style of lingeries has undoubtedly changed over the years. From the beginning, lingerie was associated with wearing up to 11 layers. By the end of the roaring twenties, women could only wear a brassiere with a teddy and be sufficiently dressed in lingerie. What an interesting revelation! Back in the early twenties, women would wear a corset, corset covers, petticoats underneath her dress paired with a nightgown. There were many layers to consider when putting on a nightgown.
Corsets were still worn in the 1920s and throughout the few decades as follows. Interestingly, the majority of women still wear corsets today. Older women preferred the traditional laced-up corsets. Curvy women also wore them more than thin women – it helps to accentuate their curves and enhances the shape of their bodies. Between the roaring twenties, however, corset sales declined massively but corset makers adapted to changing needs.
For women who did not want to wear the full corset or corset, they were given a choice, the brassiere. They were usually available in either white or pink color while heavily trimmed in lace or embroidery.
Underwears are called knickers or bloomers in the roaring twenties. The popular materials were silk and cotton. They came in many colors – mostly orange, peach, violet, jade green, blue, etc.
Woven cotton or silk bloomers were baggier and longer than knickers – usually reached mid-thigh or knee area. Drawers and bloomers were basically the same with the difference being that drawers have a wide leg opening and bloomers have an elastic cuffed leg.
Men's Clothing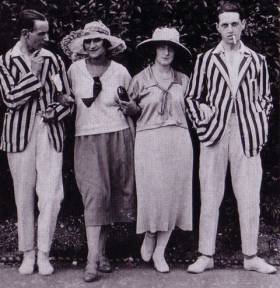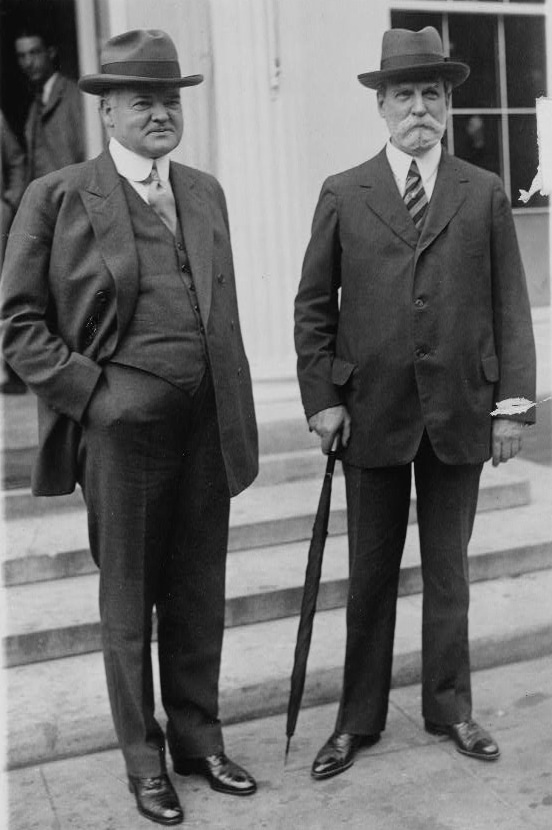 The rich had closets full of suits – one for each occasion, perhaps! They had an extensive collection of suits ranging from many different colors and patterns. Every style – they had it. While the working poor had one suit to wear to the Church on Sundays. The clear disparity within social classes was evident during the 1920s.
All men's fashion from the twenties came from Britain. Even different parts of Europe turned to Britain for fashion inspiration. Classy, refined, and good-looking were the three main checklists that they had to ensure.
The British look is also known as the classic suit in contemporary today. The traditional British look had wide, naturally shaped shoulders, fitting loose jacket, two large pockets, and 1 to 4 buttons closed at all times.
Interestingly, while women had loosely-placed clothing, men had breasted jackets that accentuated their hips – giving them shape and fitting looks. This was very interesting as women's clothing was loosely-placed together while men had a more fitting style that accentuated the shape of their bodies.
Men's pants had a flat front and typically a flare to the bottom. Pockets were slit on the side with one button closure. The pant legs were fairly fitting in the top but flared by the second half.
Men took these new wide-leg styles to a new spectrum – they paired it with classy bags and Oxford shoes. The Collegiate trousers were a new trendsetter. As seen, this is a similar comparison to women's clothing that accentuated the flared styles and loosely-fitting designs.
The stark contrast between conventional trousers today as opposed to trousers in the roaring twenties especially for men can be seen in the high-rise styles of the trousers in the twenties. The waistband came up the natural waist. To keep them up, men typically used suspenders that were button-up (as clip-on suspenders were not invented or in-style yet).
Men's suits were also initially made out of wool. Men's swimsuits presented a collection of extensive colors and styles. A popular color scheme was orange with black or white stripes outlining the edges. Besides, men typically wore rubber belts with their desired swimsuits.
The transformation of swimsuits was evident in the roaring twenties. We were able to witness the shift in patterns, styles, and colors. The shift was evident considering the material of the swimsuit as it shifted from a wool-like material that had a prevailing theory of warmth, but it shifted to a more comfortable piece of clothing that was accepted by many!
Men's boots have been around for decades. This style has been around for more than 50 years. Not only does it look formal, but it was also comfortable. Working men usually adopted the style of men's boots – quite frankly, they did not have an extensive collection of things to wear. Colors were made simple and formal – there was no room for creativity. Perhaps, the ideal footwear resembled the way of living – simple and purposeful. It served its purpose and that was the goal of the footwear.
Saddle shoes were available in the 1920s but they did not become very trendy until the late 1930s. They were only a sports shoe and were not worn with casual or business attire.
Wingtip shoes are simply alternatives to Oxford shoes. It is similar to Oxford shoes but it has a slight subversion. The subversion resembled the wingtip design in the toe-area of Oxford shoes.
Sport shoes were both casual and semi-formal. It wasn't exactly worn for sports, but it resembled a more toned-down fashion as opposed to the formality of conventional Oxford shoes.
Nubuck was the 'wrong side of leather sanded into a velvet-like finish.' They were extremely comfortable, which yet again, resembled the style and purpose of the roaring twenties: comfort and fashion.
Conclusion
Often, the 1920s is associated with an era that is timeless even throughout generations. However, the early years of the 1920s are not often brought to light. Often, the early years in the 1920s presented clothing trends that complemented various body shapes and sizes across the ends of the spectrum. This is quite a new achievement, especially in the early 20s.
As a result of WW1, women and men were left with a comfortable lifestyle. 1920s fashion made a statement that resembled their spirited and youthful style of living: it was made for the youth.