The Edwardian era lasted a long time ago from today, in the early 20th century. It began with the rise of King Edward after the death of Queen Victoria in 1901. Although it was a long time ago, people still look for Edwardian fashion and costume. The Edwardian era has such a great impact on our fashion history.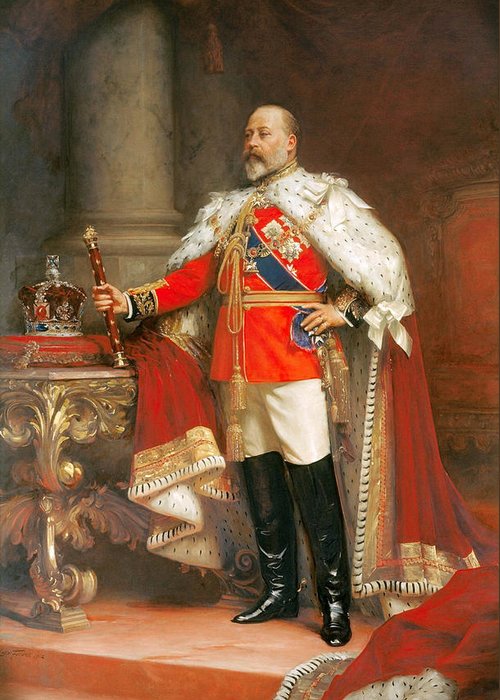 Our modern fashion is basically the formation of previous fashions. People adopted many fashion ideas from fashion history to create a new or unique idea. Nowadays, in many events or parties, people still like to wear dresses that have been directly picked up from history or slightly changed. In this article, we will analyze the costumes that the Edwardian era had and how the people of today can create a fashion like that.
How was the Edwardian costume for women?
Though fashion varied from time to time, all the old fashion costumes followed similar kinds of patterns. 1900s fashion was a changed version of previous Victorian fashion. So Edwardian dress costumes had many similarities with the dressing styles and patterns of the Victorian era.
Edwardian Costume for women:
The Gibson Girl:
Edwardian women liked long dresses and gowns as their regular wear. But skirts with blouses were also on-trend. Edwardian women's fashion was mainly influenced by a fictional character by artist Charles Dana Gibson, The Gibson Girl. It was an ink illustration that appeared as a sporty, classy, and elegant character to the Edwardian women. Its popularity spread quickly and all women started to follow her fashion. Thus Gibson Girl dress became a fashion icon of the 1900s century.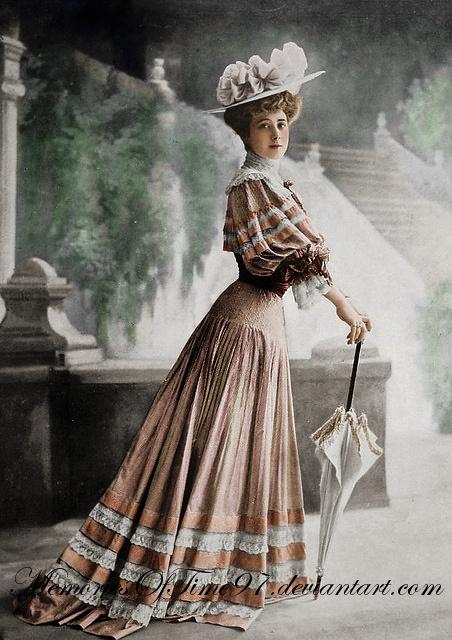 Whether it's a dress or skirt, Edwardian women wanted their dresses to be lightweight but graceful. They were made from rich and comfy fabrics like silk, lace, or cotton. Bows, ruffles, laces were frequently used to decorate the dresses to bring out the feminine ambiance of Edwardian women. 1900s costumes followed different styles for different times of the day, according to the purpose of the wearer.
So, your Edwardian inspired costume either can be a long gown made from elegant fabrics, or a shirtwaist and floor-length skirt. If it's a skirt, a flared one should be more appropriate. If it's a dress, you can go for a high-necked close-fitting sleeved one.
Edwardian Morning Costume:
In both Edwardian and titanic fashion, a tailored suit was the most sophisticated morning or day outfit. This suit consisted of a blouse, a long ankle-length skirt, and a blouse. Most of the upper-class women owned a number of tailored suits to wear during the morning tea time when the women from other classes also intended to follow the trend.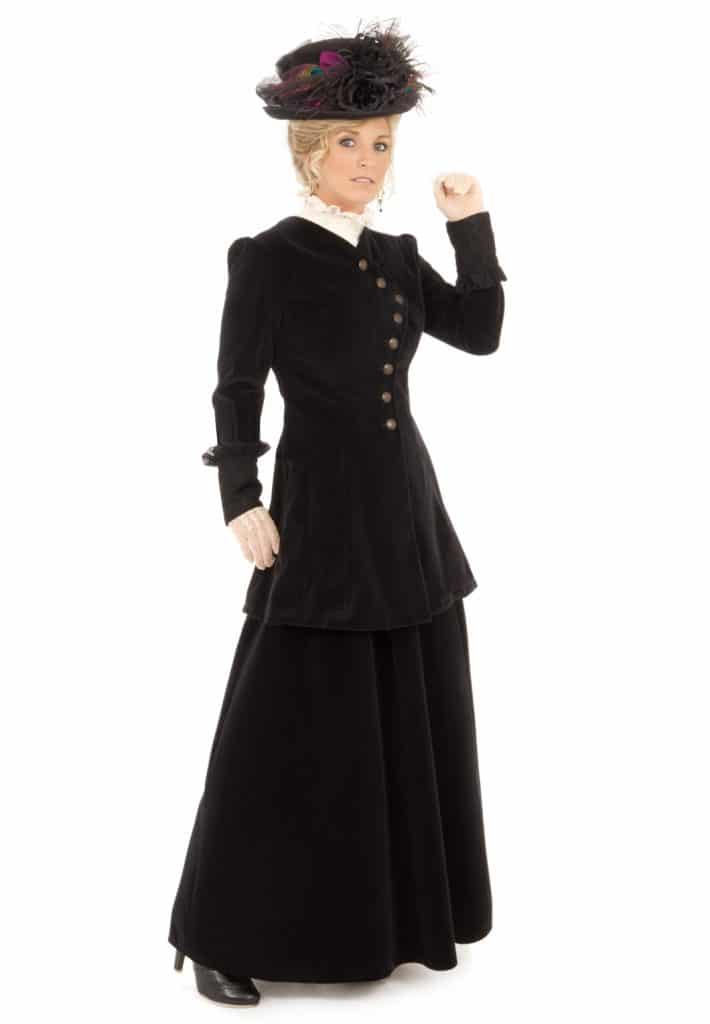 So for creating an Edwardian or Titanic morning look for yourself, you'll need a cotton or linen white blouse, and a long ankle-length hobble skirt. You can pair these with a matching smoking jacket. A hat will give you the complete look.
1900s Day dress:
Edwardian Women wore long-sleeved, high necked long gowns as day dresses, or sometimes skirts or blouses. These dresses were usually worn during the morning while they were eating their breakfast or during the time of their regular work like shopping or visiting someone. In colder months they might wear a heavy jacket over the dress. Modesty was always the first rule and it was well maintained by them.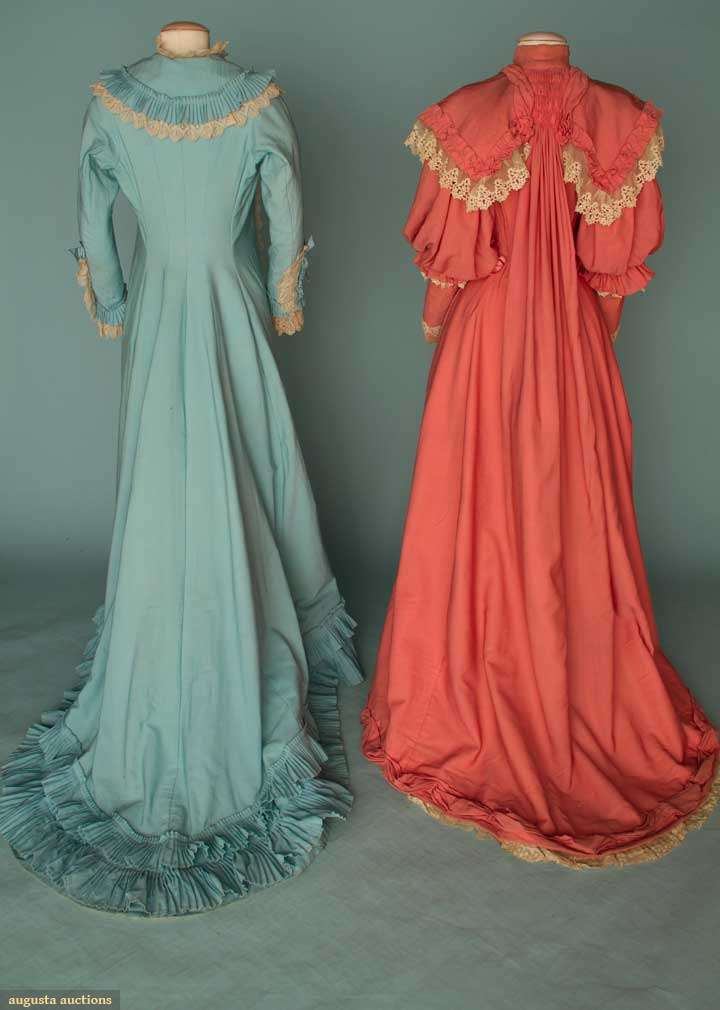 If you are searching for a vintage party look,1900 dresses costumes can be your preferred option. These day dresses come with simple cotton or silk fabrics. The long sleeves and high neckline can give you the elegance you desire to have at a party. Designs with beads, laces, or ruffles create a perfect party looks!
Edwardian Tea dresses:
As the evening was the time for recreation and parties, in the evening they wore slightly more revealing dresses. These dresses had shorter sleeves from the day dresses and a more open neckline. Even sometimes off-shoulder was also an option.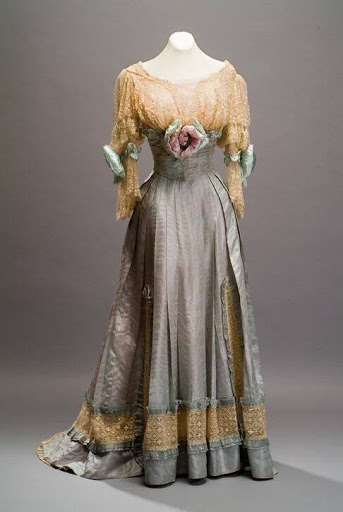 This can be your other choice for party wear. These dresses come in rich fabrics like velvet or silk. They have off shoulders, V, or square neckline which will highlight your collarbones and give you a supple appearance. They are usually available in lighter pastel colors like blue, pink, or white. There are many websites that have many Edwardian costumes for sale. You can always check them to get your wanted dress.
1900s Nightgowns:
If you want a vintage nightgown, the 1900s nightgowns can be your choice. They are made from cotton or lace and are very lightweight. These gowns are mostly white in color. They have ruffled designs in different parts which adds a uniqueness to them. These gowns can be very comfortable nightwear for you.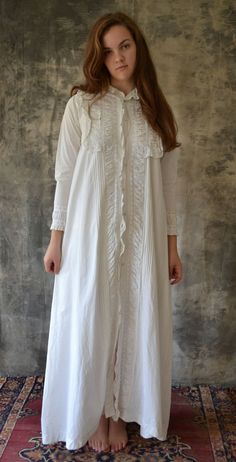 1900s Wedding dress:
The 1900s wedding dresses were a unique subdivision of Edwardian costumes. These wedding fashion trends are still popular and people still look for the 1900s wedding fashion to use these days. Among all the early 1900s costumes, wedding dresses got the most attention while making. So the 1900s wedding dresses were very elegant with detailed designs.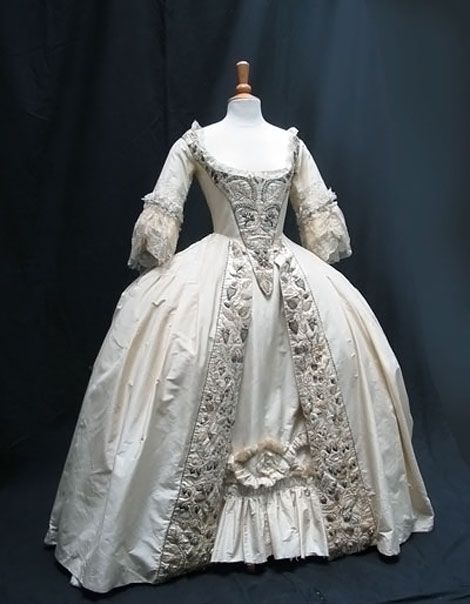 In the 1900s fashion, wedding dresses required an S curve corset, the sleeves were usually Gigot sleeves, which means wide loose sleeves narrowed down to the elbow. High necklines were normally popular. Brides like to use long gloves and velvet hats with their dress.
But the 1910 costume saw a change in the silhouette. Instead of the s curve, a more flowing silhouette became popular in the 1910s wedding fashion. White was still the common color choice as Queen Victoria set this trend in the previous era.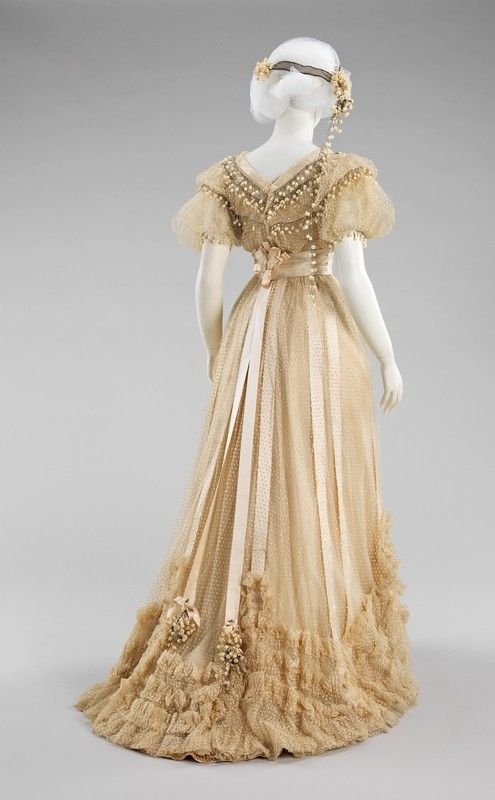 So, if you're having a vintage themed wedding, these old fashion dress costumes can easily be your inspiration! You can choose Edwardian wedding gowns for your big day. But if you are not having a themed wedding, wearing an Edwardian gown may look a little bit out of context. But Edwardian dress styles always can be combined with today's fashion to get a unique and different bridal look. You can use the sleeve and neckline patterns like Edwardian fashion on your wedding gown. You can also use lace or bead or ruffles decoration to customize your wedding gown. Using laces will give your wedding dress a sophisticated look along with a vintage flavor.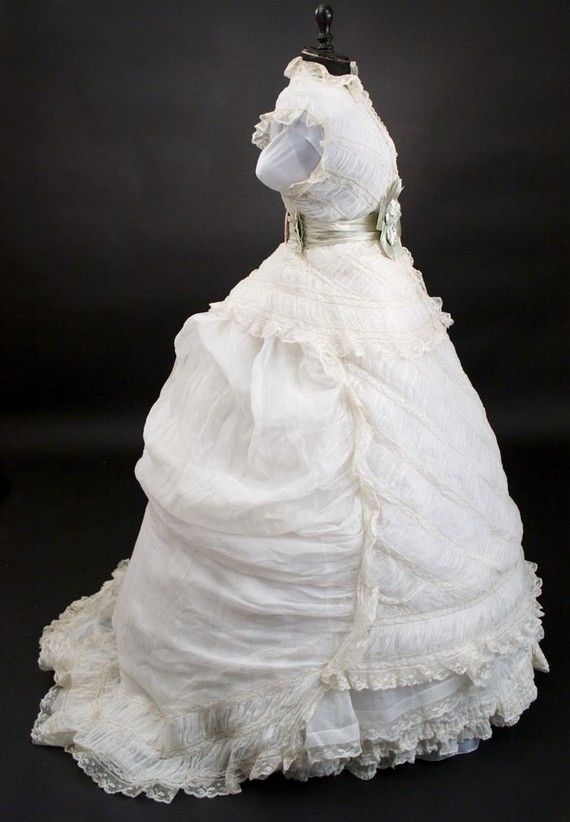 Edwardian ball gown:
Ball gowns during this era followed the hourglass shape of the 1900 costumes., which means a narrow waist gown was more preferable. A cone-shaped skirt was used to get this look. These skirts got a fullness in the lower part. Satin gowns were also popular among young married women.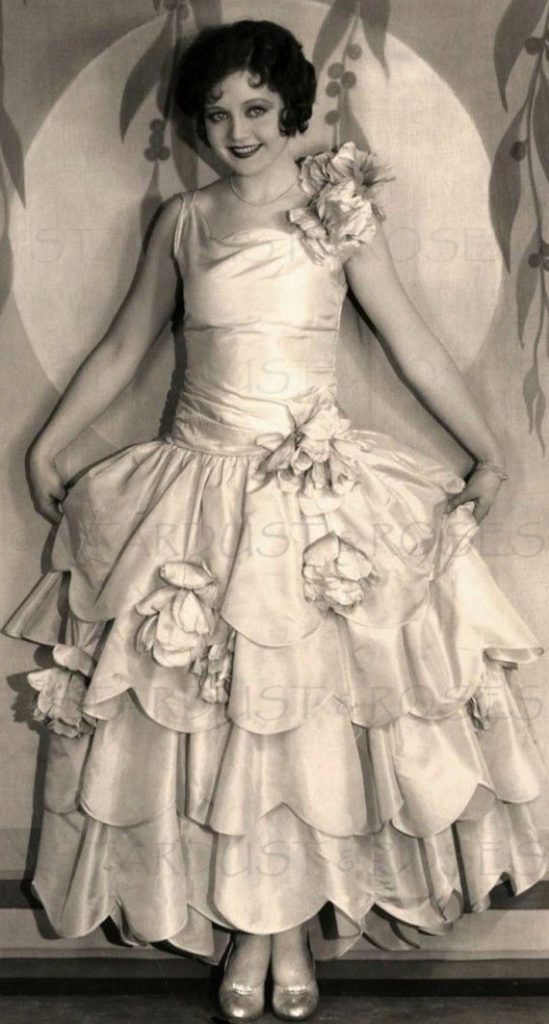 Your 1900s inspired ball gown can follow the same pattern. A narrow waist dress with a fluffy bottom layer can be a suitable choice. Materials like silk or satin can be a wise choice for a perfect vintage look. But for the colder months, heavier fabrics are highly recommended. Low necks and short sleeves were necessary ball gown fashion in the 1900s, so you can also follow these patterns. But elbow sleeves or long sleeves were not totally off-trend. So you can choose your sleeve type according to your style. Layers of different styles, ruffles, some fancy beads, or lace designs can be added to the details to achieve a gorgeous look.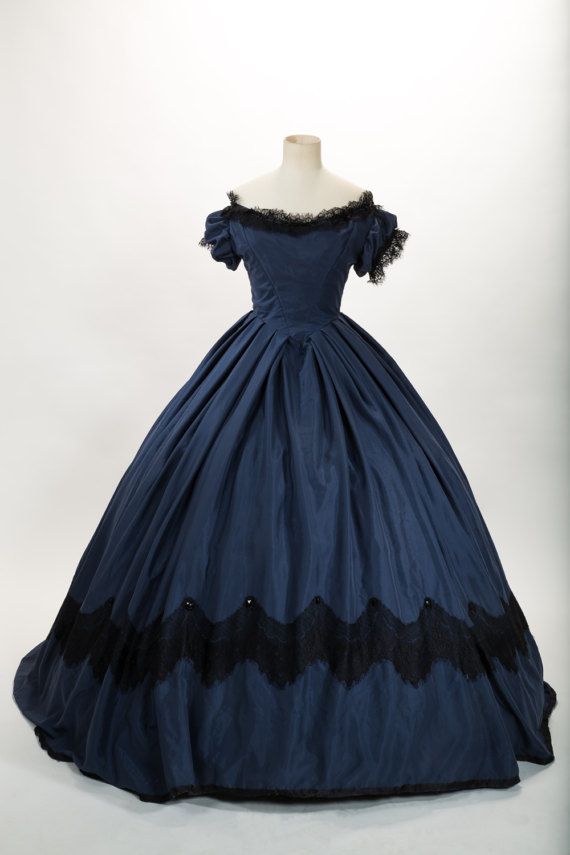 1900s Mourning dress:
The fashion of mourning dresses began in the Victorian era. When Prince Albert passed away the mourning era for Queen Victoria began and she stuck with mourning outfits for the rest of her life. This incident worked as a booster for mourning fashion to the general people. The 1900s mourning fashion had many rigid rules. The mourning outfits required everything to be black. Long dresses were generally used as a mourning outfit, but black was the only color option. Crêpe was the fabric that was used to make these dresses. The collar of the dress, cuffs of the sleeves also hat black linings. If they wore any jewelry, they were also supposed to be black, like black pearls. If the woman entered her half-mourning period, it was okay to use some dark colors like grey or purple.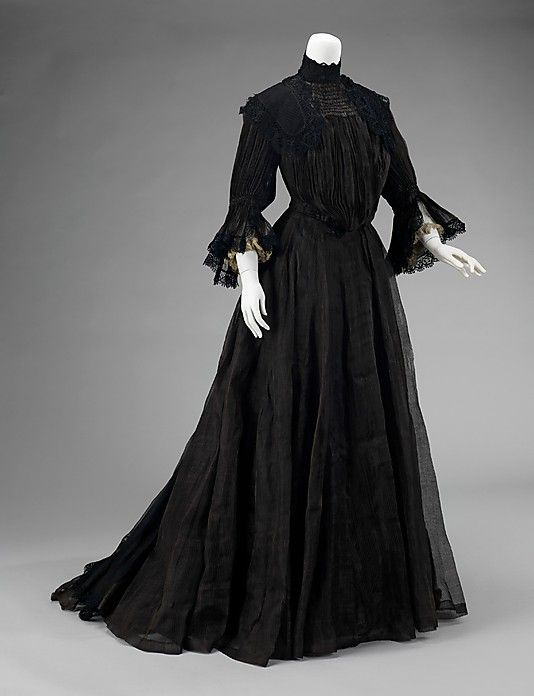 In the 1900s, it was considered bad luck to store mourning clothes. So after a long period of mourning, these clothes were thrown away. No wonder their regular clothes went out of fashion in the meantime. So who could afford the new clothes, they brought all the new clothes again. And if anyone died again, they again stored regular clothes and bought new mourning dresses.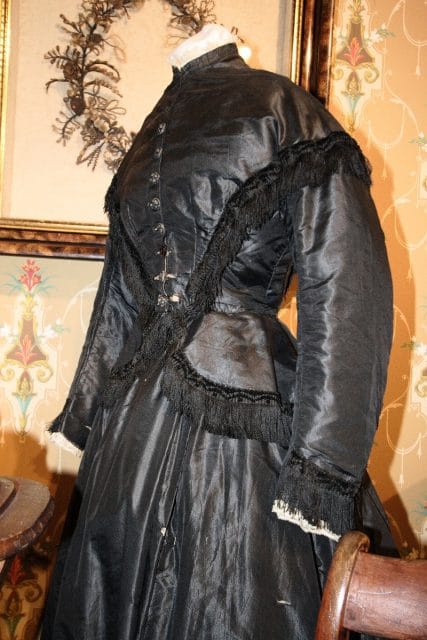 This dress was preserved in the "Museum of funeral customs". It is a women's funeral dress from the time between 1867 to 1869. The early 1900 costumes followed a similar pattern. It is a full black dress with silk bodice and a skirt with a black fringe.
Edwardian Riding costume:
Back in the 1900s, both men and women liked to ride horses. As it was a sport, they required a different kind of dress for this activity. Women's riding dress was called Riding habit. It was kind of like a uniform but it can easily be an inspiration for today's clothing. A formal riding habit consists of a long skirt, a shirt, and a riding coat. The skirt has a split in the lower back so that the riding can be easier for the rider. This specific outfit from the 1900s is called Devantiere. Hats, low-heeled boots, gloves, and neckties were used as accessories for the riding habit.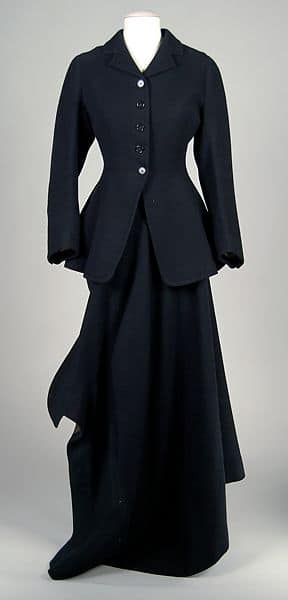 Halloween Costumes:
Like today, Halloween was a festive tradition for the 1900s people. Both adults and children liked to dress up for Halloween. Although the women did not have much "Halloween fashion", they were also seen to wear different costumes and enjoy the festival. During the whole decade, women usually made their Halloween dresses on their own. They made their dresses based on their own choice and ideas.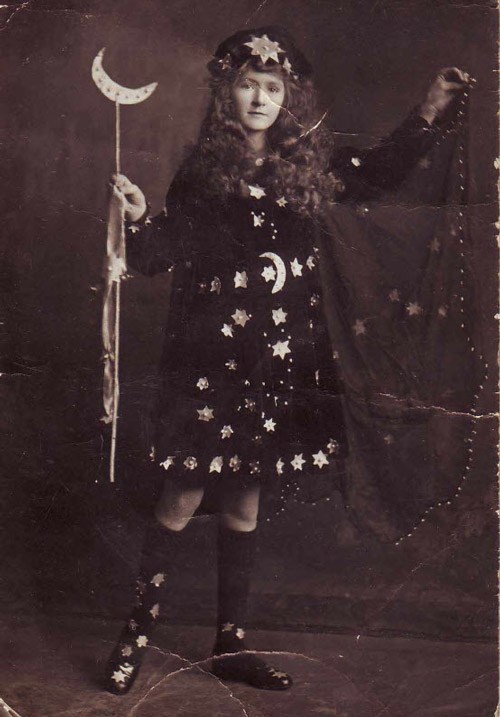 This is a picture from the 1920s, where this young lady dressed as "night".
Most of the 1900 and 1910 Halloween costumes were based on supernatural characters like ghosts, witch, or vampire. Many women were seen to dress like a witch because this was easy to make fashion. Later, in 1910, the homemade papier-mâché mask became another popular Halloween costume.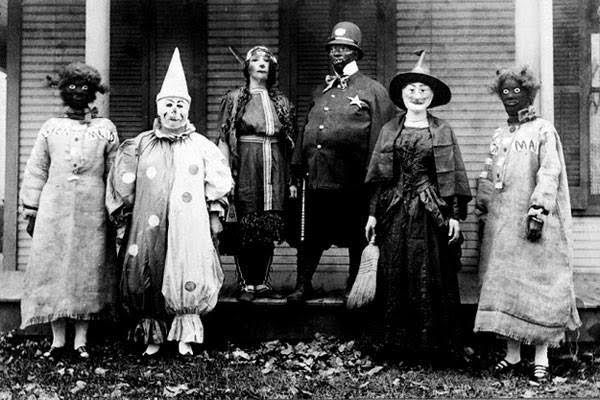 How was the Edwardian costume for men?
1900s men commonly used suits for their regular purpose. We have already discussed 1900s men's suits in a previous article. Morning suit, sack suit, and frock suit were the most common dresses for formal occasions. Apart from these 1900s men had different kinds of casual wear from where you can get your casual costume ideas.
Early 1900s fashion includes many costume ideas that were based on fictional characters. Men like to adopt their dresses from the iconic characters they had seen in the movies. But these dresses were never used for their occupation. These were only for their casual wear. The official works always required formal outfits.
The Edwardian costume for men: barbershop costume
Among men's costumes, the barbershop singer outfit was an iconic one. A barbershop singer was a group of four singers who sang in the barbershop style. They used synchronized outfits. These outfits usually contained a shirt with one colored or striped pant, a colorful vest and a straw hat.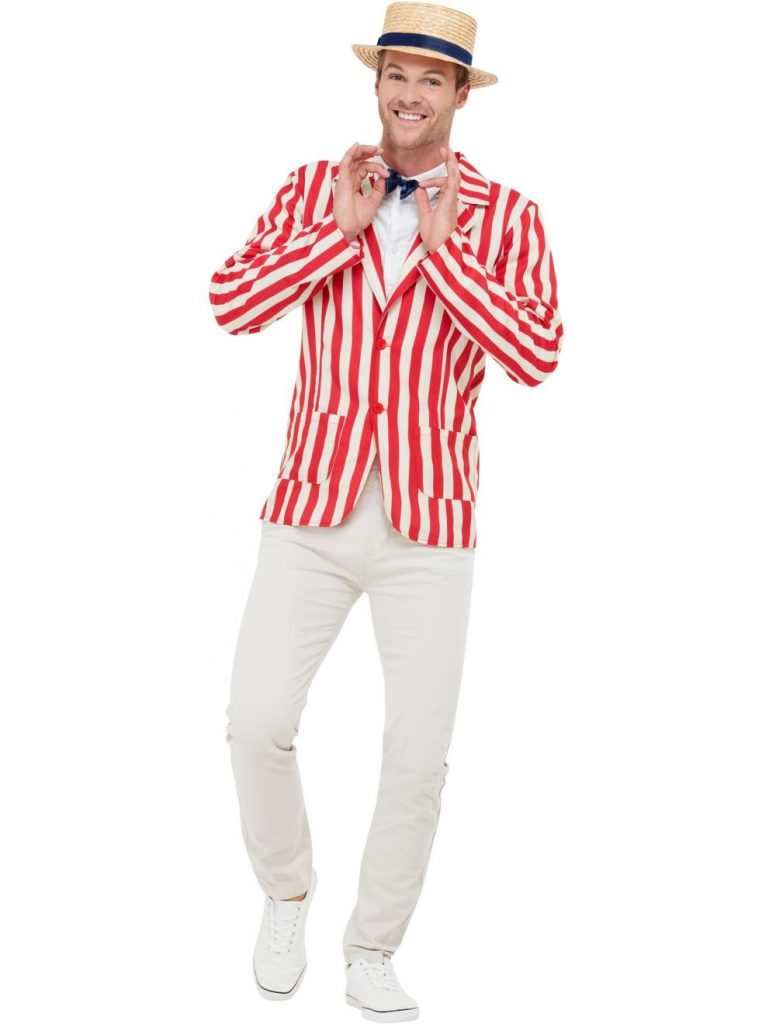 The chimney sweep costume:
If it's the time of Halloween, this costume can be a great costume idea. You will just need a couple of things that are very easy to get, then combine them and get a brand new Halloween costume. This costume requires a long-sleeved black or grey shirt, black or grey pants, a black button-up vest, a black or red tie, a hat, and black shoes.
Just assemble them and you are ready to go!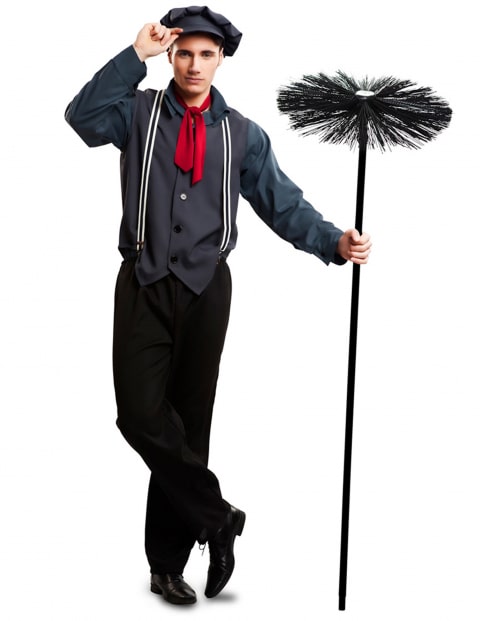 The Indiana jones fashion:
This fashion can be considered as the coolest fashion of 1900s history. Indiana Jone's fashion required nothing extraordinary. If you want to get an Indiana Jones look for yourself, you need a shirt, a leather jacket to wear over the shirt, brown trousers, and a work boot. These will give you a great adventurer look. After wearing all these don't forget to wear a hat to make your look complete!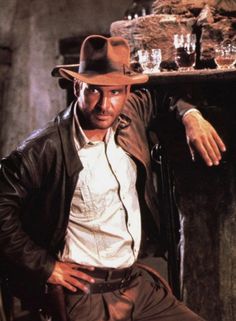 Apart from these costumes, the 1900s men had many other numerous fashion ideas that they got from different sources. On Halloween, they might use common supernatural concepts like ghosts but tried innovative fashion ideas to make themselves unique. They had very colorful informal costumes like the circus ringmaster's costume. They used stylish patterns in dresses and hats to be more fashionable. These are the fashion ideas that have revolved around time and finally turned into today's fashion.